THE BEST OF SLOT AWARDS
Our annual review of your favorite casinos for slots
 Welcome to the Best of Slots issue 2022!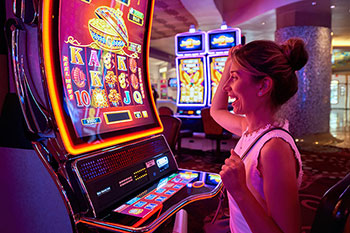 For slot players, there's nothing quite like visiting a casino and spending some time chasing some nice winnings. Whether that happens or not, the entire experience offers a chance at some fun entertainment and the opportunity to spend some time with friends or family. Every player has their favorites, from vintage-style games featuring those classic 777s and bars to more modern games with unique themes, cutting-edge video and graphics, and exciting bonus games that leave you dreaming on that one big mega-score.
Of course, a casino getaway comes with other fun opportunities as well. Perhaps a nice steak dinner is in order followed by a delectable dessert. A few tasty cocktails or maybe a craft beer is also a great way to celebrate that hefty win.  A night out at a club or front-row seat for a concert can only add to the excitement. Some properties feature opportunities to get away from the casino floor for a while as well, with some great outdoors excursions like hiking, hitting the beach, and playing golf.
When walking the gaming floor, players are looking for excellent slot options with some of the latest and greatest games mixed with some old favorites. The Best of Slots issue allows you, the readers, a chance to voice your own opinions on which properties are doing things right. These results come from real slot players who decide which properties are leading the pack when it comes to gaming, customer service, cocktails, and more.
The year's edition once again takes a look at numerous regions around the country with categories covering every slot machine angle one might imagine, from Best Variety of Slots to Best Quarter Slots to Best Slot Club. The analysis even goes beyond the slot floor. Look for categories like Best Comps and Best Hosts, which address those extra incentives that keep players coming back and a property's attention to detail.
Other great aspects of a casino trip are also included, including Best Cocktail Service, Best Customer Service, and Friendliest Casino. And when it comes to a shot at winning, some properties just seem to stand out such as the Friendliest Casino or the Casino Where You Feel the Luckiest.
What makes the Best of Slots great is that this isn't some random ranking or Internet search. These were chosen by slot players around the country who actually wagered and spent their own money at these locations. These players have dropped some bills in a property's games, ordered a drink, and spoken with staff members. These awards not only come from some careful thought among readers but from first-hand experience and offers some real insight.
The casino industry continues to grow with properties around the country expanding and always bringing in new cuisine options and entertainment acts. The Best of Slots recognizes those going the extra mile. Thanks to all the readers who took the time to make their opinions known. Here are this year's winners. Check out those that shined before booking that next casino getaway!