The Best of Racino Awards 2023
Unveiling the country's favorite racinos and their offerings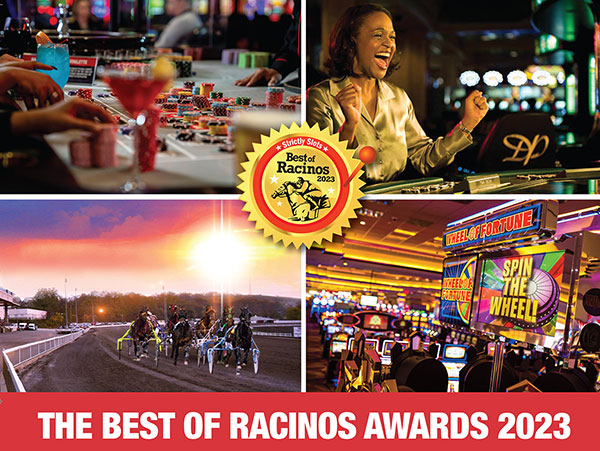 The bugle call echoes through the air, horses parade proudly, the tote board flickers with anticipation and the betting window buzzes with excitement. Who can resist the allure of a day at the races? And now, with the added thrill of casino gaming, racinos have become a prominent force in the gaming industry. Whether you prefer the adrenaline rush of betting on the track or the leisurely enjoyment of sipping a cocktail while sitting at a slot machine, these versatile gaming venues provide the perfect setting to spend quality time with friends and family. Place your bets on the ponies, chase a jackpot, try your luck at table games or simply gather for fine dining and drinks. Some racinos even offer luxurious hotels, allowing you to extend your stay and indulge in a weekend of fun and relaxation.
The rise of racinos as a popular destination can be attributed to Iowa's Prairie Meadows, which blazed the trail in 1996 by adding slot machines to its facility. This strategic move not only breathed new life into the racetrack but also boosted revenue for horsemen and attracted a larger audience. Inspired by this success, other states and properties across the country followed suit, seamlessly blending the thrill of horse racing with the allure of slots, table games and more. This integration not only kept the horse-racing industry afloat but also contributed significantly to tax revenues.
Racinos come in various shapes and sizes, catering to diverse preferences. From smaller establishments with a limited selection of games to expansive resorts boasting hotels, upscale dining options and entertainment venues, there is something for everyone. Strictly Slots prides itself on showcasing the best properties in the field. We work to cover all aspects of the industry and the Best Of Racinos Awards focuses on categories fitting for the industry.
As with other "Best Of" surveys in Strictly Slots, readers cast their votes for their favorite racinos across the numerous categories. Here are the results of those votes—this year's best of the best among the nation's racinos. Check out how others ranked your favorite racino. Better yet, find a venue that looks appealing and make plans to visit a new destination. Thanks for voting and kudos to all of the winning properties! Grab your tip sheet and lucky charm  and get ready to enjoy a day of horse racing and casino gaming.