The Best of Dining & Nightlife
Casino Player's annual survey of the best casinos for food, fun and beyond
By J. Phillip Vogel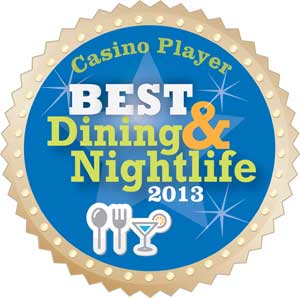 Our duty at Casino Player is to report on which casinos we think are worthy of special attention.  Our focus incorporates everything from mega resorts and vintage properties, to new casinos and off-the-beaten-path hotspots. Our coverage is extensive to be sure. But no matter how dedicated our staff, we simply can't be everywhere at once.
And that's where you come in.
Every year, Casino Player magazine asks its readers to vote for their favorite casinos around the country and across an enormous range of categories. To your credit, year in and year out you've answered the call and crowned the winners for our one-of-a-kind survey.
This year, we stepped things up a bit and extended our reach to give readers the chance to vote on more than just the usual gambling categories. For 2013 we've created an all new "Best Of" awards, this time focusing on categories beyond the slots and table games. Here—with the help of your votes—we award the best casinos in categories that range from steakhouses and buffets, to night clubs, shows, headlines, lounges and more—just about anything and everything other than gambling that makes the casino a true entertainment Mecca.
Welcome to our 1st annual Best Of Dining & Nightlife awards issue.
As with our other "Best Of" awards, this is where YOUR voices are heard by the entire casino industry. A relatively minor percentage of the gaming properties will be thrilled with the results, and go on tout their achievement for the next year in advertisements, on billboards, on television, and more.  Others will use the results to help better develop their properties, responding to your votes by creating an even better casino options for future guests.
What follows are the results of your votes, your choices for this year's best of the best. Use it to see where your favorite casino stands in the rankings, or to plan your next casino excursion—perhaps you'll visit one of the winners and see for yourself what you've been missing.
Ready? Then let's get started.