THE BEST OF DINING & NIGHTLIFE AWARDS
Casino Player's annual survey of the best casinos for food, fun and beyond
By Lisa Robertson-Dziedzic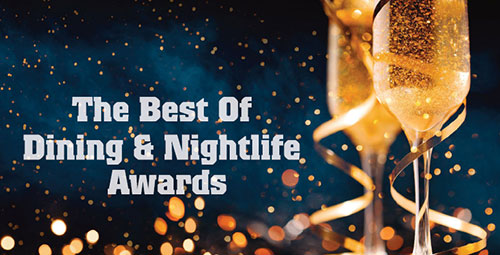 For the past decade, Casino Player magazine has devoted its April issue to the Best of Dining & Nightlife Awards. When we began putting together this special issue at the onset of the year, the world was a different place, with a booming economy and a year full of exciting casino visits on the horizon. We had envisioned an issue packed with all your favorites when it comes to food, drink, nightlife, entertainment and more, which, after all, is serious business, particularly in the casino industry.
And then COVID-19 happened, and the industry that so many of us love came to a crashing halt. For nearly four months, casinos across the U.S. were closed in an effort to mitigate the spread of the virus. And so too was the 2020 Best of Dining & Nightlife Awards issue. Afterall, why dedicate an entire issue to food, cocktails and nightlife if readers weren't able to experience many of the numerous winning venues?
Fast-forward several stressful months, and casinos and casino food and beverage venues have slowly reopened, with restrictions in place. Many have been downgraded to less than full occupancy or have been forced to play the takeout-only game, but thankfully, they are back in business with enhanced safety techniques and guidelines implemented.
It's our job at Casino Player to let our readers know what's going on in the gambling world, and whenever possible to identify those casinos worthy of special attention. There's no question that this year, due to the COVID-19 pandemic, the industry has come together as innovators to create a safe and healthy environment for staff and visitors and should be commended for their efforts.
Every year, Casino Player magazine asks its readers to vote for their favorite casinos around the country and across an enormous range of categories. Categories include everything from the very best in steakhouses and coffee shops to happy hours, lounges and more. Whether you're looking for weekend lunch spots, your new favorite cocktail or the best places to indulge your sweet tooth, we've got you covered.
While the results of this year's Best of Dining & Nightlife Awards were tallied pre-COVID, we felt we owe it to you our readers, and the gaming  industry as a whole, to shed some light on the properties that are doing it right and have shown excellence in 2020.
You will notice some changes in categories this year, primarily in the entertainment department. Unfortunately, most forms of casino entertainment (shows, lounge acts, day and nightclubs) have been dark throughout 2020, so we decided to eliminate those categories this year.
Through the economic difficulties and pandemic regulations, the gaming industry carries on, and the winners of the year's Best of Dining & Nightlife Awards are even more deserving of the recognition. What follows are the results of your votes, your choices for this year's best of the best in casino food, beverage and beyond. Use it to see where your favorite casino stands in the rankings, or to plan your next casino excursion—perhaps you'll visit one of the winners for the first time and see for yourself what you've been missing.
One thing important to note is that the coronavirus situation is constantly changing and in return, so is the casino environment. While some of the award-winning venues may be open today, they may be forced to temporarily close tomorrow, so it's important to check a casino's website before venturing out. And due to limited capacity restrictions, reservations are highly recommended, if not required.
As we move into 2021, we toast to better times and we look forward to enjoying all the many wonderful casino offerings in full again soon.
Congratulations to all of the winners for 2020!