The Best of Dining & Nightlife Awards 2022
Casino Player's annual look at some of the casino industry's best when it comes to food, fun and beyond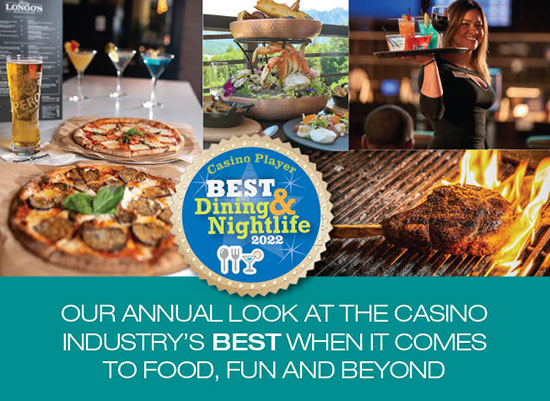 A trip to Las Vegas or even your local casinos offers so much more than just a chance to play your favorite slot machine, roll some dice, and take a seat at the blackjack tables. For three decades, Casino Player has also looked at some of the best aspects of the entire gaming experience and a huge part of that is dining and nightlife. This issue once again brings readers some great properties offering an amazing experience beyond just the casino floor.
Our staff takes the casino life seriously and that includes helping to determine some of the finest dining experiences available at casinos across the country. Our focus incorporates everything from the grandest of Las Vegas mega-resorts and vintage properties, to new casinos, regional favorites, and hidden gems you may never have heard of. But no matter how dedicated our staff, we simply can't be everywhere at once. And that's where you come in.
Every year, Casino Player magazine asks readers to vote for their favorite casinos around the country and across an enormous range of categories. And each year readers show up in force to offer their own insight and help crown the winners for our special "Best Of" survey.
That effort expanded to include dining and nightlife as well. These "Best Of Dining & Nightlife" awards focus on categories beyond the slots and table games, awarding the best casinos in categories that range from steakhouses and coffee shops to happy hours, lounges, sports bars and more. The Best of Dining & Nightlife covers just about anything and everything other than gambling, but these aspects are also key to making that casino getaway so enjoyable.
As with our other "Best Of" awards, this is when your voices are heard by the entire casino industry. Some of the gaming properties will be thrilled with the results, and go on to tout their achievements over the next year in media campaigns and advertising. Others may use the results to see where they stack up and possibly determine what they can do better to improve—creating even better casino options for future guests.
And while casinos have now returned in full for much of the country, a few lingering effects relate to this year's awards. Readers may notice that some of the traditional entertainment categories have been removed this year. The casino entertainment industry was greatly affected by the pandemic and many shows, performances and other acts just weren't offered over the last year. To be fair, those categories aren't in this year's awards, but another Best of Entertainment section may be in the works for later this year—stay tuned!
These awards are once again the result of your votes, your choices for this year's best of the best in casino food, beverage and beyond. Did your favorite restaurant make the cut? Perhaps it's worth a vote next year. These rankings offer readers some great spots to check out when planning that next casino vacation. Book that flight or hit the road, checking out some of these great eateries and other establishments along the way.
Congratulations to all of the winners for 2022 for their excellent dining options, service and attention to detail! Casino Player readers have certainly noticed.