The 28th Annual Best of Gaming Awards
Celebrating Excellence, Exceptional Customer Service & Exceeding Expectations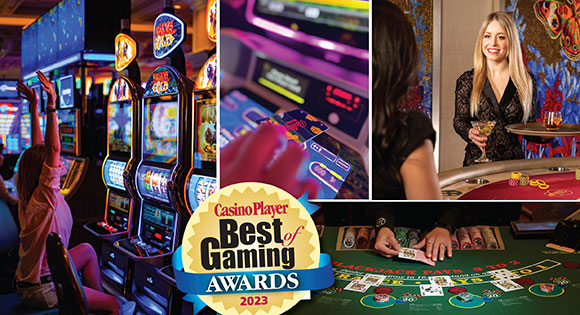 Heading out for a few hours at a casino has never been easier with commercial and tribal casinos now located in all parts of the country. Many American gamblers can hop in the car and head to the local gambling house for a few hours of slot fun or perhaps rolling some dice at the craps table. Booking a flight for a great casino getaway is also in play for many Americans looking for some gambling, a few hours at the pool, some delectable dining, or simply a great show and a stay in a luxury hotel. With so many casino options, it seems customers are in the driver's seat and gaming companies continue to ramp up the experience and offer even better experiences.
The annual Casino Player Best of Gaming Awards issue recognizes casino resorts that go the extra mile. Perhaps readers remember that property where staff members always had a smile and were quick to help with any issue. Maybe one casino's dealers really stood out, distributing those cards with some real panache while also keeping the action fun and friendly. Poker players may have found a couple of properties that offered a comfortable room with a great environment for tournaments and cash games. That local sportsbook just always seems to have some great betting options, and staff are always ready to lend a hand and offer some help for a newbie looking to make that first wager.
The Best of Gaming Awards, now in its 28th year, lets readers have their say on which of these properties all around the country deserve some special recognition. We received more than ten thousand ballots from readers who took their time to recognize some of those that really set a standard above the rest. These aren't the results of surveying industry insiders or media members, these rankings and accolades come from readers like you—those who booked a room, played some cards or slots, and bought a show ticket with your hard-earned money.
Beyond merely offering pats on the back, these rankings can also help other readers determine which properties might be worth a visit, either in their own region or when booking a gambling getaway in another part of the country. The casino industry has never been more popular and Americans have more opportunities at gaming fun than ever before. Casinos are constantly adding more to cater to gamblers with more high-tech and creative slots, major entertainment acts, amazing spectacles like the new Las Vegas "Sphere" attraction, major poker tournament action like the recent record-setting World Series of Poker, top-notch entertainers, fabulous buffets and food halls, remarkable wine lists, sizzling steaks, and so much more.
There is so much to get excited about when heading out for a great casino experience and hopefully this Best of Gaming Awards issue adds to that excitement . There are plenty of regions and categories, with a few new features mixed in as well. Feel free to grab a highlighter, dog-ear a few pages, or simply make mental notes on some properties to remember. Here's a look at the winners and top performers for 2023. These resorts aim to please and a magnificent casino experience lies just ahead!
– Sean Chaffin, senior editor