The 27th Annual Best of Gaming Awards
The Best of the Best Recognized and Up-and-Comers Shine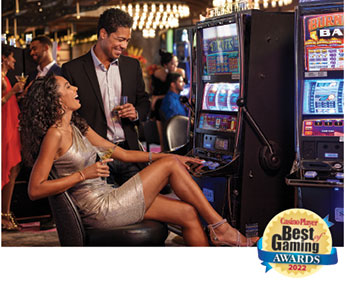 Casino players have numerous options when it comes to hitting a casino. From megaresorts to neighborhood casinos to racinos to non-traditional card rooms, there is something for every style of gambler. But some properties stand out among the pack. This issue, Casino Player once again offers up our 27th annual edition—The Best of Gaming 2022 awards—recognizing some of the casino industry's top properties and some of those also making some major strides in appealing to players.
This recognition of the gaming industry's top performers offers some excellent insight into what properties are doing things right across a wide range of categories and services. This isn't limited to massive Vegas resorts, but takes a look at casinos across the country of all types and sizes. Betting venue categories include casinos, racinos and sportsbooks. Other services are also ranked including comps, VIP services, best hotel staff and best dealers. Other amenities also get an inspection including best hotel, rooms, hotel lobby, pool, spa and so much more.
It's also important to note that all these rankings don't come from industry insiders or casino staff. These rankings come from our loyal Casino Player readers, with thousands of votes coming in from gamblers far and wide. The rankings give readers a look at what to expect from casinos in numerous regions beyond Sin City. Thumbing through these pages should also offer gamblers some ideas on where to schedule that next gambling vacation.
The casino industry has never been more popular and Americans have more opportunities at gaming fun than ever before. Nevada, New Jersey and other states have seen huge gaming revenue numbers in recent months and states with legalized sports betting and online gaming also continue to grow.
Beyond gaming, casino resorts are now offering so much more beyond the slots and table game pits. A casino trip has also become a great way to check out some great live entertainment, with more and more options added to the menu every year. And when it comes to dining, there's not much better than a great steak or expansive casino buffet. There is an eatery, bistro, brewpub, fine dining restaurant or quick-bite stop for every palate or appetite.
With COVID now mostly in the rearview mirror, this year's Best of Gaming awards also brings back all the poker categories. The game is now thriving, with cash games and tournament play returning around the country. Major events like the World Series of Poker and World Poker Tour continue attracting record fields as one of Americans' favorite card games returns in full force.
Casino resorts continue offering players around the country great options for a gambling getaway mixed with premier hotel stays and so much more. There are plenty of regions and categories, so here's your look at the winners and top performers for this year. Grab that lucky charm and brush up on your gaming strategy—a wonderful casino experience awaits!