The 2015 Best of Gaming Awards
Casino Player's annual survey of the country's best casinos
For most of the year Casino Player magazine reports on which casinos we think are worthy of special attention. Our focus incorporates everything from mega resorts and vintage properties, to new casinos and off-the-beaten-path hotspots. Our coverage is extensive to be sure. But no matter how dedicated our staff, we simply can't be everywhere at once. And that's where you come in.
But for one issue every year Casino Player turns over the reins to you, the reader. Through our annual Best Of Gaming survey, we ask our dedicated assembly of casinophiles to select which casinos across America are worthy of being crowned the best in an expanding sea of gambling options. Our survey is extensive, picking our readers' brains across a wide spectrum of categories—best casino, best hotels, best suites, best table games, best slots, best spa… the list goes on and on. And as usual, our readers responded with gusto, voting in force for the properties they love.
What makes this issue so unique, so critical? This is where YOUR voices are heard—and not just by us, or other casino enthusiasts. For this month, the entire casino industry is glued to these pages, examining the results to see where they stand in the eyes of the most influential demographic in gambling today—our readers. A percentage of the gaming properties will be thrilled with the results, and go on tout their achievement for the next year in advertisements, on billboards, on television, and more. Others will use the results to help better develop their properties, responding to your votes by creating an even better casino for future gamblers.
What follows are the results of your votes, your choices for this year's best of the best. Use it to see where your favorite casino stands in the rankings, or to plan your next casino excursion—perhaps you'll visit one of the winners and see for yourself what you've been missing.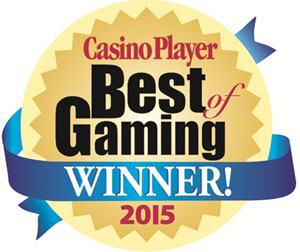 Here are the winners. Click on the region to see the results.
Best of Gaming 2015 Regions