Taking Players To The Next Level
Revel introduces enriched recognition & rewards program for 2013
By H. Scot Krause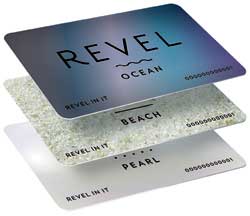 Atlantic City's newest resort, Revel, has launched a new and exciting rewards program that takes perks for players to the next level. Guests can earn resort dollars property-wide and enjoy free Wi-Fi and complimentary offers just for playing, staying or partying at Revel.
The new club features 3 tier levels: Ocean, Beach and Pearl, each with increasing benefits as you move up the ladder. The Revel Card is unique to Atlantic City because members earn resort dollars in nearly every area of the resort including the hotel, restaurants, nightlife spots, and of course, the gaming floor. Additionally, Revel Card members never have to worry about conversion. Every resort dollar is worth the same dollar for dollar at every venue including retail and entertainment.
Upon sign up, players open the door to benefits by becoming an Ocean Card level member. (If you were previously a member of the club, your former available "resort dollar" balance is unaffected.) This first level offers guests immediate complimentary Wi-Fi access, special offers, discounts and events—and based on your play, some special surprises might be in the making.
Accrue 50,000 tier points between Jan. 1 – Dec. 31 this year, and you will become a Beach Card level member. When upgraded to Beach status, members receive all Ocean benefits as well as these additional benefits:
—Complimentary self and valet parking
—2X base resort dollar multiplier every day
—Access to two Daily Dining Passports ($10 each/$30 value)
—Entrance to the Annual Beach Tournament
At Pearl Card level, things really become exciting. By earning 350,000 tier points between Jan. 1 and Dec. 31, you'll reach this elite status and unlock superior benefits and priority VIP treatment—including all of the Ocean and Beach level benefits, plus:
—Two complimentary Daily Dining Passports per day
—Suite upgrades (based on availability)
—Complimentary Bask Spa day pass
—Entrance to the Annual Pearl Tournament
—A 1-hour slot machine hold
—Dedicated Pearl hotline
—Preferred Ovation Hall seating
—Late check-out
In addition to dozens of gaming offers and events, Revel Card users receive exclusive opportunities that bring the resort experience to life, such as access to the SkyGarden for parties and events, private cocktail parties at O2, and VIP access to cabanas on The Mezz level.
Resort guests currently enrolled in the Revel Card program will be automatically entered into the new program. To sign up, or to inquire about your current Revel Card status, visit the Revel Card Desk from 9:00 a.m. – 10:00 p.m. Sunday through Thursday and 9:00 a.m. – 2:00 a.m. Friday and Saturday.
Revel is smoke-free and features more than 1,800 rooms with sweeping ocean views. A member of the American Express Gold Hotel Collection, the resort houses a 130,000-square-foot casino with more than 2,000 slot machines, nearly 100 table games, electronic tables and a poker room. The resort features a 32,000-square-foot spa and an outstanding collection of 14 restaurant concepts from award-wining chefs and restaurateurs. Live entertainment includes marquee acts and international artists plus nightclub entertainment.
Revel was recently named one of Gogobot Travelers' "Top 50 Hotels in the World" in 2012, as well as being chosen as one of the Best Hotels in the Northeast by Arrive magazine. It was also named one of the Top 10 Best New Hotels in the U.S. by Gayot.com. For additional information about the new slot club and all of Revel's amenities, visit www.revelresorts.com.
Winter Promotions
Pala Casino Spa & Resort will give away a brand-new car every Friday in 2013 as part of its $2 Million Cash and Cars Giveaway promotion.  Winning a car can be as easy as signing up for a player's club card (free to join). In February, one lucky guest will win a 2013 Toyota Avalon. Swipe your Privileges cards at the Toyota Avalon kiosks located adjacent to the car display in the casino.
Regular Privileges card holders will receive one free entry daily; Gold card members receive two; Platinum, three, and Elite, five.  Entries can be earned daily until 4 p.m., Friday, Feb. 22. Players who use their Privileges card at any slot machine or table game will receive 10 bonus entries into the Grand Prize Drawing for every tier point earned during the giveaway. Visit the club booth for drawing days, times and complete details. Winners must be present to claim prizes.
In February at Beau Rivage, make plans to watch the Super Bowl February 3 at Coast and EIGHT75.  The kickoff is at 6:30 p.m. and there will be prize giveaways throughout the game. At Coast try $8.50 Bacardi buckets for $8.50 or $12.50 for buckets of domestic beer. Scarf down 25 cent wings or go for the $15 tailgate appetizer sampler. At EIGHT75 will also offer $12.50 buckets of domestic beer and 25 cent wings. On Feb. 9, don your apparel for the "Coast Carnival Masquerade Mask & Costume Party."  The guest with the best mask wins $500. Live entertainment will be provided by Triggerproof and DJ Avelon.
Señor Frog's Las Vegas at Treasure Island Hotel & Casino will host the "Kiss a Frog" singles fiesta on Thursday, Feb. 14.  True to the old saying, "You have to kiss a few frogs before you find your prince," single señoritas will be encouraged to fiesta their way through the usually romantic day with themed drinks and numerous giveaways. Starting at 8 p.m. on Valentine's night, patrons will set the tone for the night with a ladies first one-hour open bar with well vodka cocktails. The party bar will also offer sexy signature fishbowl drinks including the Frog's Kiss, Frogasm, Hot Pants and Horny Cupid, all priced at $18. Ladies will be entered to win bar tabs, Señor Frog's merchandise, dinner for two at the restaurant, Mystère tickets and the grand prize will be a Tiffany's necklace. The party bar is a participating location of the 2013 Las Vegas Singles Festival where sexy singles will be wearing colored wristbands, making it easy and fun to meet other singles who are ready to mingle this Valentine's Day. More information about wristbands and the festival can be found by visiting http://lasvegassinglesfestival.com/.
H. Scot Krause is a gaming industry analyst, researcher and journalist. He is a former entertainment director and an 18-year resident of Las Vegas.  His work is regularly featured in Casino Player, Strictly Slots and Gaming Today as well as other gaming publications, including the annual American Casino Guide Book. Questions or comments for Scot may be addressed to: krauseinvegas@cox.net