SUN, SEA AND SLOTS
Norwegian Cruise Line Offers $100,000 Slot Tournament and Much More
By Sean Chaffin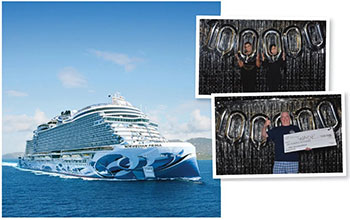 There are many reasons to head off on a Norwegian Cruise Line getaway—the soft ocean breezes, trips to exotic locations, excellent entertainment, great culinary and cocktail experiences, and so much more. A major part of that can also be the casino on board and that includes some interesting options for slot players.
One of the biggest highlights is the $100,000 Winner Take All Slot Tournament and cruisers can participate in the six-figure competition in a number of ways. Onboard qualifiers offer a nice way to win a seat in the tournament. Each ship throughout the NCL fleet hosts a weekly qualifying tournament. The winner scores a cash prize and a seat in the Winner Take All. Players with a free entry only have to purchase a cruise to participate in the finale sailing.
A vacation and a shot at six figures? That might seem like a nice option for many. Players can also book a cabin and buy into the finale sailing, paying the $500 tournament entry fee to participate. A few select VIPs will also be invited to participate as well. The festivities are just part of what awaits those stepping on a Norwegian ship.
How Does a Slot Tournament Work?
Those new to slot tournaments are in store for some real excitement. These events usually feature numerous players hitting the machines over a certain period of time. Competitors aren't looking at winnings just on the machine, but hoping to rack up enough to top all other players in the tournament. The goal is to spin and spin as quickly as possible and see the reels line up just right as many times as possible, adding to that bank significantly before time runs out.
There's a real competitive vibe with plenty of smiles all around in the process. The ultimate winner of the NCL tournament eventually takes home a Kraken-sized jackpot. Along with the massive money on the line, NCL also adds a real festive atmosphere to the fun.
"In general slot tournaments are fast paced, fun, and exciting as guests try to get the top score," says Mia Emily Farrell, Norwegian director of casino marketing. "Where else can you win $100,000 in just a few minutes? We also give out branded goodies, toast the winner along, plus other fun things planned differently every year. We have an amazing team shoreside and on board dedicated to throwing an amazing event and keep you coming back every year."
Most participants qualify via the satellite tournament route and past cruisers have also become regulars in the event. The NCL team works to create a great environment for slot players and casino gamblers in general.
"Our casino hosts are always on board during guest vacations," Farrell says, "helping guests with anything they may need while making them feel special, welcome, and at home."
Hitting the Casino
Beyond plenty of slot machines, each Norwegian ship's casino offers a variety of other action. Players can look for everything they might find in a major land-based casino, just on the high seas. NCL offers live table games, video poker, weekly tournaments, gaming lessons, bar service, a dedicated host team, and much more.
"For new cruisers, I like to tell them our casinos are to a Las Vegas Strip casino what an espresso is to a cup of coffee," Farrell says. "Smaller in volume but comparable in energy. We design our casinos with the intent of providing an exciting environment equipped with games people want to play."
The Casinos At Sea rewards program also allows cruisers to earn points across all the company's brands: Norwegian Cruise Line, Oceania Cruises and Regent Seven Seas Cruises. Benefits include complimentary drinks, free shore excursion, private transfers and more.
Slot players aren't the only ones in store for some major tournaments. The cruise line hosts the annual Norwegian Poker Challenge each November, featuring daily tournaments and cash games. That includes a $1,150 buy-in main event with $700,000 guaranteed and a total of over $1 million in winnings paid out across the entire festival. Norwegian adds more than 30 poker tables in the famous observation lounge, where players can bet and bluff with a view of the turquoise Caribbean waters. Celebrity poker players (Joe Cada and Loni Harwood this year) host a poker clinic before the action gets underway.
Many players return each year for the card playing as well as a great seven-day cruise. Casino players will find numerous options when making their way on board a ship.
A Cruise Full of Fun
Setting sail on an NCL cruise can be the perfect choice for a great getaway and for some real relaxation. Look for destinations like the Caribbean, Alaska, Hawaii, Europe, Mexico and so much more. On board, check out spectacular dining choices—from burgers to seafood to steaks to great cocktails and drinks. There is a culinary choice for everyone.
On the entertainment front, NCL brings a little of the Las Vegas or Broadway show experience right on the ship. That includes major productions like Footloose, Jersey Boys and more. Other options include rock shows, tribute acts, pool parties, stand-up comedy shows, and even game shows like Deal or No Deal. Those who haven't cruised in quite a while may be blown away at the entertainment options to choose from.
Another nice amenity is a spa treatment for the ultimate in relaxation. Let the staff pamper you with a hot-stone massage or one the 50 specialty treatments available. NCL includes numerous cabin options including luxurious suites and penthouses complete with butler and concierge service, an exclusive suite menu, complimentary champagne and other perks. The spa staterooms are also a great option for travelers to get a complete relaxing experience. Even more modest rooms feature comfortable accommodations, balconies and other amenities. There is an option for every budget and taste.
Ships vary in size and features, but cruisers can expect award-winning dining, entertainment, accommodations and Casinos At Sea on most ships. Some key large ships offer even more. The Waterfront is a quarter-mile oceanfront promenade that allows guests to relax in sunshine and take it easy. The Race Track is a go-cart track right on ship and the Galaxy Pavilion offers a complete virtual reality experience in events like Formula One racing, hang gliding, a jungle jeep journey and more.
Numerous shore excursions only add to the experience. Visit Mayan ruins, zip line through the jungle, swim with dolphins in the Caribbean, or head off for some whale watching. Or maybe just chill out a bit with some tacos and tequila on a white sand beach. A cruise offers the perfect way to get away from it all while having a multitude of options right at your fingertips.
"What makes NCL a great cruising vacation is our ability to marry the mobility of a cruise with the flexibility of a land vacation," Farrell says. "Onboard you can enjoy a variety of award-winning dining and entertainment options like you're downtown in the heart of a city, while you sail to the top destinations around the world."
For more information on the $100,000 Winner Take All Slot Tournament, visit www.ncl.com/winnertakeall.