Caesars Palace
Bacchanal Makes Comeback at Caesars Palace
by Steve Kieva
Caesars Palace – When you think of famous comebacks, you might think of boxer George Foreman becoming the oldest heavyweight champ by coming out of retirement to win his second world heavyweight crown when he was forty-four; Richard Nixon's return from political obscurity to become the thirty-seventh president of the United States; actor Mickey Rourke being nominated for an Academy Award in 2009 after languishing for years on the fringes of Hollywood; or even Britney Spears, who has pulled her life out of a downward spiral and revived her music career to become one of the highest grossing female singers in history, again.
Well, it's time to add another entry to the famous comeback list.  This time it's the Bacchanal Buffet at Caesars Palace.  In an earlier era, Bacchanal at Caesars Palace represented the decadence of a Roman feast set within an atmosphere of fine dining.  Prior to closing in 2000, the restaurant had become famous for bringing Caesars Palace style entertainment to the gourmet dining experience.  Now this decadent dining experience has returned in the form of the new $17-million Bacchanal Buffet.  Created by a team of master chefs, this 21st century adaptation serves up an over-the-top feast, offering the most variety on the Las Vegas Strip.  Ranging from classic favorites like made-to-order omelets, fresh seafood, and prime rib, the new buffet features more than 500 items.  Bacchanal also offers cutting edge, regional comfort food such as red velvet pancakes, breakfast pizzas, wood-fired Neapolitan pizzas, and Chinese dim sum.  There's even roasted South Carolina shrimp and grits!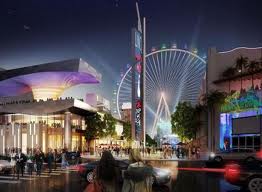 This 25,000 square-foot homage to eating will feature seating for 600 guests in a unique design canvas of glass, wood and steel that incorporates a modern aesthetic of clean lines, amid natural recycled and reclaimed materials.  The Bacchanal also offers a priceless view of the property's world famous Garden of the Gods pool complex.
Led by executive chef Scott Green, the Bacchanal Buffet features a team of master chefs that includes an award-winning pastry chef, and progressive presentations featuring individually-plated items, small plates, numerous cooking stations, and a staggering dessert display. With the chefs featured front-and-center, guests will be awed not only by the vast food selections, but by the freshness of the food, and the overall innovative design of the space.
Bacchanal Buffet should set the new standard for the Las Vegas gourmet buffet experience.  It will feature nine show kitchens and each will have an action station, plated dishes and "minis."  The show kitchen food-type specialties and some of their featured selections include:
Mexican – freshly made enchiladas, tortillas and sopapillas;
Italian – pastas, baked lasagna, and antipasto display;
Chinese – made-to-order assorted soups, wok-fried dishes and dim sum;
Japanese – fresh sushi, sashimi, cooked fish;
American – barbecue house-smoked meats from a wood-burning smoker and wood-burning grill; numerous carving stations including prime rib, brisket, rotisserie chicken and more;
Seafood – fresh East and West Coast oysters; king crab, snow crab, and stone crab; mussels and prawns;
Pizza – a variety served fresh from a wood-burning oven;
Deli – soups, cheeses, seven charcuterie selections including house specialties, as well as, individually prepared and make-your-own salads;
Dessert – chocolate, vanilla, and pistachio soufflés baked to order; a selection of gelato, sorbets and crème brûlée.
Unique buffet items include:  fresh tortillas; crêpes made-to-order; house-smoked barbecue ribs and brisket; vegetarian, vegan, and gluten-free options; and oyster shucking.  The majority of the cooking will be executed in front of guests by interactive chefs.
The Bacchanal Buffet is open daily 7 a.m. to 10 p.m.  Dress code is casual and the price list is as follows:  Breakfast: $19.99; Lunch: $24.99; and a seafood featured Dinner: $39.99.  The buffet is available with the Caesars Entertainment Buffet of Buffets pass for an additional $10 charge.
Save Money Eating in Las Vegas
Visiting Las Vegas?  Here's a list of dining specials I've found that will save you money on your next trip.
Head over to the Gold Coast Hotel and Casino where you can get 1/2 off all appetizers and drinks from 5-7 p.m. in the lounge at the Cortez Room.  Also, the Noodle Exchange restaurant has some wonderful lunch specials for only $6.99.  Choose from Sweet & Sour Chicken, Kung Pao Chicken, Mongolian Beef, Beef with Broccoli and more.
At the Orleans Hotel and Casino, Coasta Cantina offers these early bird specials from 4-6 p.m.  All specials are served with rice and beans.
Cheese Enchiladas ($7.99) – corn tortillas rolled with three cheeses and topped with enchilada sauce;
Tacos ($7.99) – three tacos with your choice of ground beef or shredded chicken with lettuce, tomato, and topped with cheese;
Carnitas ($8.99) – slow roasted marinated pork served with red or green house salsa and pico de gallo;
Chicken Fajitas ($9.99) – served on a sizzling platter with onions, peppers and tomatoes; comes with your choice of corn or flour tortillas.
The Courtyard Café has two spectacular breakfast specials that are served from 6-11 a.m., Monday-Friday.  For $7.99, you can get an 8-oz. Flat Iron Steak served with two eggs, hash browns, and toast.  There's also a "Deuces Wild" special that includes two eggs, two pieces of bacon, two sausages, two pieces of French toast, and hash browns for just $6.99.
Down at the South Point Hotel and Casino, the Coronado Cafe offers what I've dubbed the "Blackjack Meal Deal."  Every day of the week (7 days/nights), the cafe offers a choice of three complete meals (7 days/nights x 3 meals = 21, thus the name!) for $10.95.  The meal deals include soup or salad and are served daily from 11 a.m. to 10 p.m.  The impressive list of entrees' includes:  Tequila Lime Chicken Bake, House-Smoked Brisket of Beef, Chicken Française, Roast Turkey Dinner, Chicken Bruschetta, Flat Iron Steak, Sugarcane Grilled Shrimp Salad, plus a whole lot more.
At the Skyline Casino on Boulder Highway in Henderson, you can get a Rib-Eye Steak dinner served with soup or salad, choice of veggie, and potato for only $8.95.  On 2-for-1 Tuesdays, buy one menu item at the regular price, along with two beverages, and receive a second menu item of equal or lesser value for free.
Here's another good one from downtown Las Vegas.  At Binion's Café, inside Binion's Gambling Hall and Hotel on Fremont Street, they have a "Hangover Breakfast Burger" for $9.75.  The special includes Binion's famous burger topped with a fried egg, two bacon strips, American cheese, lettuce, tomato, onions and pickles.  You also get your choice of French fries or breakfast potatoes.
Bill's Gambling Hall, in the middle of the Las Vegas Strip, offers late-night specials that include a three-egg breakfast served with bacon and sausage, hash browns, and toast served from 11 p.m. until 6 a.m. for only $4.99.  There is also a Steak and Egg special served during the same timeframe that includes hash browns and toast for only $6.99.
I found two exciting happy hour offers at Aria.  At American Fish, guests can enjoy Michael Mina's creativity with classic American food like Shrimp & Grits and BBQ Chicken with cornbread for only $5 each.  Succulent Pork Cheeks with tomato bruschetta and spinach and Ricotta Cheese Ravioli in a creamy sage butter sauce are a few of the bite size delights Sirio Restaurante offers for $7 each or three for $18.
The Range Steakhouse at Harrah's has a new "$7 before 7 p.m." menu in the lounge offering signature cocktails and appetizers for $7 every night from 5:30-7 p.m.
Out in Summerlin, the Rampart Casino will offer $2 Bud and Bud Light drafts at all casino bars 24/7 during football season.  Vienna beef hot dogs for only $1 will be available in the sports book every Saturday and Sunday from 11 a.m. to 6 p.m., and every Monday night from 4 to 9 p.m.  A weekly "Second Chance" drawing for all losing sports tickets will be held in the sports book at halftime during every Monday Night Football telecast with a $100 first place prize and a $100 bonus prize if the winner is present.
Rampart's JC Wooloughan's Irish Pub will offer the following specials every Sunday during football season starting at 9 a.m.:  $2 Bud and Bud Light drafts, $8 domestic pitchers of beer, and $10 pitchers of imported beer.  Liquor specials include a $5 Bloody Mary; while food specials include a $6 wings basket, a $5.99 Angus Burger, and a hearty $8 All-American breakfast.
This Month's Hidden Treasure 
BACIO at the NEW TROPICANA
Recently named the Best Italian restaurant in Las Vegas, celebrity chef Carla Pellegrino's Bacio restaurant is living proof that you don't have to travel all the way to Italy for an authentic Italian dinner.  This charming trattoria specializes in authentic Italian fare and features an expansive wine list.  The interior of the restaurant is decorated in subtle white tones.  Beautiful pictures and Italian mementos adorn the walls and antique curio cabinets.  Outdoor dining on the patio is also available.  The atmosphere and decor makes you feel like you're dining on a street in Naples.
The food at Bacio is amazing and the menu is concise and easy to read.  It includes all your favorites taken to the next level with Carla's special touch.  House specialties include:
Linguini alle Vongole Veraci – linguine in manila clams, extra virgin olive oil and white wine sauce;
Bistecca alla Pizzaiola – a pan seared 17-oz. New York strip steak; topped with sautéed fresh tomato strips, fresh oregano, and extra virgin olive oil;
Vitello o Pollo alla Parmeggiana – veal chop on the bone or chicken cutlet, breaded and fried; layered with marinara sauce, Parmesan cheese and melted mozzarella cheese;
Bacio offers a price fix menu that is available from 5 p.m. to 6:30 p.m.  For $39 you get a three-course dinner that includes a glass of house wine along with coffee or tea.
I have personally dined at Bacio twice.  Both dinners were sensational and the service was exceptional.
In Other Las Vegas News
The Wildfire Sunset, at 1195 W. Sunset Rd. in Henderson, has reopened following an extensive three-month makeover and transformation.  Formerly the Gold Rush, the property's updates include the addition of a sports book lounge, new slot games on the casino floor, and a fourth location of Wildfire Gaming's signature restaurant, Wildburger.
The property's interiors were completely overhauled and now incorporate design elements from current Wildfire Gaming casinos.  These include new carpeting with darker tones, contemporary light fixtures, a wrap-around bar with attractive backlighting and stained glass, and more comfortable, modern furniture.  The mood promises to be sleek and inviting.  Meanwhile, the sports book has been relocated and now features a full lounge environment with plush leather chairs and three 60" flat-screen monitors lining the wall.  Sports book patrons can even order food from Wildburger and have it delivered to their seats in the lounge area.
The renovations and rebranding efforts demonstrate Wildfire Gaming's commitment to providing a comfortable neighborhood casino for Las Vegas area locals who prefer a more intimate environment.
Country couple Tim McGraw and Faith Hill will be the resident entertainers at the Venetian for 40 shows starting in December.  "It will be a show in an intimate and beautiful environment that they've never done before," Venetian President John Caparella said.
Speaking of resident entertainers, Taylor Hicks' show in the Indigo Lounge at Bally's is going so well, rumors are that the show may soon become a permanent fixture.
     Allegro has opened at Wynn Las Vegas in the space formerly occupied by Stratta. Executive Chef Enzo Febbraro promises to offer "a new take on Italian-American favorites."  Allegro is open daily from 5 p.m., with a late-night menu until 6 a.m.
     Bellagio has announced a remodeling project that includes 928 rooms and suites in the Spa Tower.  The entire upgrade is scheduled to be completed by the end of the year.
     Diva's Las Vegas recently celebrated its 1,000th performance at the Imperial Palace.  During the shows' 27-year history, there have been over 20,000 performances with more than 350,000 costume changes.
"Dancing with the Stars:  Live in Las Vegas" at the New Tropicana, will return by popular demand in March 2013.
Surf's up for Surf, the Musical.  The show at Planet Hollywood has abruptly closed after only 6 weeks of limited performances.  Many shows had to be canceled when less than 50 tickets were sold.  Also closing without prior notice was The Price Is Right at Bally's.
Speaking of closings, on the restaurant front, Cabo Mexican restaurant at Red Rock closed unexpectedly paving the way for a new Lucille's Smokehouse Bar-B-Que to open.  Also set to close are three very popular restaurants at Mandalay Bay – China Grill, Red Square, and Red White & Blue.  The restaurants are scheduled to remain open until November.
The LVH has new management.  Las Vegas based Navegante Group has taken over the day-to-day operations from the court appointed receiver who was in charge of the property since January.  A foreclosure sale will be held in November.
Cirque founder Guy Laliberte will partner with Las Vegas nightlife kings, the Light Group, to open a nightclub at Mandalay Bay.
Look for a new TLC Las Vegas series called "Vegas High Rollers" to be added to their TV lineup in 2013.
For items like these and more, visit Steve's award winning website at:  www.everythinglv.com.  Have a question for Steve about Las Vegas?  You can email him at mrvegas98@aol.com.