SPRING SWING
It's time to get outside and tee it up at some of the industry's finest golf courses
By Sean Chaffin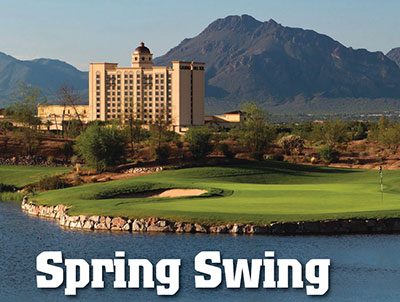 With spring comes plenty of greenery, blooms and warmer weather—and for many that means breaking out the clubs and heading to the golf course. The sunshine, smell of the grass, picture- perfect scenery, and hitting that perfect putt or tee shot—who could ask for more?
For those looking to mix in 18 holes with some casino gambling, the good news is that casinos across the country host some of the best golf courses around. Whether you're a scratch golfer or working on your game, a trip to a great casino resort for some time on the fairway and putting green can be a great vacation option. Here's a look at some wonderful casino golf courses for states with warmer climates, with a guide to northern properties also coming this summer. Grab the clubs and a box of golf balls; plenty of fun awaits.
Sewailo Golf Club Casino Del Sol (Tucson, Arizona)
Whether you regularly hit par or finish a few (or more) shots over, a visit to this course offers an unmatched outdoors experience. At the foot of the Tucson Mountains, the majestic rocky backdrop is perfect for a day on the greens with friends. Casino Del Sol is owned and operated by the Pascua Yaqui Tribe, which has gone above and beyond with the course.
Even the name implies beauty. In the Pascua Yaqui language, the word "Sewailo" means "land where flowers grow," and the course exudes this sentiment with more than 30,000 native flowers, plants and cacti throughout the brilliant 200-acre course designed by Notah Begay III and Ty Butler. The flora makes for an almost unreal outdoors experience.
Sewailo is continually named one of the "Best Courses You Can Play in Arizona" by Golfweek and welcomes players of all skill levels. The 18-hole, par-72 championship course measures 7,400 yards from the tees and features five different tee boxes at each hole.
The course's rolling velvet fairways and exquisite greens complement the nearly 14 acres of extraordinary lakes, streams and water features. Indigenous flowers and plants used in tribal ceremonies are also plentiful and have been salvaged and replanted from the original site.
As a golf course architect and Native American PGA Tour player, Begay was tasked with designing a championship course that fit within the native landscape of the reservation, incorporating ceremonial plants, a plethora of flowers and lush grasses. On the course, players are surrounded by colorful snapdragons, weeping willows, Texas mountain laurels with hints of lavender, brittlebush, grasslands and towering pine trees, as well as native plants like Palo Verde, cacti and mesquite trees. Sewailo's fairways are all Bermuda grass overseeded with rye, intertwining between the seven lakes and two miles of flowing streams on the course. There is also an island-like green at the 18th hole.
Cart paths are exposed aggregate, blending naturally into the course landscape, and all of the tee markers were created and hand painted by art students of the Pascua Yaqui Tribe. Additional features include an expansive driving range, practice areas for chipping and putting, and golf rental equipment from Callaway Golf. The venue is the official home of the University of Arizona women's and men's golf teams. A visit to the course lands players in an amazing natural environment.
Talking Stick Golf Club – O'odham Course Talking Stick Resort (Scottsdale, Arizona)
With breathtaking views of the surrounding McDowell Mountains, the Talking Stick Golf Club is a stunning oasis set within the Sonoran desert landscape. The resort boasts one of the largest casinos in Arizona as well as one of the best courses in the state. The facility features two championship courses designed by legendary course architects Ben Crenshaw and Bill Coore. The landscape features picturesque scenery with lush emerald fairways, catering to golfers of all skill levels.
Both courses bring excellent reviews, with numerous awards and accolades, and have also served as the backdrop for many prominent Scottsdale events. The O'odham Course particularly stands out and features a links design with grasslands and unique bunkering. Players will find broad, angular holes with low-profile, slightly crowned greens. The close-cropped approaches fit running the ball or taking it to the air. O'odham offers numerous game options depending on a player's skill level.
The Piipaash Course offers a challenging 18 holes, with a more traditional layout dotted with tree- lined fairways and water features. Players will also find beautiful views and landscape as well. Those heading to the Southwest will want to put the Talking Stick on the itinerary for some great golf as well as excellent gaming, dining and numerous entertainment options. Players can get all this in one deal with a golf package that includes green fees, lodging and even several options for treatments at the Talking Stick's spa. Sounds like a perfect weekend.
Koasati Pines Golf Course Coushatta Casino Resort (Kinder, Louisiana)
Head to the wetlands of Southwest Louisiana for a unique golf and gaming experience. The casino and golf course are owned and operated by the Coushatta Tribe, and this remarkable golf property is surrounded by woods featuring tall pines, massive live oaks and gorgeous greens and fairways. Koasati offers a great way to spend some time with friends in a pristine, natural environment. The course is located on 65 acres, featuring gently rolling terrain with looking-glass lakes.
The entire design is meant to give players a completely relaxed outing, while still offering a challenging golf experience for skilled and new golfers alike. The spectacular greens play like velvet and the great weather allows for plenty of days for a golf outing throughout the year. The par-72 championship layout features six sets of tees with multiple approaches on three holes. Fitting for a casino, Koasati Pines also offers a unique "Gambling Hole." This 19th hole is a par 3 with an island green and a fun way to close an afternoon on the course—and the perfect way to break a tie.
In January, Golf Advisor ranked Koasati Pines 18th among the publication's "Golfer's Choice Top 50 US Courses." The course also continues to take the top spot as "Best Golf Course in Louisiana." Koasati has regularly garnered top honors from golf publications since its opening in 2002. Beyond the golf, players can unwind after playing 18 at the Eagle Bar and Grill for a bite to eat and a cocktail. The Coushatta also offers a great night of action and bills itself as "Louisiana's best bet."
The property features 100,000 square feet of gaming space, a luxurious hotel, a luxury RV resort, fabulous restaurants, live entertainment and more. Grab the gold bag and book a room.
Rocky Gap Golf Course Rocky Gap Casino Resort (Flintstone, Maryland)
Rocky Gap Casino Resort, nestled in the Appalachian Mountains with lakeside views, offers luxurious amenities, award-winning restaurants, spaciously distanced outdoor activities, a high- energy casino experience and a renowned golf course, all set to the natural beauty of Rocky Gap State Park. Located about two hours from Washington, D.C., Baltimore and Pittsburgh, Rocky Gap offers a picturesque retreat for an adventurefilled getaway, a corporate event or family reunion.
Recently named one of Golfweek's "Best Casino Courses," Rocky Gap Golf Course is a 7,000-yard, par-72, 18-hole course with five tee boxes at each hole, to allow players to adjust according to their handicap. The only Jack Nicklaus Signature Golf Course in Maryland, the course offers a 50-spot driving range, two large putting greens, two chipping areas and a practice bunker. The front nine is carved from mountainous, tree-lined terrain with numerous dramatic elevation changes, while the back nine is spread across expansive, gently rolling meadows. 2021 celebrates the 20th year of the destination golf course. Rocky Gap Golf Course offers competitive membership packages for locals and visitors alike, with single and group lessons also available.
Rocky Gap Casino resort offers four golf membership programs including Loyalty, Loyalty Premier, Family Loyalty and Out-of-Town. Local golfers are eligible to purchase memberships for the Loyalty Program, which includes 18-hole access seven days a week with green fees only. The Loyalty Premier package allows 18-hole access to the course seven days a week with all green fees included. The Family Loyalty program includes 18-hole course access seven days a week for two adults and two juniors with the green fee only. The Out-of-Town program, designed to give guests who live 60 miles or farther away access to the premier course, includes four complimentary rooms per month, April through October. All memberships include a 15% discount at Signatures Bar & Grill and course beverage cart; 15% off at The Spa at Rocky Gap; participation in the monthly prize giveaway program; reduced rates for member golf events; participation in the exchange-day program with regional golf courses; a custom 20th anniversary bag tag; a commemorative 20th anniversary Jack Nicklaus signature golf course hat; and complimentary range balls for the season.
Home to Rocky Gap Casino Resort, Rocky Gap State Park includes 3,000 acres of land with dozens of scenic hiking and mountain-biking trails, plus a 243-acre lake. Throughout much of the year, Rocky Gap Casino Resort is an outdoor playground, with a boathouse on the lake to rent pedal boats, canoes, kayaks and stand-up paddleboards. Fishing is another popular activity, as is bird watching. Rocky Gap's spacious grounds offer oversized chairs and several firepits for lounging, as well as bocce and cornhole games.
There is plenty of adventure year-round at Rocky Gap's award-winning casino. Rocky Gap Casino Resort features 665 slot machines, 17 table games and two casino bars. Table games include bonus craps, roulette, three card poker, Lucky Ladies blackjack, double deck pitch blackjack, Mississippi stud and ultimate Texas hold 'em. Golden Entertainment, Inc.'s innovative guest loyalty rewards program, True Rewards, is available at Rocky Gap and 140+ other locations.
Rocky Gap offers exceptional dining and includes a high-end restaurant overlooking the stunning and spacious lake, specializing in steaks, chops and fish, and features a curated wine list—plus, crowd-pleasing Maryland crab cakes. Other restaurants include Signatures Bar & Grill, which offers sports viewing, burgers, pizzas, beer and more in a clubhouse atmosphere; and Lobby Lounge + Café, a popular spot for pastries, coffee and Boar's Head sandwiches, as well as a full-service bar.
On the Rocks, the resort's biggest full-service bar, serves specialty cocktails and a wide selection of beers on tap.
Rocky Gap also offers a tranquil spa, salon, fitness center and a spacious indoor swimming pool, open year-round. The Spa at Rocky Gap offers guests a variety of indulgent services, including massages, facials, salon services, manicures, pedicures and waxing services. A popular favorite includes Rocky Gap's signature spa massage—with warm stones and aromatherapy—perfect after a long day of adventure or golf.
Luxury rooms and suites, all of which have been recently renovated, are appointed with top-of-the- line luxury bedding and pillow-top mattresses and offer breathtaking views of the mountains and the lake. Exceptional amenities include premium cable channels on HDTVs, and refrigerators.
Dancing Rabbit Golf Course Pearl River Resort (Choctaw, Mississippi)
www.PearlRiverResort.com, www.DancingRabbitGolf.com
A trip to the south offers a chance at some great golf and gambling at Pearl River Resort. Pearl River features two award-winning, par-72 courses designed by Tom Fazio and PGA great Jerry Pate. The serene, tree-lined landscape makes for a perfect trip for players to battle with friends for some bragging rights and fine-tune their skills along the way. The entire property features 700 acres and five miles of spring-fed streams.
The Azaleas course opened in 1997 and was renovated in 2016. Players will find immaculate Mississippi Choice Bermuda tees, Tifway II Bermuda fairways, and TifEagle greens. The Oaks opened in 1999 and also offers a perfect natural setting with Tifway II Bermuda greens and Meyer Zoysia fairways, for an exceptional experience. Both courses feature 7,000 yards with five different sets of tees for every level of play. The courses have received numerous awards and honors. Ready for 18 holes? Maybe 36 would be even better? Dancing Rabbit can make for a great weekend of gaming and golf.
Fallen Oak Beau Rivage Resort & Casino (Biloxi, Mississippi)
It's Southern charm with a hip, cool vibe and elegant surroundings at Beau Rivage Resort & Casino.
And the Tom Fazio-designed golf course, Fallen Oak, considered one of the best by numerous golf publications, keeps the tradition alive and well. From more than 4,000 stately oaks, pecan and magnolia groves to its brilliantly manicured grounds, Fallen Oak's 7,487-yard championship course is perfect. The 520-acre, 72-par course offers brilliant views, rolling streams, lakes, and even a few marshes to challenge players. Caddie services are available to personally tend to all of your needs and add to the experience. The course has consistently ranked as the best course in Mississippi by Golf Digest and Golfweek, and hosts the Mississippi Gulf Resort Classic on the PGA Champions Tour.
With its dramatic elevation changes, wide fairway and rolling terrain, Fallen Oak offers a beautiful natural canvas and world championship golf experience.
Wynn Golf Club Wynn Las Vegas Resort (Las Vegas, Nevada)
This casino exudes Las Vegas luxury and that carries over to the golf course as well. Wynn Golf Club was built on the former site of the Desert Inn and remains the only course located right on the Las Vegas Strip. The Tom Fazio-designed course opened in 2005 and closed in 2017 to make way for a development, but those plans were abandoned and the course reopened in 2019. That's been some excellent news for golfers. Players will find lush greens, rushing streams, and brilliant landscapes—a true oasis in the desert that may seem a million miles from the hustle and bustle of the Vegas Strip.
Golfers will find a 6,722-yard, par-70 championship course with topography offering significant elevation changes, exquisite water features and mature trees. Wynn provides an unmatched experience for golfers of every skill level. The facility was recently expanded to include a new 6,500- square-foot practice putting green and a netted full-swing warm-up area, as well as a professional caddie program with many PGA-member- level caddies. Players will also delight in delectable on- course meal choices. Had a good day on the greens? Maybe that momentum will carry over to winning some green at the tables or slot machines. Missed a few putts? A visit to the Wynn spa might ease the mind and soothe some sore muscles. A visit to the Wynn Resort can be a perfect Las Vegas getaway.
Journey at Pechanga Pechanga Resort & Casino (Temecula, California)
www.Pechanga.com, www.JourneyAtPechanga.com
Any West Coast golf outing should include a trip to this stunning course. Journey seems a fitting name in a quest for the perfect day teeing off and sinking some great putts. The 7,219-yard, par-72, 18-hole golf course is ranked as one of the best in the state and regularly named among the country's best public/resort courses. The course is on the ancestral land of the Pechanga Band of Luiseno Indians and comes with a unique distinction. Visitors will want to check out "The Great Oak," one of the largest naturally growing, indigenous coastal live oak trees in the country. The tree, estimated to be anywhere from 850 to 1,500 years old, features a wide trunk and sprawling limbs.
When teeing off, players will admire this course for the stunning views with vistas and rocky mountains offering unique sights of the Temecula Valley. Designed by Arthur Hills, Journey is nestled along the beautiful and boulder-lined Pechanga River, with rustic wooden bridges only adding to the course's ambiance and terrain. The challenging design rewards accurate shot-making. With elegant surroundings that rise and fall to an elevation of 300 feet, the property is truly a unique golfing experience on land that has been part of the Pechanga Tribe for generations. The course also features a 62,000-square-foot clubhouse, restaurant and more. Head to the valley for some gambling, sunshine and swinging those clubs. It's all a hole in one.