Sports Betting Explained
A beginner's guide to working the books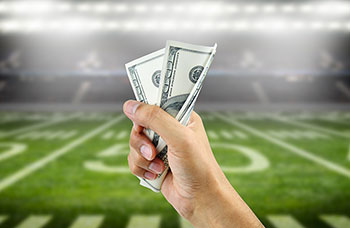 Given the opportunity, people will bet on just about anything, at any time. In the 15th century, we saw the rise of poker (known back then as "poque"), followed shortly thereafter by the birth of bingo. A century or so later, explorers and settlers were known to cast off their worries about surviving in the harsh, untamed land that would someday be called America in favor of a couple hours of cock-fighting or bare-knuckle pugilism. The 19th century saw horse racing as the event of choice, followed shortly thereafter by the growth of games like baseball. And in the 21th century, sports betting has grown even more to include everything from traditional sports like football and basketball to politics, popular television, and even the exploration of space.
Sports Betting Defined
The act of sports betting is exactly what it sounds like: wagering on the outcome of a sporting event. In all but the most simplified cases—such as betting with a friend or in an office pool—such gambling is typically done through the use of a bookmaker, a person or organization set up to take or "book" bets, pay winners and claim their percentage from losers.
In order to provide bettors with their services, bookmakers charge a small commission (called "vigorish" ) on wagers. That commission ranges from a typical 10% to as low as 5% in some situations. Following the posted event, the bookmaker pays out the winners according to predetermined values, or odds.
While there are a variety of betting options sports bettors can avail themselves of, there are two general wagering formats available with regard to the winner of a sporting event. They are: point spread and moneyline.
A point spread wager is a simple betting format whereby the bettor is required to risk more money than they can potentially win. For example, a bettor would need to risk $110 in order to win $100, with the extra $10 being the bookmaker's commission. In addition, bettors who back the favorite—the team expected to win—collect only if their team wins by a predetermined margin, while underdog bettors—the team considered to be at a disadvantage—collect as long as their team covers the point spread, even if they lose.
In events such as boxing, where the nature of the sport makes point spreads impractical, the moneyline system is used. These are straight-up odds bets based on the amount of risk required to win $100 when betting on the favorite, or the amount paid for a $100 bet on the underdog. For example, suppose that you wanted to place a bet on a game between two opponents—X and Y. The moneyline might have team X (the favorite) at -200 and team Y, the underdog, at +180. If you wanted to take team X, you'd need to risk $200 for every $100 that you'd like to win. On the contrary, if you had opted to bet on team Y, you'd win $180 for every $100 wagered.
For this type of betting structure, bookmakers typically use what's known as a "dime line" to calculate the vigorish. For favorites of -120 to -150 the difference between the opponents is 10 cents, with prices increasing for -160 and above. In addition, unlike with the point spread system mentioned previously, moneyline wagers require that the team wagered on wins.
Other Types of Wagers
Beyond the money lines and point spreads, sportsbooks offer a range of alternative bets designed to cover many possibilities. These include over/unders, parlays, proposition bets, futures, run line and goal line bets.
Over/Unders: When betting the over/under, punters (bettors) are basically predicting the combined total score between the competitors and betting on whether that score will be higher than or lower than a specified number.  For example, let's say that a football game has a total set at 50. If the score at the end of that game was 24 to 35—totaling 59 points—the over bettor would win. Had the score totaled 21, on the other hand, the under bettor would collect. To compensate for the possibility of a tie, or "push," bookmakers frequently set their totals at intervals that include half points, such as 50.5.
Parlays: A parlay is a difficult, yet potentially lucrative, wager where the bettor must select the winners of two or more independent events. For example, in a five-team parlay, the bettor is essentially making five distinct bets on five specific teams. If any of those teams fail to cover, the bettor loses.
Proposition bets: Proposition bets are wagers made on very specific aspects of an event, such as a wide receiver's total yardage for the game.
Futures: A wager made (or lines/odds posted) on the future outcome of an event, such as betting on the Super Bowl champion for the upcoming season. The odds for this type of bet are usually high and given as the ratio of units paid to units wagered, such as 50-1.
Run line/goal line bet: These are fixed point-spread bets offered as an alternative to money-line bets and feature higher payouts for the favorite and lower payouts for the underdog.
A Word about Bookmakers
Whether they deal with online or traditional bettors, bookmakers devise and publish the odds that will, from their perspective, accomplish two goals: accurately predict the most likely outcome of the event and balance the value of incoming wagers for both sides. In other words, since a bookmaker's money is earned by the vigorish and not on risking their own capital through gambling, they want the sum of all wagers made on both sides of the event to be as close as possible, thereby earning them their commission and a profit. To do this they make minor adjustments to the money line or point spread as bets come in.
For example, in the case of an American football game where the point spread is 23, if they notice an inordinate number of wagers coming on one side they would shift the spread to either 23.5 or 22.5—whichever direction would encourage more wagers on the team receiving less action. The same action of shifting the line is also taken for money lines, again with the purpose being to ensure profitability on the part of the book.
Betting the Favorite
By Sean Chaffin
Plenty of news continues in the world of sports betting, especially as the NFL season approaches. This month's "Betting the Favorite" takes a look at ESPN's possible expansion of its own sports betting prospects, Maryland's stalled mobile sports betting efforts, legalization in Massachusetts and more.
Worldwide Leader in Sports … Betting?
Disney leaders recently noted their need to add a larger sports betting element at ESPN. The company looks to be getting into the wagering business to some degree. As others in the industry have partnered or even own a percentage of sports betting operations, such as FOX Sports, ESPN has lagged a bit behind in making a major leap into the industry. That appears to be changing soon.
"We have found that basically our sports fans that are under 30 absolutely require this type of utility in the overall portfolio of what ESPN offers," Disney CEO Bob Chapek said recently in a corporate earnings call. "So we think it's important. We're working hard on it, and we hope to have something to announce in the future in terms of a partnership there that will allow us to access that revenue stream and also make sure that our guests are … having their needs met."
ESPN has partnerships with DraftKings and Caesars, but appears to be looking for an even bigger piece of the pie. The company has a deep stable of sports content via television, radio, online, streaming service and more. That offers a large footprint to reach potential bettors and to ramp up even more sports wagering content.
Despite that, there may be some headwinds coming ESPN's way as well. Hedge fund manager Dan Loeb purchased a major stake in Disney in August and urged the company to spin off ESPN into its own company. The prospect of a sports wagering effort seems to be a big part of that thinking.
"ESPN would have greater flexibility to pursue business initiatives that may be more difficult as part of Disney, such as sports betting," Loeb said in a letter to Chapek. "We believe that most arrangements between the two companies can be replicated contractually, in the way eBay spun PayPal while continuing to utilize the product to process payments."
Maryland Mobile Sports Betting Won't Launch in Time for Football Season
Despite legalizing retail and online sports betting in December 2021, Maryland sports fans won't be able to wager by cell phone or computer anytime soon. The state's Sports Wagering and Application Review Commission (SWARC) offered an update on the regulation process in August and it doesn't look promising for mobile wagering going live anytime soon.
Gov. Larry Hogan (R) has expressed frustrations with the process and urged the commission to approve mobile wagering in time for the NFL season. That apparently isn't going to happen and it looks as if Marylanders won't be able to wager on a Ravens game even by the end of the year.
"Staff hopes Marylanders can bet on the Super Bowl on a mobile platform," Maryland Lottery and Gaming Control Agency COO Jim Nielsen said in the meeting.
Several hurdles stand in the way, according to regulators, including a sports betting industry analysis and committee review. That, along with regulation recommendations, would then need further approval by a legislative committee. After that, there would be a 45-day window for online sports betting applicants to apply for a license. The committee then has 45 days to review applicants.
That could leave Maryland with the longest process of any state legalizing mobile wagering. With 80–90 percent of bettors making wagers online, Hogan pointed out the obvious regarding the situation in a letter to the committee in June.
"Instead of decisive action to implement the voters' decision, you have allowed the process to stagnate and become mired in overly bureaucratic procedures that have needlessly delayed the state's ability to maximize the revenue potential of this emerging industry," he wrote. "Sports fans in Maryland simply want to be able to place bets on their mobile devices—that's what they voted for, and they are angry and discouraged over SWARC's inability to make it happen."
Bally's Teams Up With Yankees
The New York Yankees are quite a prize for any sports betting operator looking to partner with one of the biggest franchises in sports. In August, Bally's announced a partnership with the storied franchise designating Bally Bet as an official sports betting partner of the 27-time World Series champions. The deal marked Bally's first team partnership in New York after becoming the ninth online sports betting operator in the state in July.
Bally's receives use of Yankees trademarks and various marketing inside Yankee Stadium. Additionally, the company receives an in-game feature on the centerfield video board and more. The company also becomes an official daily fantasy sports partner (Monkey Knife Fight), iGaming partner (Bally Casino), and free-play gaming partner (Bally Play). Bally's Casino Atlantic City also becomes a partner with the team as well.
"This is a great partnership that will give Bally Bet and our other Bally's Interactive brands terrific visibility in New York," Bally's Interactive North America COO Adi Dhandhania said. "The Yankees' history as a franchise and their popularity as a global brand speaks for itself."
The deal adds to Bally's growing sports and media footprint. The company is now operating in six states and is an authorized gaming operator with MLB, NHL, NBA and WNBA. Bally's also partners with Nashville Predators, Phoenix Mercury and Cleveland Browns.