SOUTHERN COMFORT
Summer Heats Up on the Mississippi Gulf Coast at Beau Rivage Resort & Casino
By J. Phillip Vogel
There's so much fun and excitement coming to Beau Rivage Resort & Casino this summer. From soaring into fantasy with jaw-dropping shows like CIRCOVIA, to a fun-filled romp that is Dueling Pianos – where high-energy live music and audience participation is king – the AAA Four Diamond beachfront resort on the Mississippi Gulf Coast takes entertaining their guests to a whole new level.
Even the hotel is getting in on the excitement, with MGM Resorts International recently completing a $10 million dollar suite renovation at Beau Rivage. The redesign of 95 suites capped-off a multi-year renovation project that included a newly expanded VIP check-in area and luxurious high limit area on the casino floor.  "We wanted to showcase the unique attributes of the Mississippi Gulf Coast while incorporating the conveniences of modern technology" said Beau Rivage Marketing Vice President Brandon Dardeau. "The newly-renovated suites are inspired by our spectacular sunsets, white sand beaches, calm coastal waters and legendary Southern charm."
So from great shows to great rooms, here are just a few of the highlights and special events you can expect from Beau Rivage this summer. Get ready for one heck of a great time!
THE IMAGINARY WORLD OF CIRCOVIA
Entertainment of another realm will soar into the Beau Rivage Theatre this summer. From June 9- August 7, audiences are invited on a captivating journey to the world of CIRCOVIA, where intrepid artists defy the laws of gravity, define precision and deliver adrenalin-infused performances in an
exhilarating voyage to another dimension.
Produced exclusively for MGM Resorts International by DreamCast Entertainment, CIRCOVIA will bring never seen before acts to the Beau Rivage stage. Daredevils catapulted up to 30 feet in the air perform quintuple somersaults, identical twin aerialists fly over the audience on aerial straps suspended from the ceiling and the Titanic Tulga, a descent of the legendary Genghis Khan dynasty, demonstrates a herculean display of human dexterity as he juggles 16-pound bowling balls and whirls cumbersome telephone poles with jaw-dropping power.
"Beau Rivage continues to define and refine entertainment on the Mississippi Gulf Coast," said Beau Rivage President and COO Bill Boasberg. "CIRCOVIA and the accompanying resort-wide offerings will certainly engage and entertain members of the entire family."
From white-knuckle acrobatics and awe-inspiring aerialists, to the ethereal moves of the Moscow Circus ballet and hilarious comedy of the world-renowned circus clown Bilby, CIRCOVIA offers an exciting kaleidoscope of positive emotions for the entire family.
CIRCOVIA tickets are $12.95, $16.95 and $29.95 plus tax and service fees, and available by calling 888.566.7469 or visiting www.ticketmaster.com or www.beaurivage.com. Performances are 7 p.m. Monday-Thursday; 3 p.m. and 7 p.m. on Saturday and Sunday; and no performances on Friday.
Dinner, a Show – And So Much More
A family four pack of tickets to CIRCOVIA is available for $40 mid-week, and active duty and retired military can enjoy four tickets for $30 every Monday during the show's run with valid military ID.  CIRCOVIA room packages start at $129 plus tax and fees and include deluxe accommodations and two tickets to the show. Offer is valid Monday-Thursday by calling 888.567.6667. Reservations are required, pricing is based on availability and package rates vary based on occupancy.
CIRCOVIA ticket holders can take advantage of resort-wide specials from June 9-August 7 including food & beverage, retail and arcade. Children 12 and under eat free at The Buffet with the purchase of an adult buffet. Guests receive 15 percent off total bill at BR Prime, Jia, Stalla, Coast Seafood & Brew and Terrace Café when presenting ticket stub. Ticket holders can receive 15 percent off regular-priced merchandise in The Promenade Shops when presenting CIRCOVIA stub and double winning tickets in the Arcade, up to 500 tickets, with voucher.
IVORY'S DUELING PIANO BAR: WHERE MUSIC COMES ALIVE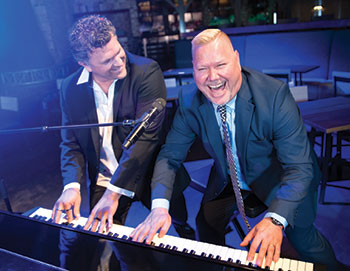 Beau Rivage Resort & Casino's summer entertainment schedule includes the recent opening of Ivory's Dueling Piano Bar. Locals and visitors to the Mississippi Gulf Coast will have a new entertainment option for high-energy live music and audience participation every Thursday, Friday and Saturday.
"We listened to our guests and wanted to enhance our nightlife experience this summer," said Beau Rivage Vice President of Marketing Brandon Dardeau. "Ivory's will be a great venue to hang out with friends, enjoy a few drinks and listen to great live music by some of the best piano players in the country."
Led by two-time Guinness World Record Holder Tim Buie, two piano players will take
the stage each night at 9 p.m. to play the hits and take song requests from the audience. At 45 minutes past each hour, lucky participants can have "15 Minutes of Fame" with an opportunity to sing onstage with the musicians.
The self-proclaimed "Ric Flair of Dueling Pianos," Buie made his way into the Guinness Book of Records for non-stop marathon piano playing. His first world record was 56 hours and 10 minutes. He broke his own record two weeks later when he performed for 63 hours and 11 minutes. Buie will be joined onstage in a rotating cast of exceptionally talented musicians including Brad Heron, Nate
Sangsland, Tim Georgeff and Laura Wiley, all recognized as top piano players in the business. With more than 6,000 songs in their repertoire, ranging from rock n' roll to contemporary, classic rock to country and R&B to show tunes, these top national touring pros take great pride in entertaining and engaging audiences.
Ivory's festive menu includes more than 30 craft beers, a selection of wines and aptly-named cocktails such as Sweet Caroline, Take it Easy, Family Tradition, I Will Survive, and Friends in Low Places. Fresh oysters from the Raw Bar and beer pairings are also available.
From Billy Joel to Bob Seger, Ivory's fast and funny piano players will perform plenty of crowd pleasers to encourage everyone to sing along and make it a night of unforgettable entertainment. Admission is free.
BEHIND THE MUSIC
Dueling Pianos is always about a partnership, but also a sense of knowing the crowd. Tim Buie has trained numerous piano players and toured piano bars around the world. Now with his current playing partner Tim Georgeff, whom he met in New Orleans, the duo is bringing their banter and fun to the Beau Rivage Resort & Casino in Biloxi, Mississippi at Ivory's Dueling Piano Bar. Both Buie & Georgeff sat down with Casino Player to discuss style, audience reaction and the importance of repertoire.
Casino Player: Can you talk about perspective in terms of both reading a crowd but also in the actual playing?
Tim Buie: I think what makes a professional in this industry is being is being able to adapt. For example, I'm from North Carolina, but I ended up living in Norway almost 20 years. My wife is from Norway. My kids are born there. Even though I'm from Lumberton, North Carolina, I've actually been in 43 countries around the world. When you get to that level as a piano entertainer, you can walk into any club and feel comfortable. It could be a five-star setting, or it can be a barbecue house in Memphis. Preparation is everything. We have a saying in our industry which I live by. It is the most important three words: Repertoire Is King. They don't care how you look, they don't care how nice you are, they want to hear their song. That's the lure. What we do, there's two types of players: Those who are serious about it. And those who are not serious about it. I'm 54 years old. I've been around the world. I've trained over 300 piano players who make their living doing this.
Even if the audience is throwing out requests for any song?
TB: We are masters. Finding out where people are from. "Hey, folks do you like country music?" If I realized a hundred fifty people are dying to hear country music, odds are I'm going to play a jazz fall. Once I have your attention, then I'll go flotsam country on them. We can go from Hank Williams Jr to Kenny Chesney then switch to Chick Corea to Art Tatum then go ragtime to Jerry Lee Lewis to Billy Joel to George Jones. You know what the number one tool to find out exactly what it is going to be on the list? The room. I kinda think of myself like the wrestler Rick Flair. I'm not there to blow people's minds.
But there is a certain style certain performers have, like Elton John or Stevie Wonder…
TB: I'm going to do everything I can; if you close your eyes as a listener. In that magical court, there's a certain style. Billy Joel plays. There's a certain style. I wanna do closeness. I can't do a record for that listener since they have an experience. That is one of the hardest things right now. Somebody told me a beautiful story. There was a car when we were growing up… and people in the car had one radio station. So, there's one radio station. One car. Five people. Those five people hear two songs. Same songs and radio station. Everybody's listened [to them] in their own way. Hip hop has [obviously] thrown a curve ball but we can do just enough to make the young people happy, but I'm never gonna do enough for the older folks. There's a fine line of reading the audience and seeing the way they're moving because if most people start looking at their cellphones, we're going to bail out of that song. But I mean, you can lift a room, a dead room, playing "Sweet Caroline". You have 21-year -olds to 95-year-olds clapping and singing like their life depended on it.
Then you can see the different perceptions of the audience…
TB: We like to create causes of conflict in the audience… to light the room up! This is my side. That's my partner's side. We'll have a little competition. In the end, we always give a victory to the one whose side was the quietest. (laughing) Keeping it up with a curve ball. We're not a concert. We want people clapping and singing and we just come up with fun skits that bring people to the piano. We have a saying: "If you didn't have fun at this show, it's not because of us!" We gave it everything we have.
How does that diversity of playing help you both work together?
Tim Georgeff: I actually was born in Michigan and grew up in the Midwest. We have different backgrounds in music and highly different repertoires. I think that's really important with partners. I think that's one of the reasons why Tim and I have had a successful relationship because, besides being complementary musicians, we also have a wide and buried repertoire. When you have a partner that you're working with consistently, you also want to make sure that you get along well outside of that arena as well because you spend a lot of time together.
Influences paint a person's style as well…
TG: That's schooling. I definitely had the background of gospel music. Music comes from honoring and your taste in music, and I put a little bit of a different spin on it. It allows for different styles. But you can never please everybody.
What about learning new songs that are maybe not your generation or background?
TB: Every song has a flavor. Everything has a groove, something special to it. There's a song by Sugar Ray called "Fly". Very simple song. But if you really listen to it, the song is right in the pocket, because of the space from its windows cords and what he's doing. So, we try to emulate that. We try to emulate that pocket. Even when a place asks for ABBA, or they might ask for "Celebration"… those songs, they have a flavor. It's like food. We understand we cannot make everybody happy. We know how to deflate [a situation] like a good professional comedian dealing with the hecklers. We know how to let it roll off our shoulders. It's taken me many years to learn this. You just let it roll off you like rain.
So do different crowds react in different spaces? Even countries?
TB: Here's the difference between Norway, for example, and Biloxi, Mississippi. Get ready for this one. I can't make this up. Hollywood writers couldn't write this. The biggest dog by far in Norway
that you're going to play 20 times a night is "Cotton Fields" [by Creedence Clearwater Revival]. They love it. They want it more than any other song. I've seen bar fights at the piano because we couldn't play "Cotton Fields" anymore (laughing). I don't know what it is about that song and Scandinavia, but it's a fact. With say a market like the West Coast, California, we're going to do a lot of Nirvana. A lot of Red Hot Chili Peppers, The Killers. Mississippi's different too. Different musical silos. That's the beauty of dueling pianos. There might be some song [I don't know] and I simply pass it over to my partner. Odds are he knows that song. We're humans. We're not machines. There's also some songs that come up three or four times and we don't know it. But we will learn that one from now on. You have to take requests quite seriously when you're doing an all requests show. You better have your ducks in a row because they can get ugly real quick.
You've worked at as a session musician as well…
TB: There is proof positive in that. There's a musicianship slide where I'm trying to provide the best music, the best vocals to do justice to the song. But I'm 60% more involved with the audience that I am the music. I'll let you in on a secret. The men and women in the audience. Maybe those who don't get attention all the time? Those are the ones I really give the attention to. The women who maybe are not models. The men that look like they've haven't got much attention in life. These are the men and women that I work hard to go to. I'll get off the piano. I'll run over there. I'm a hugger. I like people… especially big guys who are too cool to have fun. That's my Rick Flair again. I mean, just boom, it breaks the ice. I know I've got that audience member in my hand. I'm going to give you a real positive story. 16 years ago, I was playing in Columbia, Missouri at a piano bar called The Penguin. There was this guy. Nobody gave him attention. He played piano, but he couldn't really sing. He knew "Great Balls Of Fire". He gave us 20 bucks and we're like, "Charles, we don't want your money, man! We just want you love it!" So he came up, we built it up and he played. And he got all the attention. His name is Charles D'Angelo. And now he is a health guru to the stars. He works with Elton John. He works with Paul McCartney. We didn't judge him back then. That's the beauty of piano bars.
So ultimately it just comes down to having heart.
TB: I'm not a miracle worker. I'm a piano entertainer, but this gig is more on the human side. But you're nothing without the music. It gets back to "Repertoire Is King". We have so many tools that can lift a room. There's gonna be times when I know exactly what they want, and I play just the opposite, just to grab their attention.
SIDEBAR: That's Entertainment!
Beau Rivage has a steady lineup of great entertainment packed into their summer schedule. Check out these headliners the next time you visit.
Gladys Knight with Orchestra Symphony at the Beau Series, June 22
Ticket prices: $49.95–$89.95 (plus tax & service charge)
Ticket prices: $29.95–$59.95 (plus tax & service charge)
Ticket prices: $39.95–$69.95 (plus tax & service charge)
Ticket prices: $24.95–$59.95 (plus tax & service charge)
Wynonna & The Big Noise, July 20
Ticket prices: $24.95–$59.95 (plus tax & service charge)
The Isley Brothers, July 27
Ticket prices: $39.95–$79.95 (plus tax & service charge)
Ticket prices: $39.95–$69.95 (plus tax & service charge)
Ticket prices: $34.95–$64.95 (plus tax & service charge)
Toni Braxton: Sex & Cigarettes Concert, August 25
Ticket prices: $54.95–$94.95 (plus tax & service charge)
Better than Ezra, August 31
Ticket prices: $14.95–$29.95 (plus tax & service charge)
Ticket prices: $49.95–$79.95 (plus tax & service charge)
To purchase tickets to any event, visit www.ticketmaster.com or stop by the Beau Rivage box office