Hit the jackpot at San Manuel Indian Bingo & Casino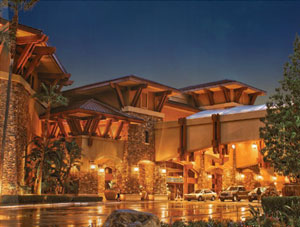 San Manuel Indian Bingo and Casino is Southern California's one-stop destination for thrilling gaming excitement. San Manuel is located in Highland, California, just 70 minutes from downtown Los Angeles and a short drive from LA-Ontario International Airport. Guests enjoy over 3,600 of the latest slots, live poker and Vegas-style blackjack, high-limit gaming, high stakes bingo, incredible entertainment, sumptuous dining and generous player's reward program.
Owned and operated by the San Manuel Band of Mission Indians, the casino has been providing gaming excitement since 1986. In the last year, San Manuel has paid out over 175,000 jackpots hit on more than 3,600 slots. Millions of dollars were paid out in high-stakes bingo. Over 70,000 concert attendees witnessed breathtaking live entertainment. Over 2 million visitors experienced the exhilarating gaming entertainment San Manuel Indian & Bingo Casino has to offer.
Over the last 18 months, San Manuel has spent over $50 million renovating existing amenities while adding even more. A larger, streamlined buffet, a lush new high limit room, and expanded food and beverage offerings are just the tip of the iceberg. "We've put forth considerable effort in becoming the best possible environment for gaming entertainment. Our focus on gaming hasn't waned, but we have revisited some of our amenities, adding some and upgrading others to help us as we strive towards being the best," says General Manager Loren Gill.
Upon entering the casino's rotunda, Guests are now greeted with stunning terrazzo flooring, an innovative water feature that incorporates spectacular digital messaging into a waterfall, as well as upgrades to numerous casino and guest amenities, including:
SERRANO BUFFET
The Serrano Buffet has not simply been remodeled; it's been expanded in size and options, adding over 100 additional seats and more space to enjoy meals with family, friends or co-workers. Highlights include:
• Over 140 different culinary options, offering tastes of all varieties and sure to satisfy any craving.
• Four new action stations serving up hand-tossed pizzas, a carving station, teppanyaki station and hand-made ice cream scooped and adorned with tasty toppings.
• Redesigned to maximize efficiency and ensure a delicious, memorable and ultimately fulfilling dining experience.
BAR BAR BAR
Bar Bar Bar now proudly shines from the center of the first floor, thanks to a state-of-the-art lighting system, with every 15 minutes offering guests a dazzling light show in the center of the action.
Besides a variety of artisan cocktails and craft beers, guests can enjoy tabletop video poker terminals or try their luck at the felt and get dealt cards under the spectacular Bar Bar Bar.
STREET TACOS
Street tacos brings the tastes and exciting flavors of the streets to San Manuel, offering traditional tacos, refreshing beverages, ice-cold beer and more, all surrounded by the sights and sounds of the latest and greatest slot machines.
ROUND UP BAR
Round up your friends and enjoy a round or two in the new Round Up Bar, an attention-grabbing landmark located on the second floor.
Enjoy refreshing cocktails, both classic and artisan, plus ample selection of beers both imported and domestic, all under the awe-inspiring décor.
Catch up on the latest sports action or entertainment with HD TV's viewable from every seat, while surrounded by the colors and dazzle of the latest slot machines paying out thrilling jackpots.
TUTU'S FOOD COURT
Sample cuisine from around the world in the comfort and convenience of the improved Tutu's Food court.
Oasis Burger serves up juicy, cooked to order burgers topped with all the fixings and ready to conquer your hunger. Try a specialty burger,  sandwiches, wings or wraps.
Thai Chi Express provides Asian fusion, gathering flavors from far off lands to Tutu's Food Court. Available as both an express buffet or made to order dishes.
La Tortilla Rellena takes the classics from south of the border and adds a San Manuel twist to tacos, burritos, salads, nachos, and more.
East meets West, luxury meets sophistication, Zen meets excitement. The new Asian inspired gaming room at San Manuel encompasses all this and more. Once inside, step on the digital koi pond as fish elegantly glide underneath you. Glance up as a verdant garden grows up the walls next to you.
And look all around you to discover Asian-infused luxury, dining, and gaming in what can be described as a place of Zen, a place of comfort, and a place of thrills. Over 60 slot machines await you, as does a lounge featuring world-class Asian cuisine, six Baccarat tables, and the serenity of the new Asian-Inspired Gaming Room, found at the only casino that is All Thrill.
For more information, visit www.sanmanuel.com or call 800- 359-2464.