Sky's the Limit at the Skyline Casino
Local casino offers Casino Player readers plenty of perks
by Steve Kieva
At the Skyline you won't see water fountain shows, volcanoes, party pits, and most of that other fancy stuff you see on the Las Vegas Strip. However, it does have something the Strip casinos don't have: it feels like home. 

You're probably familiar with the story of The Little Engine That Could.  Well, the Skyline Casino in Henderson, Nevada, just 15 minutes from the Strip at 1741 North Boulder Highway, should probably be known as "The Little Casino That Could."
At the Skyline you won't see water fountain shows, volcanoes, party pits, and most of that other fancy stuff you see on the Las Vegas Strip.  However, it does have something the Strip casinos don't have: it feels like home. (General manager Mike Young calls the Skyline the "Cheers" of local casinos.)
"We are one of the few places still doing 'old Vegas.'  Our customers still get comps, and we know them by name," Young said.  He also emphasized a big part of the Skyline's success is the familiarity that patrons have with the property and its friendly employees, as well as, its generous promotions.
The Skyline Restaurant and Casino was built by John Kish in 1965.  In the past 47 years the property has changed hands several times.  In 1971 Kish sold the Skyline to his son, John Jr., and his partner, Jack Plevo.  In 2002, Kish Jr. sold the Skyline to Jim Marsh, an auto dealer.  Marsh is a prominent businessman that owns several other smaller casinos in Nevada.  He can often be seen strolling through the casino, greeting his patrons.  You can't miss him.  He's the guy with the white shirt and saddle shoes.  Be sure to say "hello" if you see him.
The Skyline has 9,000 square feet of gaming space and has always been known as the place to stop on the way to or from the Boulder Dam.  Antique slot machines from the early 1900's adorn the casino.  Marsh is an antique collector who loves to display his works.  The Skyline offers over 400 gaming machines in an assortment from the old to the very new.  It's the only casino in Henderson to offer some of the old "coin-drop" machines.  You remember them, don't you?
Even though the Skyline doesn't offer some of the luxuries that larger casinos provide, Young says that customers are impressed by its generous payouts.  "We are a small and intimate casino that truly has the loosest slots on the Boulder Strip."
A full-service sports book is available seven days a week.  There are television monitors throughout the casino to watch all the games, too!  In addition to sporting events, there are nine $25 drawings daily for "cash or gas" – the choice is yours.  Tickets are given out to customers while they are playing slots.  A "drop bin" is located near the main cashier's cage.  There's also a wheel promotion that features gift certificates to P.F. Chang's, Olive Garden, and other Las Vegas restaurants.  Even if you don't win a daily drawing, those losing tickets are placed into a large drum and on the first Saturday of each month, are included in the Skyline's MEGA drawing for $12,000.  The MEGA drawing is very popular, so get there early.
Skyline is not just known for its promotions and loose slots, it's also known for its inexpensive, quality food which includes homemade, mouth-watering yeast rolls made from scratch twice daily.  Executive Chef Sam Kiki and his staff serve up the menu which features his award winning Prime Rib ($10.95), a Skyline staple for over 35 years.  Ownership may have changed, but you can be sure the food you enjoy today is the same good quality it's always been, thanks to Chef Kiki.
The casino's restaurant, the Skyline Room, has a beautiful banquet room perfect for a private birthday, anniversary, rehearsal dinner, or business meeting.  To plan an event, call the Banquet Manager, Marty Pecora.  He'll make you feel welcome and create the perfect menu for your event.
Kish gave the Skyline its name in the 1960's and its origins are tied to his investments in Skyline Homes.  That company provided affordable housing units popularly known as mobile homes or house trailers.  These units evolved into today's manufactured and modular housing.  During its 50 years of operation, Skyline Homes has built more than 870,000 homes and 460,000 RV's.  Located in Elkhart, Indiana, the company was founded in 1951.  At the time of this writing, Skyline Homes has a strong cash position, no corporate debt, and is publicly owned and traded on the NYSE (ticker symbol SKY).
Here are some coupons for your Skyline visit.  There's no expiration date!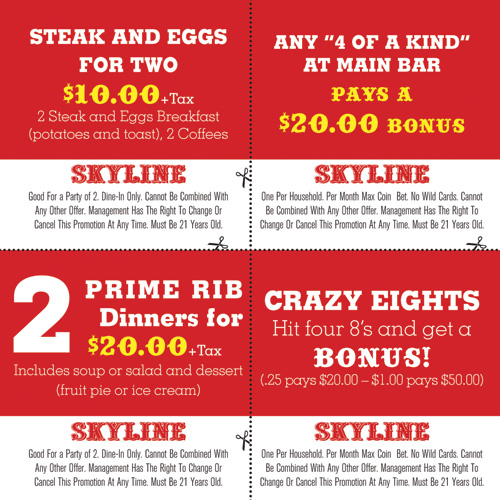 Casino Player Special

Just mention this column (Strip Search) any Tuesday-Saturday at the Skyline, and for any menu item you order, you'll get one of the same free.  This is a practically unbeatable deal!  No choice on the menu costs more than $12.95, and almost all of the items are under $9.95.  How can you beat two T-Bone Steak Dinners for $12.95?  Also, remember Wednesday's feature is Marty's Famous Meatloaf.  Get there early as this special tends to sell out quickly.  Drinks are not included in this special.