Seneca Niagara Casino & Hotel
Niagara Falls, NY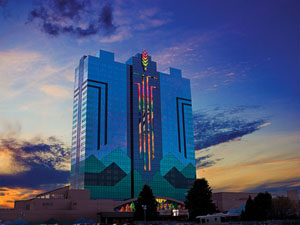 At long last there's a reason to visit upstate NY that doesn't hinge on a combination of water, a barrel, and gravity.  Although it's located a scant few minutes from the world-famous Niagara Falls, Seneca Niagara Casino & Hotel is a destination unto itself.
"We're now celebrating our 10th anniversary," said Tony Astran, Publicity Manager for Seneca Gaming Corporation.  "Seneca Niagara continues to be a major entertainment destination for the larger region—including Southern Ontario, Western Pennsylvania, Eastern Ohio, and beyond. More than 8 million visitors pass through our doors each year."
Warm, inviting, and stunning throughout, Seneca Niagara Casino & Hotel is home to the largest hotel in Western NY.  Their 26-story hotel—or as they describe it, "26 levels of luxury"—offers 604 recently renovated deluxe rooms and suites.  Each room is designed with the guest in mind, offering a gentle, soothing space dressed in an earthy color scheme with mahogany influences and muted charcoal to elicit relaxation.   All rooms feature upscale amenities including pillow-top beds, oversized showers, flat screen TVs, Internet access and more.  It is this attention to detail across the property that has lead to its success not only with patrons, but the industry itself.  "We're one of only three properties in all of Western New York to receive the coveted AAA Four Diamond Award for outstanding service and amenities," said Astran. "Only 3.8 percent of the 59,000 AAA Diamond Rated establishments throughout North America and the Caribbean earn the prestigious AAA Four Diamond rating. We've earned the award every consecutive year since our eligibility in 2006."
That's A Lot of Gaming
Beauty, grandeur, awards and amenities aside, there's no denying that one of the main reasons people flock to casino resorts is for the gaming.  And Seneca certainly has that in spades—and diamonds, and clubs, and hearts.  Here, guests have 147,000 square feet of gaming space to explore and can take their pick from an impressive array of literally thousands of machines and table games, from classic favorites to the latest reels in denominations that range from a penny to $100 a pull.  Table games include the perennial favorites: Blackjack, Craps, Roulette, Mini Baccarat, Let It Ride, Texas Hold 'Em Bonus Poker, Pai Gow Poker, Three Card Poker, Big Six, Sic Bo, Four Card Poker, Spanish 21, and Caribbean Stud Poker. The property also boasts a world-class poker room, the only one of its kind in Western NY.
"We also have a very generous Player's Club program, where $170 coin-in equals $1 comp dollar. Points can be earned at both slots and table games," said Astran.  "And, of course, our gaming floor is HUGE. We have more than 4,000 of the latest slots and 100 table games. As soon as a machine is 'new' in Vegas, it's 'new' here too."
Break The Bank, Then The Bread
With 10 inviting dining locations churning out chow daily, there's no need for anyone to go hungry.  While all of the resort's dining options are worthy of praise, two of their restaurants deserve special notice.
An award-winning steakhouse for six years running, The Western Door is an upscale steak-lover's raison d'être, specializing in the highest quality USDA Prime and Choice cuts of beef and fresh seafood.  From the 8 oz. Kobe fillet and the 24 oz. Cast Iron Porterhouse, to the Sea Bass Vera Cruz and pan-seared sea scallops there's not one item on the menu that isn't remarkable.  To make the experience perfect, begin with the "Smoking Shrimp Tree" a coconut-dusted gulf shrimp that's quick fried and served with a pineapple mango salsa and pina colada dipping sauce.  You won't regret or forget it.
More casual than The Western Door but no less delicious, the recently renovated (at a price of $8.5 million) Thunder Falls Buffet features an award-winning cornucopia of more than 100 selections across six unique dining stations all prepared by expect chefs using only the freshest ingredients.  Stations include: Mediterranean, Asian, Central Grille, Wood-Fired Brick Oven, Salad Bar, and Desserts.
Not in the mood for steak or an all-you-can-eat smorgasbord?  Consider one of Seneca Casino's other options:
Koi:  Asian cuisine fused with a modern approach to dining.
la Cascata:  Classic home-style Italian cuisine based on uncomplicated traditional recipes paired with a selection of fine wines and cheeses.
Three Sisters Café:  Traditional café fare serving breakfast, lunch and dinner 24 hours a day.
Blues Burger Bar: Offers hand-crafted burgers piled high with custom ingredients.
Tim Hortons Café and Bake Shop / Cold Stone Creamery: Co-branded outlet offering coffee, donuts, and baked goods as well as ice cream, shakes, and smoothies.
Morrie's Express:  Serving on-the-go foods such as subs, pizza, salads and smoothies.
Think you've seen everything Seneca Casino has to offer?  Don't bet on it.  Whether your passion is shopping, golf, or just goofing around, there's always something else just around the corner.
Shop 'Til You Drop
Whether you're not really into gambling—or you just had a big night and feel the urge to splurge—visitors to Seneca Niagara have more then enough places to spend their time and winnings.    Popular retailers include: TEN (where everything costs—you guessed it—$10), Swarovski Crystal Boutique, Yankee Candle, Watson's Chocolates, and the Player's Club Store, featuring the latest games, gadgets and gizmos for the tech junkie.
The Spa & Fitness Center
Retreat to The Spa, a place where you can quiet your thoughts, calm your spirit and soothe your senses. Relax with a Swedish body massage, desert-heat body wrap, or Seneca Niagara's signature Caviar & Pearls Facial. Treat yourself to a manicure, pedicure, waxing treatment or new hairstyle at their full-service Salon.  At the fitness center guests can make a splash in the relaxing indoor pool, unwind with a soak in the steamy whirlpool, or get their heart pumping in the state-of-the-art workout facility.
Play Time!
Treat the kids to some video fun at Seneca's state-of-the-art arcade and let them have a blast on all of their favorite games—any time of the day or night! The entertainment center provides round-the-clock entertainment with bubble hockey, dance machines, racing games and more!
SIDEBAR:  We Saw That Coming
Coming to Seneca Niagara Events Center on Saturday, Apr. 27, is Sylvia Browne, a well-known spiritual teacher, psychic, author, lecturer and researcher in the field of parapsychology. Twenty-two of Browne's books have appeared on the New York Times Best Sellers list and she is also the founder of The Sylvia Browne Hypnosis Training Center as well as the religious organization Society of Novus Spiritus. Tickets for the 8 p.m. show start at $45.
END SIDEBAR—-