Seminole Hard Rock Hotel & Casino Tampa
Tampa, Florida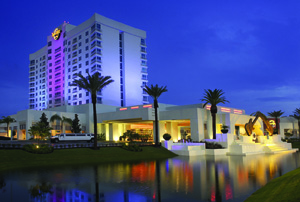 What comes to mind when you think about casinos?  Vegas—sure.  Atlantic City—you bet.  But Florida?  Not usually on the average gambler's radar.  But that's going to change. The Seminole Hard Rock Hotel & Casino Tampa is a major entertainment destination that blends the excitement of the Hard Rock brand with a first-class hotel and casino—the sixth largest casino in the world, in fact.
Upon arrival guests are greeted by the 50-foot-tall signature Hard Rock guitar modeled after one played by music legend Paul McCartney. A multi-level fountain highlights another pair of oversized, artistic guitars perched in front of the hotel's porte cochère main entrance. In June 2012, the Tampa property completed a $75 million expansion that included additional gaming space, Rise Kitchen & Bakery restaurant, a new pool area and the new five-story Winner's Way parking garage with 1,300 spaces.
When it comes to accommodations, guest rooms are designed to cater to "rock royalty" and meet AAA Four Diamond status."  The rooms are expansive and inviting featuring a contemporary design decorated with Hard Rock memorabilia.  Beds are dressed in luxurious Egyptian cotton and the bathrooms are stocked high with plush towels. It's a very comfortable experience. So get ready to chill in a luxurious hotel experience after hitting the tables and slots hard all day and night. All 250 contemporary guestrooms and suites include:
Tivoli stereo and CD systems
Flat screen TVs
Free high-speed Internet access
Separate enclosures for tub and shower
Fully-stocked mini bars
Coffee makers
Bathrobes
Complimentary wireless internet
Pet friendly room are available
Show Time: The Casino
Being the sixth-largest casino in the world—and the fourth-largest casino in the United States—this complex has everything a "casinophile" could want.  The gaming floor features 118 table games including the new progressive spin blackjack, mini and midi-baccarat, Asia poker, pai gow poker, three card poker, blackjack and Texas hold'em. There's even a smoke-free poker room with 50 tables offering high stakes action.
With over 5,000 slot machines, any slots lover would find themselves overwhelmed with choice.  The slots featured are the latest and greatest titles such as Wheel of Fortune, Sex and the City, Grease, Yahtzee, Press Your Luck, The Hangover Slots, Cash Spin, Amazing Race, Double Diamond and a Penny Slots Room with hundreds of one-cent machines.
Parlor for Seeking Gold
In December 2012, the casino created its first gaming area and accompanying noodle bar focused specifically on the burgeoning Central Florida Asian market. With the English name "Jubao Palace" and the Chinese name "Ju Bao Ting," or "gathering hall for treasure," the gaming complex includes a mix of 17 tables for games most popular among Asian players: mini-baccarat, pai gow poker, pai gow tiles, Asia poker and blackjack. At the entrance to the 4,000-square-foot gaming room Jubao Palace displays its Vietnamese name; "Quán Tim Vàng," which translates as a "parlor for seeking gold."
Take Five: Dining
Every gambler knows you can't play well on an empty stomach.  Luckily Seminole Hard Rock has you covered with eight tempting dining options.  There's no safer bet than choosing any one of these purveyors of culinary delights.
• Rise Kitchen & Bakery:  Featuring 10 hearth ovens baking specialty artisan breads, fresh soups, inventive salads, a variety of spreads, flatbreads, sandwiches and over 40 sweet treats made from scratch daily. All items are prepared with the freshest ingredients in an open view kitchen which allows guests to indulge in the aroma of fresh-baked bread.
• Jubao Palace Noodle Bar: A 15-seat, quick-service noodle bar offering authentic Asian cuisine with a Hard Rock twist.
• Council Oak Steaks & Seafood: Sophisticated dining serving only the finest cuts of dry-aged prime beef and the freshest seafood from local waters; extensive wine-by-the-glass selection.
• Fresh Harvest: Marketplace-style environment with seven live-action kitchens serving sushi, Italian cuisine, American favorites, raw bar, seafood, carving station, vegetable and salad station, as well as an amazing "dessert island."
• Rock N' Raw: A sushi joint also featuring Asian noodle soups, dim sum and traditional Asian dishes.
• The Green Room: From burgers to slow-cooked to Southern fried. Whether it's a breakfast (served all day), lunch or casual dinner, you'll satisfy your cravings here.
• Hard Rock Cafe: The only place where burgers, blackjack and bands come together.
Enjoy signature dishes including Hard Rock's legendary burgers, fajitas, hickory-smoked barbecue, honey-citrus grilled chicken salad, fresh apple cobbler, specialty cocktails.
• The Food Court: A world of familiar and exotic snacks located right off the casino floor.
Off Stage: Amenities
When it's time to take the casino excitement down a notch, guests can relax, shop, go for a steam, or just sit back poolside and take it all in.
New Pool Area: Soak up some rays, listen to tunes and just chill out in comfort and style.  Private chickee hut cabanas are decked out with flat screen TVs, refrigerators and other cool toys and the pool bar features a tempting assortment of items from Rise Kitchen & Bakery. The pool is open exclusively to hotel guests or guests renting chickee hut cabanas.
Body Rock Spa:  If you're seeking relaxation and tranquility retreat into this world-class spa and fitness facility.  Here you can indulge with massages, facials, manicures, pedicures and steam treatments.
Interactive Memorabilia: In keeping with the Hard Rock theme, the property showcases signed, one-of-a-kind pieces of memorabilia as well as state-of-the-art interactive music memorabilia.
Shopping: Hard Rock Store offers a wide range of Hard Rock gifts, souvenirs and swag.
The Rock Shop features more of the famous Hard Rock brand items, while Rainmaker offers authentic, one-of-a-kind Native American goods.