Sea and Sand Dollars
Inside Norwegian Cruise Line's Industry-Leading Rewards Program
By Sean Chaffin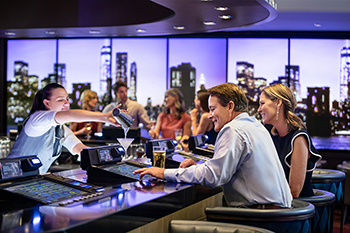 There's just something special about a cruise on the high seas. Those hopping aboard will find something for everyone—fun on-shore excursions, excellent dining, get-out-of-your-seat entertainment options, great cocktails, friendly conversation, great customer service, and, of course, those great ocean views and breezes. Fun lovers of all ages will find an event or feature that suits their own personal tastes and interests. Perhaps that's what keeps so many coming back every year—or sooner.
A bit of casino play can also be a major part of the mix and Norwegian Cruise Line's Casinos At Sea is a perfect option. And for those who enjoy racking up some reward points when pulling a slot or hitting the table games, Norwegian offers one of the best loyalty clubs at both sea or land-based casinos.
"As a member of our Casinos At Sea rewards program, you can play and earn points across all our brands: Norwegian Cruise Line, Oceania Cruises and Regent Seven Seas Cruises," Vice President of Casino and Onboard Revenue Marketing Dwayne Neeley says. "The more you play, the more benefits you can receive, including complimentary drinks, free shore excursion, private transfers, and more!"
Norwegian offers the only program in the industry that spans across all of the company's corporate brands. That offers players plenty of flexibility and the chance to accrue points on several different cruise lines. That's also some nice value for cruise-going gamblers.
The Casinos At Sea rewards program offers five reward tier levels. That starts with the Jade level for beginners followed by the Pearl level, where you'll need to earn just 5,000 points in a tier evaluation period. The mid-range level is the Sapphire player's card, where you'll need to keep a 15,000-point level to stay in the tier. That is followed by the Ruby, where players need 35,000 points. Those hitting the highest level, Elite, will need to earn 100,000 points in a tier evaluation period but will be rewarded handsomely for their efforts.
The ability to use those cards on several cruise lines makes building that point total even easier. Perhaps you can rack up some nice point totals via slot play on that spring break cruise on a Norwegian ship through the Caribbean. Maybe the summer calls for a real once-in-a-lifetime experience with a voyage on Oceania Cruises to Asia, Africa, Australia, New Zealand or the South Pacific. Any casino play on that trip also adds to your loyalty card total. That's a nice feature for players and means more chances for points in the long run.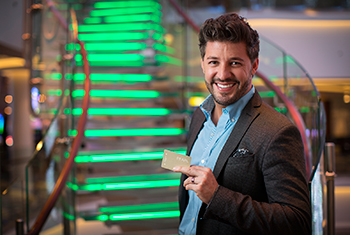 Using some of those points is also fairly easy. Rack up some points and take a few shots at some bonus bucks with free play. Points can be redeemed right at the machine for a chance to run up some extra winnings without adding any credits to the machine. Those who accrue some points on that next cruise also can use some of them for the current or future vacation. Redeem some of those points for future cruise credits and discounts or toward those folio charges while on the ship.
When it comes to slot players, Norwegian works to offer a great experience and keep them coming back. Players will find some of their favorite games on the casino floor featuring numerous betting limits. What all goes into Casinos At Sea staff's effort in keeping slot players coming back? Catering to guests and raising the bar is a major part of that.
"This depends on the player," Neeley says. "From an acquisition standpoint we have several programs and partnerships that drive cruise players to us for the first time. From there, our retention strategy kicks in to elevate guests' cruise experience on return sailings—whether they're taking advantage of an exclusive offer or participating in one of our industry-best special events."
Those simply reaching the Pearl level can already redeem points for a Norwegian stateroom discount. Reach the Sapphire level and the stateroom discounts can also apply to Oceania Cruises and Regent Seven Seas. Other possible extras for various tiers include premium drink cocktails, stateroom amenities, various fees waived, and more. There's so much available to please any casino player.
"Players earn comps as often as they sail," Neeley says. "Future cruise comps and offers are based on a player's cruise activity, so as long as they remain an active cruiser the comps will keep coming."