SAVOR THE FLAVORS
My top 10 Las Vegas Dining Experiences
By Steve Kieva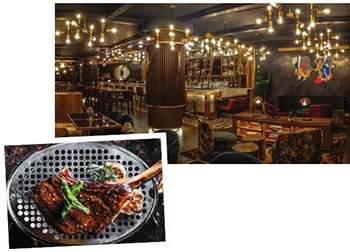 This year's Top Ten will be listed in no particular order, except for my top pick, Barry's Downtown Prime at Circa Las Vegas. It was by far the best culinary experience of 2022.
Vintage glamor and hospitality meet modern innovation and design at this classic steakhouse. Owner Barry Dakake has created a restaurant that delivers the city's finest steaks and seafood, creative cocktails and outstanding service. Barry's Downtown Prime exudes old-school style and flavor with a modern twist.
Evoking a throwback vibe worthy of Downtown's legacy, Barry's brings guests back to the classic cool of the '50s and '60s when great music and sounds of clinking martini glasses filled the air, the chef greeted you at the table, the bartender knew your favorite cocktail and everyone felt like a VIP.
The restaurant is designed for flexibility and provides unique experiences that range from playful entertainment dining areas with live performances to intimate booth seating under a beautiful olive tree with glimmering lights.
Elegant decor and glitz matched with raw elements balance out the space to create a den of classic cool. Where the beef is sacred, the charm is old fashioned and the cocktails are held to the highest moral principles—this isn't just a steakhouse, this is Barry's.
Scotch 80 Prime at The Palms
Scotch 80 Prime combines classic Las Vegas charm with an unparalleled fine-dining experience.
It's an innovative, classic steakhouse experience with an energetic vibe and warm and intimate design, offering wood-grilled prime, dry-aged steaks from the finest American ranchers, Japanese- certified Wagyu steaks, and the finest sustainable seafood.
Carversteak at Resorts World Las Vegas
The 13,500-square-foot Carversteak is the first Las Vegas dining concept conceived and developed by Carver Road Hospitality, featuring an expansive 70-foot honed quartzite stone bar, a sweeping outdoor bar and dining terrace, plus two private dining experiences.
Carversteak's menu highlights include Chef Ontiveros's Tomahawk Rib Chop, a 42-oz. cut; and Lobster en Croute, a whole Maine lobster with a puff pastry shell accompanied by red pepper cognac cream.
SW Steakhouse at Wynn Las Vegas
Prime aged steaks and a curated selection of certified Japanese and domestic Wagyu are the stars at the Forbes Travel Guide Four Star award-winning SW Steakhouse. Think A5 Japanese Wagyu, dry- aged tomahawk chops and a chile-rubbed double rib eye. Main courses like pan-roasted sea scallops with English pea risotto and black truffle sauce are crowd favorites, as is the prime view of the nightly shows on the Lake of Dreams.
Triple George Grill at Downtown Grand Hotel & Casino
Consistently one of the best dining experiences I have had. There's not been a miscue in the five times I have dined there.
While steak, seafood and pasta take precedence on the Triple George Grill menu, this is not your average steakhouse. The Triple George Grill experience is a welcome and guilt-free seduction.
Top of the World at The STRAT
Located more than 800 feet above Las Vegas at The STRAT Hotel, Casino & SkyPod, the award- winning Top of the World offers a dining experience like no other. This Las Vegas fine-dining restaurant features culinary delights served in an elegant atmosphere with unparalleled views of the city as the restaurant revolves 360 degrees every 80 minutes. Ask for Joey to be your server.
Soulbelly
Located on Main St. in Las Vegas' booming arts district, SoulBelly touts killer creative regional BBQ from the mind of a chef, with a strong emphasis on central Texas. Additionally, Soulbelly offers deliciously simple cocktails, hyper-local beer, and live entertainment in a bustling venue. Their mission is simple—use the most responsibly raised, high-quality ingredients to create the best possible BBQ and just have fun! My suggestion is to order "The Combo." It contains a sample of EVERYTHING on the menu and can easily feed five people.
Alder & Birch at Orleans Hotel & Casino
The casual elegance of Alder & Birch celebrates American tradition with steaks and classic entrees. They feature an assortment of shared plates, hand-crafted cocktails, house-made ginger beers, prime steaks and classic American entrees.
Osteria Fiorella at Red Rock Hotel & Casino
Celebrated James Beard award-winning chef Marc Vetri delivers Osteria Fiorella to Summerlin at Red Rock Casino Resort & Spa, an expanded version of his wildly popular Philly pasta bar, Fiorella. The casual restaurant features antipasti and salads, pizzas made in a wood-burning oven, daily hand-made pastas, meat and fish cooked to perfection in a Josper charcoal oven, and of course dessert, wine and cocktails. At Osteria Fiorella, a notably different culinary vision of Italian cuisine than Vetri's Las Vegas fans have become accustomed to, will focus on a variety of classics perfected by Marc while living and cooking throughout Italy. The restaurant space will lend itself perfectly to the Vetri culinary residency with its casual and warm atmosphere, lively bar, beautiful outdoor patio and open kitchen concept.
EL Dorado Cantina
Founded in 2014, El Dorado Cantina in Tivoli Village is best known for being one of the only authentic Mexican restaurants to offer cuisine featuring organic and non-GMO ingredients. In addition, El Dorado Cantina prides itself on highlighting dishes inspired by regions across Mexico. El Dorado Cantina quickly became a popular destination for celebrities, dignitaries, business professionals and locals and tourists alike. It has been recognized as the "Best Mexican Restaurant in Las Vegas" multiple years running by the Las Vegas Review-Journal's annual "Best of Las Vegas" poll, and one of the top five Mexican restaurants in the U.S. by Yelp two years in a row.