Sands Casino Resort
Bethlehem, PA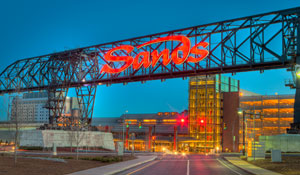 Sandwiched between New York and Philadelphia, Sands Bethlehem is an easy commute for gamblers looking for more than an average casino jaunt. As you enter the expansive complex, at first you may think you are entering an old steel mill, but it's hard to miss the neon sign emblazoned with the name Sands.
Before the Sands Casino Resort Bethlehem purchased the property in 2007, it was owned by the Bethlehem Steel Corporation, which originally opened in 1857 as the Saucona Iron Company.  Bethlehem Steel produced much of the equipment used by the United States armed forces in World War I and World War II including 1,100 ships; more than any other builder during the war.  Bethlehem Steel may have closed in 1995, but the historic property was born anew in 2011 as Sands Casino Resort. The Sands preserved the buildings as much as possible and kept the steel mill theme throughout the property.
SIDEBAR: Where to Stay
The Sands hotel sets a new standard for luxury and style. Each spacious guest room is sophisticatedly decorated in a stylish combination of rich dark woods and neutral tones.  Guests enjoy the most exclusive amenities including free continental breakfast, in-room dining by Emeril Lagasse, in-room remote check out, as well as access to the indoor pool and fitness room.
With any room you select, you are assured an extraordinary experience. But if you want added opulence to enhance your stay, try one of the executive suites. A separate living area gives you space to relax, work or entertain guests. The spacious master bath offers both a soaking tub and glass-enclosed shower with a rainforest showerhead. Other features include: king-sized pillow-top bed; two 42″ flat-screen LCD HDTVs; 115 square foot bathroom with two sink vanity; separate powder room; and a dining table that seats four
Revel in the luxury of the property's finest suite and take advantage of a full entertaining area, complete with a wet bar and dining space for eight.  A separate bedroom offers the ultimate comfort of a king-sized pillow top bed and a master bath complete with soaking tub and glass-enclosed shower with rainforest showerhead.  Other features include: 125 square foot bathroom with two sink vanity; separate powder room; coffee table with oversize club chairs; two refrigerators; wet bar; and dining table that seats eight.
Let the Games Begin
You can always find a thrilling new adventure playing the slots or table games in this cavernous steel mill of a casino.  Whether you enjoy great new games or old time favorites, the Sands has something for everyone.
Slots
There are over 3,000 slot machines which range in denominations from $0.01 to $100.00.  They offer "steppers" (mechanical reels), video reels, keno and video poker all available in both smoking and non-smoking areas.  Some of the newest titles available include: Ghostbusters, Hangover, Godzilla, Wheel Of Fortune Extreme Triple Spin, Powerball, Lightning Jackpots, Grease and Michael Jackson.
Table Games
If your gaming preferences lean more towards the felt variety, there are some 180 tables on hand.  Games include blackjack, double deck blackjack, craps, roulette, mini baccarat, midi baccarat, pai gow poker, big six, let it ride, Caribbean stud, three card poker, Texas hold'em, casino war, sic bo and pai gow tiles.
There's also a terrific poker area with 36 tables featuring the most popular games such as limit and no-limit Texas hold'em, stud, and Omaha, with limits starting at $3 and $6.  It is a comfortable smoke-free environment featuring 12 plasma televisions, adjustable chairs, 24-hour table-side dining and massage service.
The Other Kind of Table
One of the highlights of a trip to Sands-Bethlehem is the expansive dining options—everything from a casual quick bite to true gourmet fare.  So take a break, relax and enjoy the feast at any of these fine eateries.
Emeril's Chop House: Reward your palate with distinctive culinary creations at Emeril's premier restaurant on the east coast.  Expect the finest cuts of steaks and chops, along with an irresistible assortment of seafood.
Burgers and More by Emeril: Chef Emeril puts his distinctive twist on the American classics. Enjoy prime and grass-fed beef burgers, seafood, with turkey and veggie selections also available.
Carnegie Deli: As one of only three in the entire country, the Carnegie Deli captures the feeling and atmosphere of its famous New York location. Choose from a variety of prime cuts of meat, condiments and fresh breads to build your sandwich to perfection. For a big appetite, try to topple the "Woody Allen." Hint—bring a friend. This pastrami and corned beef concoction is enormous!
Chopstick: Asian cuisine that serves standout renditions of well known classics using only the finest and freshest ingredients.
Steel Works Buffet and Grill: Experience a variety of fresh culinary dishes from around the world, including wood-fired pizza, pasta, sushi, fresh-carved meats, and more.  You can enjoy the all-you-can-eat buffet or choose your favorites from the a la carte menu.  Coming Soon.
Emeril's Italian Table: Emeril Lagasse serves up his signature take on the familiar Italian staples that he knows and loves. The menu features antipasti, cured meats, artisanal cheeses, soups, salads, and fresh made pastas.  Not to be missed are the house made confections created from scratch.
St. James Gate Irish Pub and Carvery: Enjoy traditional Irish fare, your favorite imported and domestic beers and daily drink specials in this authentic Irish pub. Celebrate good times with live Celtic entertainment every Saturday night.
The Market Gourmet Express: Sample a variety of tastes at the Market.  Pick up a burger, pizza, salad, sushi or even a Nathan's famous hot dog.  Don't forget to top it off with a sweet dessert or a coffee from the international coffee bar.
Shopping: The Outlets at Sands-Bethlehem
If you need to take a break from the excitement of gambling, walk off a delicious meal or pick up some new clothes, then browse Pennsylvania's newest outlet shopping center. Here are a few of our favorites.
Charming Charlie: The one-of-a-kind source of style features a large selection and variety of women's accessories.
Chico's Outlet: Experience the outlet-only collections of unique fashions and accessories, including tunics, jackets, original jewelry and more.
Spritz Designer Fragrances: You won't find a larger selection of fragrances including the latest designer brands and those "hard to find" scents.
Old Farmer's Almanac General Store: Stroll down memory lane, as you listen to specially selected era music, and browse through handpicked collections of "Americana" knick-knacks, gifts, and "what-nots."
The PEEPS & Company: Remember those yellow marshmallow chicks you loved as a kid?  They're back! Offering an energy-filled environment that immerses visitors in sight, sound and taste, PEEPS sells an array of high-quality branded items, including apparel, accessories, fun gifts and, of course, candy!
Appearing at the Sands
Here's what entertainment is on tap this summer at the Sands-Bethlehem.
Dwight Yoakam—July 3rd.  Yoakam's latest album, 3 Pears, exemplifies his ability to incorporate his country core with an independent embrace of rock, Americana, pop and soul.  Enjoy such hits as "Take Hold of My Hand".  Doors open at 7:00 p.m. and tickets start at $35.
Anti-Social Comedy Tour—July 20th.  For a night of laughter and jokes, catch Artie Lange, Dave Attell, Amy Schumer and Jim Norton as they take the stage for a comedy routine where no subject is off limits. Doors open at 9:30 p.m. and tickets start at $55.
Impractical Jokers—July 31st.   Four lifelong friends, James, Joe, Sal and Brian make it their mission to embarrass each other by staging public, mortifying challenges.  Now they are bringing their interactive comedy show to life.  Doors open at 7:00 pm and tickets start at $35.
Family Feud Live—August 2nd.  Family Feud Live! is the hit audience participation stage show that gives contestants the opportunity to experience all of the same family drama as the TV show and a chance to win as much as $10,000.  Doors open at 6:00 pm and tickets start at $34.50.
For more information on upcoming events, call 1-800-745-3000 or visit the website www.pasands.com.
Of course, this only scratches the surface of everything there is to do at the Sands-Bethlehem.  For more information visit them online at www.pasands.com