SAFETY FIRST
Casinos develop enhanced safety protocols in a COVID-19 world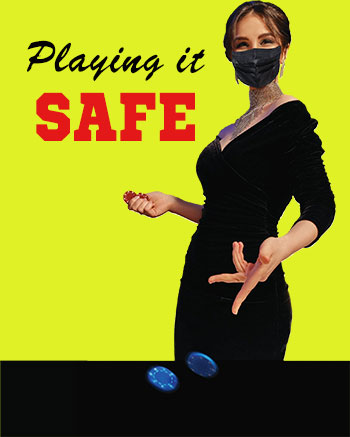 The last four  months have been a rough road for casinos and gamblers alike. With the spread of the dreaded COVID-19, casinos everywhere shuttered their doors in an effort to slow the rising threat. But since June, things have started to change. Restrictions have been eased and the pub- lic is finally being given the chance to venture  outdoors and  back  into  stores, restaurants and, of course, casinos.
But since the threat of contracting the deadly virus is still present, and in some regions on the rise once again, casinos are taking special steps to ensure the health and safety of both the gaming public and their staff. So, if you're planning on visiting a casino sometime in the near future, here's a sample of what you can expect to encounter.
NORTHEAST
HARD ROCK HOTEL & CASINO
Atlantic City, NJ
Hard Rock Hotel & Casino Atlantic City reopened on July 2 under new and thorough Safe + Sound program guidelines to help ensure good clean fun at the resort destination.
The Hard Rock Safe + Sound Reopening Plan & Protocols was developed in accordance with guidelines provided by Hard Rock Inter- national and adopts the Atlantic City casino industry's Summary Plan of Proposed Reopening Protocols in order to make the best possible efforts to provide a safe and secure environment. The new and stringent protocols also adhere to the directives from the World Health Organization and the Centers for Disease Control & Prevention.
To ensure safety of guests and employees, the Safe + Sound Clean Team focused on cleaning and disinfecting surfaces throughout the complex with a special emphasis on high-touch surfaces and common areas.
Safe + Sound customer service representatives are available to assist guests with any questions or concerns.  All guests and team members will be required to wear masks, and will be provided to guests, as needed.
Thermal imaging will monitor the number of guests entering the property and take the temperature of all guests and team members. Anyone with a temperature of 100.4°F or greater will be escorted to a designated area for a secondary temporal temperature screening. Those found to have a temperature of 100.4°F or greater after the temporal screening will not be permitted to enter the property.
Additionally, more than 200 hand sanitizer dispensers have been placed in all high-traffic, high-visibility areas such as key guest and team member entrances and contact areas.
The gaming floor is limited to 25% occupancy and social distancing will be enforced by limiting the number of playable slot machines, gaming tables, and seats at each table. Plexiglass has been installed at the Front Desk, Cage, Wild Card Services, Sportsbook and select Table Games.
Guests are required to maintain two vacant positions between slot machines and table games played unless related or together in a group.
Each table game will require casino guests to sanitize upon playing and slot attendants will proactively sanitize machines throughout their shift.
For players club members, earned comp dollars and earned free play will remain available through Sept. 7. The tier earning period has been extended to Dec. 31. Players will maintain their current tier status until the end of the year or elevate to a higher tier level based on earnings for the balance of the year. Double tier points will be offered each day through Aug. 31 and a 2:1 comp dollars to free play conversion will be offered during specified dates.
Outdoor dining is available at Hard Rock Beach Bar, Hard Rock Cafe, and Sugar Factory. Take-out options to be consumed outside off-property on the Atlantic City Boardwalk are available from Hard Rock Cafe, YOUYU Noodle Bar, Sugar Factory, and the Flavor Tour's six concepts including: Chop & Toss Salad Company, The Green Bar, Burger & Hops, Asian Fusion, Pizata, and Alexia's Patisserie.
Hard Rock Atlantic City's brand-new restaurant Fish & Co. and the Balcony Bar will be available exclusively to hotel guests. Restaurant hours can be found at www.hardrockhotelatlanticcity.com
OCEAN CASINO RESORT
Atlantic City, NJ
The latest addition to the Atlantic City casino scene, Ocean Casino Resort reopened its doors in early July with a host of new safety procedures in place to protect guests and staff from the coronavirus.
"Built-in 2012, we have state of the art air filtration systems that continually utilize 100% fresh outside air. Ocean offers over six million square feet of space, 50-foot-high casino ceilings, and spacious open areas, perfect for social distancing. Ocean has been thoroughly cleaned from top to bottom and over 4,000 air filters have been replaced. We are excited to re-open and welcome back our guests and team members," said Terry Glebocki, CEO of Ocean  Casino  Resort.
Ocean Casino has implemented extensive changes to stop the spread  of COVID-19 and create both a safe workplace and an exciting and fun casino experience for players. Beginning with staff, all team members are required to complete Ocean's Health and Sanitization training program. Next, thermal imaging will take the temperature of all team members upon entering the property. Along with this, team members and guests are required to wear masks or cloth face coverings that meet CDC  guidelines, except when actively smoking, eating, or drinking.
For added   safety, Ocean has installed over 200 hand sanitizer dispensers and hand wipe stations in all high-traffic and high-visibility areas throughout Ocean Casino Resort and have implemented additional deep cleaning protocols for all guest rooms to give you peace of mind that rooms are cleaned and sanitized to the highest standards.
During your visit, you'll notice Ocean's Clean Team Members cleaning and disinfecting surfaces throughout the property, emphasizing high- touch surfaces and common areas with a special focus on deep cleaning all gaming surfaces, chips, hotel rooms, restaurants, pool, and public areas.
On the casino floor, which operates on a 25 percent capacity rule, the entire casino floor has been deep cleaned before opening and they've increased separation between slots to give players a more comfortable experience.
At the tables they've added hand sanitizers to all games, and have also limited the number of guests on each game to give a more comfort- able experience. Because when it comes to social distancing, remember Ocean's motto: Have a heart and stay 6' feet apart. To view their complete Health and Sanitization Plan, visit theoceanac.com/covid
Ocean Rewards Update: Ocean Rewards members will now have until December 31 to earn points, with benefits extended for an additional three months. That means whatever status was earned through the end of the year will continue through Dec.31,2021.
In addition, Ocean is offering tier matching to any new member who signs up for an Ocean Reward Club Card with a valid competitors card through Dec. 31 and free self-parking for all tier levels, through Dec. 31.
RIVERS CASINO PHILADELPHIA
Philadelphia, PA
Rivers Casino Philadelphia reopened on July 17 following its four-month coronavirus shutdown. The  reopening of Rivers Casino Philadelphia was planned in collaboration with the City of Philadelphia and the Pennsylvania Gaming Control Board (PGCB).
The downtime was used for a property-wide deep cleaning; in addition, there will be continuous sanitizing throughout each day, adhering to all guidelines issued by the Pennsylvania Department of Health and meeting all operating requirements set by the City of Philadelphia.
"Since voluntarily shutting down in March, we've been listening closely to public health experts and making changes — from gaming floor modifications to new policies and procedures," said Rivers Casino Philadelphia General Manager Rob Long. "Our goal is to provide the safest possible environment, and we'll continue evolving as new information becomes available."
Guests can expect mandatory mask and temperature checks, no indoor dining or beverage service (bottled water is available for guests on Jack's  Bar + Grill patio) and social distancing protocols. In addition there will be no smoking or use of tobacco products, including e-cigarettes, anywhere inside the casino. Designated smoking areas are available outside the casino.
To accommodate social distancing, slots are placed in alternating operational order or separated by plexiglass. Seating at table games, like blackjack, has been reduced to no more than three positions per game, while baccarat has been reduced to four players per table; plexiglass separates all positions including the dealer. For standing games, such as craps and roulette, players are separated by plexiglass. The Poker Room will not reopen until further notice.
Rivers Casino Philadelphia has recently upgraded its HVAC system to include airPHX, a patented technology that continuously disinfects indoor air and eliminates coronavirus on surfaces. Rivers Casino Philadelphia also features AtmosAirTM, an indoor air quality purification system that has proven to neutralize coronavirus by more than 99.9%.
For the latest information about the property or safety proto- cols, visit www.RiversCasino.com/Philadelphia.
MIDWEST
FIREKEEPERS CASINO
Battle Creek, MI
FireKeepers Casino Hotel reopened to the public on June 1 with a full series of safety measures, solely focused on creating a safe environment for guests and team members. "During the past few weeks, the FireKeepers leadership team has worked diligently in every area of the casino and hotel to develop strategies to safely operate during these unprecedented times," stated FireKeepers CEO, Kathy George. "We are proud to be the casino of choice in the Midwest, and are committed to maintaining the standards we have set these past ten years."
Their newly implemented protocols include social distancing requirements; a reduced number of tables and other physical layouts in opened restaurants; every other slot machine shut down; mandatory mask coverings; reduced seats at table games and guests will be subjected to temporal scan upon entry.
Other items to note is smoking will not be permitted anywhere inside the building. Guests may leave the building to smoke (in designated exterior areas) but are required to a temperature check upon return; poker, bingo, Mijem Buffet and Chi Mon-ee's will remain closed; self- service beverage stations are not available; hotel pool and fitness areas will remain closed; TITO (slot) vouchers from pre-closure will be honored for 60 days from opening; sanitizer stations are available throughout the property, as well as additional Cleaning Ambassadors have been deployed to continually clean high touch areas throughout the property, including gaming areas, hotel corridors, and more, 24/7.
Finally, FireKeepers Casino offers one last word of advice to would-be players: Do not visit FireKeepers Casino Hotel if you have a fever, if you are not feeling well, have recently traveled outside of the U.S., or have had contact with someone diagnosed with COVID-19. Stay home and visit when the time is right. For more information, visit www.firekeepers-casino.com.
SOUTHWEST
CASINO ARIZONA AND TALKING STICK RESORT
Salt River Pima-Maricopa Indian Community, AZ
Casino Arizona and Talking Stick Resort reopened on June 1 and as part of their soft, phased openings, each opened at a limited capacity and with significant health and safety measures in place.
"We are excited to welcome back not only our loyal guests but also our employees, both of whom have been so patient and supportive throughout this closure," said Ramon Martinez, director of public relations for Casino Arizona and Talking Stick Resort. "We took great care and the necessary time to implement a phased reopening plan with new protocols that will keep their health and safety top of mind across all facets of our operations."
Leveraging directives from the Centers for Disease Control and Prevention and guidelines from state and local officials, Casino Arizona and Talking Stick Resort's reopening requires guests and employees to have their temperatures taken upon entry. Should a guest or employee's temperature be at or above 100.4 degrees, they will not be allowed entry. Masks are required while inside the properties. Additionally, smoking has been temporarily prohibited at each location though there are designated outside smoking areas for guest use.
Social distancing has also been implemented throughout each property. At Talking  Stick  Resort, the number of available hotel rooms is reduced with no access to adjoining rooms. Further, a reduced number of restaurants reopened with limited grab and go food and beverage menus. At Casino Arizona, The Coffee Station, Salt River Café and the Bingo Hall opened, while Talking Stick Resort opened  Black Fig, Blue Coyote Café and Ocean Trail for take away dining. No seating is available within the restaurants. Moreover, elevators are limited to four people per ride and valet services are temporarily unavailable.
On the casino floor, plexiglass has been installed between slot machines, while others have been taken out of service in order to observe appropriate social distancing. Plexiglass has also been installed at table games for guest and employee safety. In addition to acrylic dividers, limited capacity is practiced at the table games, in the Bingo Hall at Casino Arizona and in the ARENA Poker Room at Talking Stick Resort.
In addition to these physical changes, Casino Arizona and Talking Stick Resort continues intensified cleaning policies with an increased focus on high-touch, high-traffic areas such as; slot machines, tables, door handles, buttons, and kiosks. Further, designated internal and external teams are in place to implement those policies. Hand sanitizing stations are available for guest use.
"Our goal in reopening was to provide our guests with some much- needed escapism and the fun we have all been lacking in recent months," said Martinez. "In order to do so, it was crucial that we took the extra time to ensure our employees and guests may return to an environment where they can feel comfortable and secure. We believe we have accomplished that, but with any situation as fluid as this pandemic, we will continue to monitor and take any necessary additional steps to protect the health and safety of our guests and employees."
DESERT DIAMOND CASINOS
Tucson, AZ
The Tohono  O'odham  Gaming  Enterprise  (TOGE) resumed gaming operations at all four of its Desert Diamond Casinos  near Tucson, Sahuarita, Glendale, and Why. As a leader in guest service and safety, TOGE implemented comprehensive, structural changes in its health and sanitization procedures to offer highest level of protection for guests, team members and the community.
New precautions include temperature scanning of guests and daily screenings of team members for symptoms. Masks are provided and required for both team members and guests. Special clean teams are deployed across the facilities, using state-of-the-art disinfectant  equipment, to do continuous cleaning of high-contact areas throughout each day.
Rudy Prieto,  CEO of the Tohono O'odham  Gaming Enterprise, said "On behalf of the entire Desert Diamond Casino family, there is tremendous excitement to welcome our guests back to Arizona's premier gaming facilities. The fact that we have taken extraordinary safety measures will only enhance our guests' entertainment experience during this unprecedented time."
Additional information can be found at www.ddcaz.com.
PACIFIC NORTHWEST
SEVEN FEATHERS CASINO RESORT
Canyonville, OR
Seven Feathers Casino Resort located in Canyonville, OR, reopened to guests on May 28 with a number of health and safety measures in place. Protocols include mask requirements for team members and guests, temperature checks, removal of chairs at slot machines to allow for proper physical separation, and after the guest has left a machine, chair or table the cleaning crew will clean and sanitize them for the next guest as soon as possible. When a table closes, all of the chips are taken out of the rack and disinfected and layouts, chairs and gaming equipment are sanitized before and after closing.
Experience the excitement of Nevada-style gaming with over 900 of the hottest slot machines in a range of denominations. Seven Feathers Casino Resort also offers all of the favorite table games such as blackjack, roulette, craps, Ultimate Texas hold'em, three and four card poker, pai gow poker, fortune pai gow progressive poker and more.
The hotel hosts 300 recently remodeled guest rooms, a beautiful guest reception area and lobby. Guests with RVs can stay at their nationally recognized, award-winning RV Resort.
Seven Feathers  Casino Resort ranks in the top 20 of Pacific North- west properties and is one of the fastest growing destination resorts in the region. It's a place where service is delivered by the friendliest people in a location of outstanding natural beauty and the amenities allow you to enjoy a premier resort experience.
For more information, visit www.sevenfeathers.com.
WEST
STATION CASINOS
Las Vegas, NV
Station Casinos has reopened its Red Rock, Green Valley Ranch, Santa Fe Station, Boulder Station, Palace Station and Sunset Station properties, as well as all of its Wildfire division properties and its Palms Place property. In preparation for the reopening, the number one priority has been the health and wellbeing of its team members, guests and the entire Las Vegas community. All guests and team members' will be temperature checked via non-invasive state-of-the-art thermal scanners installed at all resort properties' entrances.
Each property features robust gaming options, food and beverage offerings and hotel stays. The following amenities and offerings are avail- able at its signature resorts, Green Valley Ranch and Red Rock Resort. For information on all its properties, visit www.stationcasinos.com
GREEN VALLEY RANCH
Gaming: Green Valley Ranch guests will be able to experience slot play, select table games (excluding poker), bingo, and keno and sports book wagering.
Hotel Amenities: The resort amenities include in-room dining, spa and salon, pool, fitness center and complimentary valet.
Food and Beverage: Guests can enjoy casino bars, dine-in restaurant experiences such as Borracha Mexican Cantina, Bottiglia Cucina & Enoteca, Grand Café, Hank's Fine Steaks & Martinis, Pizza Rock, and Tides Seafood & Sushi Bar. Guests will also be able to indulge in quick-serve options including Auntie Annie's Pretzels, Capriotti's Sandwich Shop, Fatburger, Perks Coffee Bar, Pool Café, Slice House, and Starbucks Coffee.
Recreation: Kids Quest is open.
RED ROCK RESORT
Gaming: Red Rock guests will be able to play their favorite machines, select table games (excluding poker), bingo, and keno and also includes outdoor gaming poolside and sports book wagering.
Hotel Amenities: The hotel offers in-room dining, pool, spa and salon and complimentary valet.
Food and Beverage: Guests can enjoy casino bars and restaurant experiences include 8 Noodle Bar, Blue Ribbon Sushi Bar & Grill, Grand Café, Hearthstone Kitchen & Cellar, Lucille's Smokehouse BBQ,T-Bones Chop- house & Lounge, and Yard House. Guests will also be able to enjoy quick- serve options including Auntie Annie's Pretzels, Fatburger, Panda Express, Rubio's, Sandbar Café, Starbucks Coffee, Tropical Smoothie Café, and Villa Pizza. Plus, Lucky Bar.
Recreation: The Red Rock Lanes and Kids Quest are open.