ROCK & BREWS REVOLUTION
Founded by Frontmen of KISS, Rock & Brews Amps Up the Music, Food and Experience by Opening New Casino Locations
By Sean Chaffin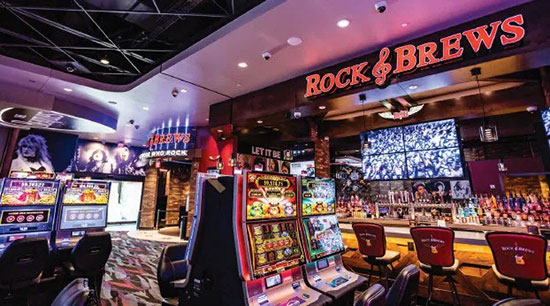 THE POWER OF ROCK FUELS THE FUN OF GAMING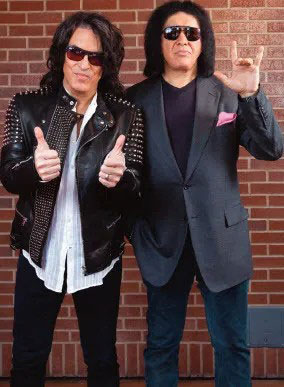 Bold trusses, colorful concert lighting, iconic rock art, multiple LED screens and the highest quality sound system create a 360-degree rock 'n' roll experience like no other. That's just a bit of what visitors can expect on a trip to the new Rock & Brews Casino in Braman, OK, and the Rock & Brews Restaurant at Potawatomi Casino Hotel Milwaukee. The "rock" part of that name comes with some big credentials in the form of co-founders Paul Stanley and Gene Simmons. Rock & Brews can now be found in California, Florida, Kansas, Missouri, Oklahoma, Texas and Wisconsin.
"Rock & Brews began partnering with several casinos across the United States to help serve the needs of guests looking for exceptional dining options and live music entertainment within the casino setting," CEO & Partner Adam Goldberg says. "As we moved into the gaming space and license agreements continued to get renewed, we proved the power that Rock & Brews holds as a marketing tool that helps increase foot traffic within casinos by fueling the fun of gaming with delicious food, an energizing environment, and a place for live music."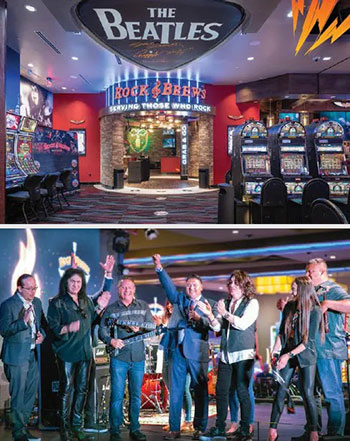 The rock-inspired casino and restaurants feature plenty of great music complemented with handcrafted American food and a massive selection of craft and international beers. Guests can expect a high-energy, family-friendly atmosphere. The Oklahoma location now marks the company's first complete Rock & Brews Casino. Guests will find a selection of 500 slot machines, a signature Rock & Brews Restaurant, live music entertainment, and much more. As the company continues expanding, this is the first of more casinos on the horizon.
"Players at Rock & Brews Casino Braman can expect an energizing gaming experience with memories of their favorite rock 'n' roll bands and music playing throughout," Goldberg says. "While there are several casinos within a 30-minute radius of Braman, Rock & Brews Casino offers a unique experience that turns it up to 11 with its hospitality, restaurant, and bar offerings plus live entertainment. Doing this successfully gets players to return more frequently, larger coin drops and longer play on games."
Look for favorite games like Buffalo Grand, Ultimate Fire Link, Dancing Drums, Walking Dead 2, Red Hot 7s, and numerous other favorite games. Management is always curating experiences to keep players coming back. Even the property rewards card features the rockstar theme with players advancing from Headliner to Rock Star to Backstage Pass and then on to the All Access VIP level. Some of the casino's promotions include special events like "Rock & Rollin' Week Amplified," where players can earn entries in regular cash drawings.
Of course, those who work up an appetite will want to head to the Rock & Brews Restaurant for an unbeatable selection of craft beer, incredible food, energizing environment, state-of-the-art visuals and your favorite classic rock music in the round.
HITTING THE ROAD
The Rock & Brews story begins in 2010 when Paul Stanley and Gene Simmons partnered with merchandising pioneers Dave and Dell Furano, along with restaurateur Michael Zislis. Dave brought plenty of rock 'n' roll experience as a longtime promoter for acts like Bob Dylan and the Rolling Stones and as president of Bill Graham Presents.
"With a shared love for rock 'n' roll, high energy environments, and memorable experiences, Rock & Brews was born," Goldberg says. "Paul Stanley and Gene Simmons are a major part of our brand, but we value the entire rock 'n' roll industry. We have collaborated with numerous rock stars, including Jon Bon Jovi, Alice Cooper, and Rick Nielsen, among others. These collaborations reflect our dedication to celebrating the spirit of rock 'n' roll."
Beyond the tasty selections on the menu, Rock & Brews ramps up the rock imagery throughout the property. Guests will feel like they've dropped into the Rock 'n' Roll Hall of Fame or are backstage with KISS themselves. Paul and Gene's "rock 'n' roll all night and party every day" mantra certainly applies, and diners seem pleased with the atmosphere, menu and cold beer selections.
For Rock & Brews, the team envisioned a concept that combines classic American food with a twist, an unmatched selection of craft beer, and plenty of rock music. " Beer ignites the heart and soul of Rock & Brews," Goldberg says. "Not only is it the perfect companion to rock music, but it also pairs well with many of our menu options. We offer a vast selection of unique local brews plus traditional favorites from around the world. In rock 'n' roll fashion, we've created signature brews inspired by famous rock songs such as Hazed & Confused IPA, Over the Pills and Far Away, Red R Love, and more in partnership with BuzzRock Brewing Company.
Rock & Brews delivers plenty of great options and diners may feel like they've dropped into a concert in Madison Square Garden, the Hollywood Bowl or Red Rocks Amphitheatre. The creativity continues with menu categories such as "Opening Acts" and naming of menu items such as Strawberry Fields Salad, Backstage Burgers and Bill Graham BBQ Chicken Pizza. Two favorites from the "Headliner Sandwiches" include Gene Simmons' Demon Chicken and the 'We Salute You' Pulled Pork.
Collaborating with rockstars, like Alice Cooper, really ties to the music DNA of the brand. Alice Cooper's Poison Burger comes complete with brioche bun, pepper cheese spread, reaper ranch, fresh fried jalapeño, crispy onion strings, and Alice's own Poison Hot Sauce.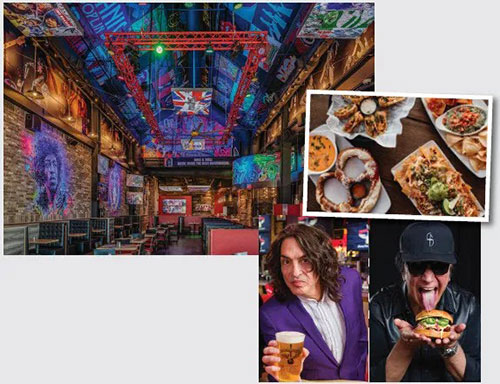 BRINGING THE PARTY TO CASINOS
Rock & Brews has now expanded to 23 locations throughout the country in casinos, airports, stadiums and standalone locations with a focus on providing an energizing experience for guests of all ages. The opening of the Rock & Brews Casino in Braman also featured quite an opening in May 2022, which unveiled a backstage environment showcasing a "Great Wall of Rock." The venue also features unique art murals paying tribute to iconic Oklahoma-native musicians like Hansen and J.J. Cale, with multiple flat-screen televisions sharing some of the greatest rock concert moments of all time.
"When you go into a Rock & Brews, you will see iconic rock 'n' roll imagery from the last 40 years," Goldberg says. "You'll see the likes of Van Halen, Eric Clapton, and The Who adorning the walls. You'll see rock in more of an artistic form, whether it's through flags or digital imagery. We were asked several years ago to bring more of that rock 'n' roll feel and experience onto the casino floor. Casino executives recognize the importance of enhancing the customer's casino experience."
The casino, which was previously known as SouthWind Casino, is operated by the Kaw Nation tribe. The property, which is located in the northern part of the state between Wichita, KS, and Oklahoma City, was given a major makeover and helped launch Rock & Brews from a restaurant in a casino to a branded casino. A Rock & Brews hotel is also in the works at the property as well.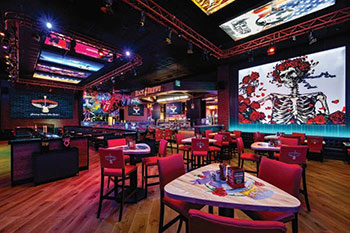 "Rock & Brews Casino Braman's uniqueness lies in its vibrant atmosphere, collaborations with rockstars, and commitment to guest experience through elevated gaming," said Bruce McClure, GM of Rock & Brews Casino Braman. "These elements create an unparalleled and unforgettable experience for our guests, positioning us as a standout destination in the Oklahoma market."
"Rock & Brews elevates the traditional casino experience by connecting with guests through the universal language of rock 'n' roll," Goldberg says. "We provide an unforgettable 360-degree rock experience— from our creative menu to our detailed artwork and dining areas."
The Oklahoma location isn't the chain's first link to the casino world. A Rock & Brews Restaurant is located in the Yaamava' Casino & Resort in Highland, CA, and Rolling Hills Casino in Corning, CA.
"You wanted the best, we brought you the best," said Dominic Ortiz, CEO of Potawatomi Casino Hotel. "Gene and Paul are absolutely amazing, and we couldn't be more excited to bring Rock & Brews to the state of Wisconsin." The latest casino addition came in August with the opening of a location at Potawatomi Casino Hotel in Milwaukee. The venue features a 6,000-square-foot restaurant with a stage for live entertainment and 48 beers on tap. Potawatomi Casino Hotel Carter and Rock & Brews made it a summer of rock in Wisconsin as part of the festivities with a summer concert series, a groundbreaking ceremony with Paul Stanley and Gene Simmons, and an extraordinary performance by legendary rock band KISS.
Following the Milwaukee opening, Rock & Brews collaborated with the Potawatomi team on a pop- up beer garden in Carter, WI, where they hosted a summer concert series in August. Concert performers who took the pop-up stage included tribute bands such as Beatles, Bruno Mars and Guns N' Roses, in addition to Gary LeVox, lead singer of Rascal Flatts, and Jefferson Starship also took the stage. The emphasis on music remains a massive part of the brand.
"We offer casinos the benefit of our growing name recognition, celebrity associations, and extensive experience in the hospitality industry," Goldberg says. "We've earned the approval of rock legends, which serves as a testament to the success of our brand. A key way we achieve this success is by embracing the energy and appeal of live music. Most of our Rock & Brews Restaurant locations feature live band stages that activate both the casino floor and the restaurant area, showcasing local to national acts."
Make no mistake, Rock & Brews oozes rock 'n' roll and makes it a critical part of all design elements from the restaurant to the slot machine area. That includes videos, iconic rock art, and sights and sounds of iconic artists and bands. With the many TVs and LED screens throughout, you can pick between rock 'n' roll music videos or watching your favorite sports team. There is something for everyone at Rock & Brews.
"One way we did this was to work with the beautiful colors of the gaming machines. For instance, if there is a colorful area with large monitors housing a Buffalo game, we'll use black and white classic images of the greatest rock 'n' roll stars ever to create a contrast. This helps establish a rock 'n' roll atmosphere in the casino, enhancing the gaming experience, which ultimately is what we want to achieve," said Goldberg.
A new Rock & Brews is coming to the ilani Casino Resort in Ridgefield, WA. The addition expands as a 7,000-square-foot restaurant, which opens to a 1,000-person amphitheater and Rock & Brews Concert Bar for live music and events capabilities, opening in early 2024. "We are excited by this new partnership, which will enable ilani to continue former Chairman Barnett's vision of creating memorable experiences for the entire family while also creating something the community can be proud of," said Kara Fox-LaRose, general manager and president of ilani. Whether you're a full- fledged member of the KISS Army or simply looking for a tasty burger and a cool place to hang out, a trip to this Rock & Brews may need to be on the menu.