Revel Resort & Casino
Atlantic City, NJ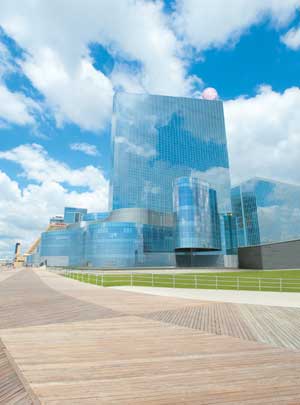 If it weren't for the fact that the word "casino" is in its name, you'd almost think that at Revel, gambling was more of a diversion rather than the whole point of being there. Miles beyond the typical casino resort, Revel has crafted an entirely new approach to the gaming scene. Dominated by opulence and purity rather than smoky decadence, Revel somehow manages to bring a sense of well-being and vitality to the world of casino gambling.
Billed as "a new destination for uncommon recreation," the $2.4 billion property is designed to embrace its natural surroundings, presenting a collection of daylife and nightlife experiences in an environment designed to help guests uncover little surprises, engaging experiences and to rediscover the pure emotion of fun.
This beachfront destination is smoke-free and features over 1,800 rooms with sweeping ocean views. Indoor and outdoor pools, gardens, lounges, and a 32,000-square-foot spa provide guests with plenty of opportunities to relax, while an outstanding collection of 14 restaurant concepts, live entertainment featuring marquee acts, nightclubs, an oceanfront dayclub, and a collection of boutiques tailor to each guest's passions.
Just as its approach to the resort lifestyle towers above its brethren, Revel has infused a different perspective to the gaming floor as well, transforming the atmosphere from one that focuses attention on the bright lights and sounds of games and machines, to one that feels more akin to a theatre. The casino floor was designed by theatre specialists, Scéno Plus, the result being a 130,000 square foot space that feels expansive with its high, open theatre style ceiling, yet beset by calm, intimate neighborhoods. These neighborhoods are casually defined using clusters of oversized lantern lights, hanging art, curtains of beads, and lowered ceilings that mimic the sand beach. The space is programmable to set the tone throughout the day with warm lighting in the morning, and more intense nightclub-like lighting in the evening.
Room To Play
Revel's 130,000 square foot casino features:
2,439 slot machines
97 table games
16 electronic tables
A poker room with 37 tables overlooking the gaming floor
Revel has curated a collection of outstanding chefs and restaurateurs so patrons will easily find food that is both satisfying and memorable. Guests create their own story at Revel and food is a part of it, even if you are not a "foodie." Revel has sought chefs who are recognized for their craft and are passionately involved in their creations. The resort's chefs bring some of their established restaurants from New York City, Philadelphia and Washington DC, and they created new concepts exclusively for Revel. Everything from a quick breakfast, to lunch by the pool or dinner shares the same commitment to excellence.
BASK: A Shrine To Wellbeing
Revel and exhale have joined forces to unveil a new wellbeing spa brand that will revive, restore, and transform guests through a collection of mind body spa, fitness, healing, and relaxation experiences. The 32-room spa offers exclusive therapies including hydrating facials, therapeutic massages, and effective body-slimming services. Those with a holistic inclination can enjoy authentic detoxifying and healing sessions with acupuncture and body scrubs. At the core of the spa is an expansive 3,000 square foot coed bathhouse, uniquely designed for detoxification, relaxation, and socialization. Guests can immerse themselves in the elements by breathing in the dry air of the salt grotto, sinking into the heated mineral pools, purifying in the steam rooms, or sipping beverage at the bathhouse bar.
Neighboring the spa is the sanctuary-like fitness studio, which plays host to exhale's acclaimed Core Fusion and yoga programming. All classes work in tandem with one another to give guests the most well-rounded, effective fitness routine imaginable, transforming guests inside and out. Three-day boot camp, surf+yoga, and core transformation retreats extend beyond exhale's four walls and utilize the entire resort property.