Red Rock Casino, Resort, and Spa
Summerlin, NV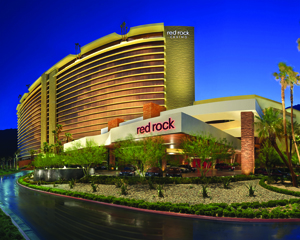 A beacon 10 miles off the Strip, Red Rock Casino, Resort, and Spa is a trendy alternative to its urban counterparts, affording travelers the chance to be a part of the Vegas lifestyle—and enjoy a billion dollar luxury resort—without feeling banished to the boondocks.  Sprawling on some 70 acres in Summerlin near the majestic Red Rock mountains (hence the name) Red Rock Casino is a superb example of a 21st century homage to the elegant desert oasis resorts of the 1950s.
The pinnacle of the Station Casinos luxury properties, the fresh, contemporary, desert-modern architecture is enhanced by the finest materials including Venetian plaster walls and gold-leafed ceilings, creating an atmosphere of comfortable elegance.   Every detail, from the 3.1 million crystals in the colossal chandeliers to the miles-long stretch of onyx-adorned walls, is an inviting blend of warmth and contemporary design punctuated by rich reds, golds and browns—a color palette inspired by the nearby mountain range.
800 guest rooms and suites are available, from a 525 square foot standard room up to the mammoth 6,500 square foot penthouse-level suite, making the guest rooms at Red Rock some of the largest and most lavish in Las Vegas. Standard room features include 42" high-definition plasma televisions, Bose sound system with iPod connectivity, guest robes and slippers, in-room martini bar and a 15" LCD television in the bathroom.
SIDEBAR: Crème de la crème
There's something about a room that bears its own name.  It just has to be good.  If you're in the mood to splurge, Red Rock's penthouse-level suites perched on the top floor of the hotel tower were designed to offer the ultimate in luxury.
One 80: Named for the breathtaking 180-degree view that includes both the iconic Strip and the majestic Red Rock mountain range, the 6,500 square foot suite is designed in the style of a contemporary ultra-lounge. The suite includes an expansive entertaining area, complete with a massive bar, 103-inch plasma-screen TV, billiards table, dining table and multiple seating areas; a large terrace that includes a Jacuzzi-style hot tub and rotating sofa; and two bedrooms with adjoining bathrooms and private balconies.
Canyon: Designed to be a cool and refreshing natural antidote to the heat of the surrounding desert, floor-to-ceiling windows in every room of the 4,000-square-foot suite provide majestic views of Red Rock Canyon, its namesake.  Awash in shades of green, the suite offers a spacious entertaining area featuring a rotating sofa, large bar, dining table and seating area; two bedrooms each with an in-room Jacuzzi-style bathtub, adjoining bathroom and private balcony; and an exclusive massage room for spa treatments.
END SIDEBAR—-
A Gambler's Paradise
While not everyone comes to Vegas to gamble, most of us will eventually succumb to the lure of the games. Just as you would expect to find in a gaming property that made Casino Player's Top 25 list, Red Rock's luxurious resort amenities include a stunning casino floor packed with everything a gambler could crave.  This includes:
3,000 slot/video poker machines.
60 table games including blackjack, baccarat, craps, poker, roulette and more.
206-seat race and sports book, with 96-foot video wall.
20-table smoke-free poker room.
600 seat bingo hall with separate smoking and non-smoking sections.
20-seat keno lounge.
Private high-limit room.
While you're there, don't forget to sign up for Red Rock's "Boarding Pass" a free guest rewards program that features cash back, 3X points and may be used at all Station Casinos properties.
Food For Thought
Starting to get a little hungry?  Red Rock features nine restaurants and a food court with diverse fare to satisfy everyone's cravings and budget. Dining options include:
T-bones Chophouse and Lounge: An upscale steakhouse featuring oversized dry-aged prime steaks, bone-in meats, fresh fish and an extensive wine list.
Terra Rossa Italian Restaurant: Offers authentic Italian foods in an upscale environment.
Hachi: A contemporary Japanese and sushi restaurant that infuses traditional cuisine with various cultures from around the world.
Yard House: Features American fusion fare and one of the world's largest selections of draft beer—130 different taps to choose from.
LBS: A Burger Joint: A casual rock n' roll dining experience that serves up gourmet burgers without a gourmet attitude.
Feast Buffet: Offerings from around the world to suit every taste.  Food stations include: Mexican, Chinese, Italian, American and sinfully delicious desserts.
Beautiful rooms, state-of-the-art gaming, unsurpassed dining—now it's time for a little fun.  Red Rock offers numerous bars, lounges and outdoor venues featuring an eclectic variety of entertainment that includes everything from its own cinema to concerts under the stars.
Begin by cooling off from the unrelenting desert sun with a dip in the resort's famous Sandbar Pool.  Situated on four acres, the aquatic wonderland includes a main pool with an interactive fountain feature, a private pool area, cabanas, six wading pools, an exciting poolside gaming environment featuring blackjack tables, a café and poolside beverage service.  This area is also home to the largest open-air nightclub in the city, Sandbar Pool Backyard, hosting a variety of public and private events and concerts for as many as 3,000 people.
Away from the pool, Red Rock Casino Amphitheater lures top acts and can accommodate up to 10,000 guests. Performer pairings include Toby Keith and Eric Church, Motley Crue and Poison, Blink 182 and My Chemical Romance, and Enrique Iglesias and Pitbull.
——SIDEBAR: And Then There's…Bowling?
Red Rock Lanes, the resort's 72-lane bowling center, is the most expensive venue of its kind in the United States. With a contemporary aesthetic that mirrors that of the resort, Red Rock Lanes boasts state-of-the-art bowling equipment and audio/visual systems that can be instantly transformed into a party atmosphere with custom glow lighting effects, strobes, fog machines, image generators and disco balls.
END SIDEBAR———-
Spa Time
After what's sure to be a long day, it's time to relax and let the stresses of the world evaporate under the tender ministrations of the Spa at Red Rock.  The 25,000 square-foot haven offers a sleek, ultra-modern retreat that promotes health, relaxation and rejuvenation. Drenched in rich shades of red and whites, the space envelops guests in a luxurious atmosphere and provides them with a calming sense of privacy. The spa offers an extensive menu of treatments ranging from facials and massages to body treatments and salon services.
If you're in the mood to one-up the traditional spa activities, don't miss out on the rough-and-tumble fun of the Adventure Spa.  The resort takes advantage of its proximity to Red Rock Canyon and other national and state parks by offering customized adventure activities such as hiking, kayaking, rock climbing and mountain biking.