Random Jackpot Winner At Table Mountain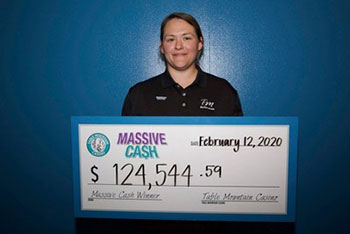 Natalie of Fresno "loves it here" at her favorite casino, Table Mountain, located just a short distance from Fresno, CA. On February 18, Natalie wanted to have some winning fun,  so she decided to head up to Table Mountain Casino to play all of her favorite penny machines.
While playing the penny denomination Wolf Moon, the   screen suddenly lit up with the massive cash winner notification! With the spin of a reel, Natalie had won Table Mountain Casino's Massive Cash jackpot, which had just reached $124,544.59. Natalie's smile said it all when she found out she was the winner of this life-changing jackpot.
"I'm very thankful," explained Natalie when she was asked about her lucky day. She is a loyal fan of Table Mountain Casino and says the staff is by far the best. Natalie joins so many others who agree! Table Mountain Casino is renown throughout all of Central California for its winning and welcoming ways and friendly courteous guest service.
Rob Goslin, Casino President and General Manager, offered his congratulations to Natalie and said, "On behalf of the entire Table Mountain Casino Team, we are so thrilled to congratulate Natalie on this Massive Cash jackpot win." He continued, "This will be a February to remember for Natalie. We are so glad that Table Mountain is her favorite casino. This is winning."