Raising The Stakes For Your Next Vacation
Embark on an unforgettable experience aboard Celebrity Cruises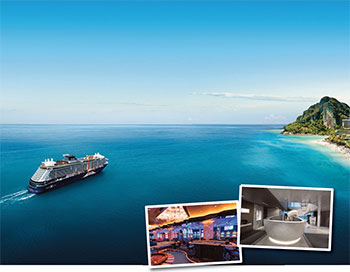 At Celebrity Cruises, they understand that as a player, you have high expectations of the places you choose for your vacation. A first-rate casino is a must, but you want the total package— luxury accommodations, fine dining, personalized service and more. That's why they've upped the ante on providing you the ultimate gaming vacation experience. It may surprise you to know that they rival some of the world's most prestigious gaming resorts. Unlike those resorts, they travel the world to deliver unforgettable journeys where you can play blackjack in one country and roulette in another the very next day. So, a getaway with Celebrity Cruises is your next sure bet.
A JOURNEY AS REMARKABLE AS YOUR NEXT DESTINATION
On a Celebrity cruise, the exhilaration starts long before you get to your first destination. The moment you step aboard, you'll know you're in for an extraordinary vacation. From the awesome spaces that surround you down to the thoughtful attention to detail in everything they do. Like the greatest destinations in the world, their ships offer art, architecture and global flavors that transport you far from the everyday. On board, there's truly something for everyone. Sip, swirl and savor some of the best wines in the world at a wine tasting led by one of their certified sommeliers.
Tour the contemporary art displayed throughout the ship or browse the collection in the art gallery, where you can purchase your next favorite piece. Feeling competitive? Join a friendly game of croquet or bocce at the Lawn Clubs on the Celebrity Solstice series of ships. Yes, it's real grass. Enjoy modern, daring and evocative performances in The Theatre, a state-of-the-art entertainment venue like no other at sea. Savor hand-crafted cocktails in a variety of bars and lounges. On a Celebrity cruise, you can do as much or as little as you choose, which is exactly the way a vacation should be.
WORLD-CLASS ACCOMMODATIONS— AROUND THE WORLD
When it comes to making you feel right at home miles at sea, no one does it better. Indulge in The Retreat, for the ultimate in luxury experiences. The Retreat features a variety of breathtaking suites, including the Edge Villas, which are available exclusively on EdgeSeries ships. These two-story, town- home-style suites, complete with their floor-to-ceiling windows (yes, all two stories), offer some of the best views on board, plus a private veranda with luxurious lounge furniture and your own splash pool. All guests of The Retreat enjoy private dining in Luminae, with mouthwatering meals found nowhere else on board, including signature dishes from renowned chef and Global Culinary Ambassador, Daniel Boulud. There's an exclusive lounge available 24/7 with a dedicated concierge who can arrange everything you need (on board or off), as well as complimentary drinks and gourmet snacks. For some secluded outdoor time, The Retreat Sundeck offers an intimate country club setting, complete with cozy nooks, pool and pool bar.
Other distinctive stateroom experiences you'll find only on Celebrity Cruises include AquaClass staterooms—a spa-inspired experience, including a veranda stateroom, complimentary access to The Spa's Persian Garden or SEA Thermal Suite, along with the services of a dedicated Spa Concierge who can schedule a relaxing and rejuvenating regimen of treatments that will have you feeling better than ever. Concierge Class is another Celebrity-only stateroom experience where little details make a big difference. A dedicated concierge will help you every step of the way during your stay, and beyond your veranda stateroom, you'll enjoy other exclusive services and amenities that make your vacation unforgettably carefree. The accommodations are so inviting, there's a good chance you won't want to leave when your vacation ends.
TRAVEL THE GLOBE ONE BITE OR SIP AT A TIME
Celebrity Cruises will awaken your inner foodie on a culinary journey like no other at sea. The collection of distinctive restaurants, each with menus inspired by the regions they visit and crafted by their Michelin-starred chef, ensure you'll find a new favorite restaurant right on board. Every day and evening, dishes are prepared fresh by a team of expert chefs who use locally sourced ingredients for authentically delicious flavors. They've also teamed up with Chef Daniel Boulud, their Global Culinary Ambassador, who not only creates signature dishes for the restaurant, Luminae, but on their newest ship, Celebrity Beyond, he's opening his first signature restaurant at sea—Le Voyage by Daniel Boulud. No matter which restaurant you choose, their team of certified sommeliers are ready to recommend the perfect pairing for your meal from the extensive wine collection—in fact, it's the most awarded wine collection at sea.
WITH CELEBRITY CRUISES, THE WORLD IS YOUR PLAYGROUND
If exploration is your passion, Celebrity Cruises has it covered. Literally. With their fleet of 15 stunning ships, they visit all seven continents and more than 300 destinations worldwide. From the beaches of the Caribbean to the historic cities of Europe to the breathtaking coastal views of Alaska — and almost anywhere else around the globe you may dream of visiting— they'll take you there. No matter where you travel with Celebrity Cruises, they'll make every stop on your journey an in- depth experience with overnight stays, personalized shore excursions, award-winning culinary tours, and multi-night vacation packages. Your time ashore may just be as exciting as your time aboard.
READY TO PLAY?
Step aboard and test your luck and skill in the sophisticated ambiance of Celebrity Cruises' casinos. Inspired by the finest gaming establishments around the world, their casinos offer the same excitement and captivating atmosphere that make your time there as thrilling as any. Not only will you find the best gaming at sea, but every member of their staff is dedicated to making sure you enjoy every moment of your time in the casino.
They've spared no expense in reinventing the casino concept from the ground up to deliver a truly unique gaming experience at sea. They've incorporated state-of-the-art technology into over 150 of your favorite table games, including blackjack, roulette, craps, baccarat, and more than 2,000 of the latest slot machines across their fleet. In addition to a refined but vibrant gaming environment, they offer custom limits, better odds across a variety of games, late hours, and action-packed tournaments for players of all levels. You play to win, and they believe you should play your way to do so.
As a member of the exclusive Blue Chip Club, the more you play, the more rewards you earn with benefits including free-play in the casinos, complimentary staterooms, concierge-style service, plus access to VIP locations and events. Joining the Blue Chip Club is quick and effortless. Just swipe your SeaPasscard at any slot machine when you enter the casino to instantly become a member. When you earn your first 20 points, you'll receive $20 in Free Play. Once you are a member of the Blue Chip Club, you'll be able to play your way through ascending levels of membership from Pearl all the way up to Ruby, with each level granting you even greater privileges. Now more than ever, it pays to play in Celebrity Cruises' casinos.
With luck on your side, join Celebrity Cruises for the ultimate journey of excitement, exploration and exhilarating casino play.
For more information about the unique gaming vacation experiences that await, visit celebritycruises.com/casino.