RACING TO THE TOP
An inside look at the nation's hottest racinos
By Karrie L. Zukowski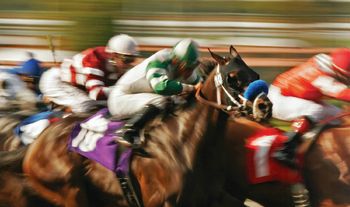 DELTA DOWNS RACETRACK CASINO HOTEL Vinton, LA
Located right on the Texas border just two hours from Houston, Delta Downs Racetrack Casino Hotel in Vinton Louisiana is your first stop for Louisiana gaming excitement! Featuring the best in luxury and comfort and offering spacious deluxe rooms and a wide range of amenities, Delta Downs hotel is a perfect way to end your day at the racetrack and casino.
Boasting an extensive collection of more than 1,600 of the most popular slots and video machines – including a separate high-limit area – Delta Downs combines fast action and friendly service to provide the ultimate destination for slots aficionados. Into racing? Check out the best live racing in the region, or watch a simulcast from another track. Whatever option you choose, Delta Downs offers ample seating in grandstands and a state-of-the art track betting parlor.
Delta Downs offers culinary experiences to satisfy every craving with four scrumptious dining options. The Rosewater Grill & Tavern offers mouth-watering steaks and delectable seafood. The Lookout Restaurant has a bird's eye view of the live horse racing action with a delectable menu of steak, chicken and pasta to compliment it! There's also an exceptional wine list and dessert menu. Like an exciting culinary trip across around the globe, the Triple Crown Buffet offers diners a diverse selection of international specialties, offered in a fun and friendly environment. If you want to make it quick and get back to the action, treat yourself to gourmet coffee, American diner-style favorites, deli sandwiches, barbecued specialties, freshly baked muffins, and much more at the Food Court. For more information visit www.deltadowns.com.
Center stage
The region's best entertainment is at Delta Downs. The Delta Event Center offers an intimate atmosphere and a state-of-the-art sound and lighting system. This modern performing arts venue presents a continually rotating lineup of world-class musicians, comedians, and other popular performers. Coming soon is Kool & The Gang, July 30 at 7 p.m. and Purple Reign- the Prince Tribute Show August 27 at 8 p.m.
From blues to country and beyond, great music of all kinds grace the stage at the Gator Lounge, a stylish bar that provides guests with a regular schedule of free entertainment from a fabulous roster of the best local and regional acts.
ELDORADO SCIOTO DOWNS COLUMBUS, OH
Eldorado Scioto Downs is Ohio's premiere gambling and entertainment destination where the gaming and the excitement runs 24/7. Scioto Downs has a Vegas-style gaming venue featuring more than 2,100 of the latest Video Lottery Terminal (VLT) games lighting up a modern 117,000 square-foot gaming space.
Eldorado Scioto Downs continually updates the gaming floor with new and popular game themes. These include: Willy Wonka, Sex and the City, Cash Spin, Wheel of Fortune, Quick Hits, Tarzan, Double Diamond and many others. From penny VLTs to a high-limit area with $10, $25 and $100 games, Eldorado Scioto Downs offers a wide-variety of bets, side bets, progressive bets and multi-link progressive bets.
In addition to state-of-the-art video lottery terminals, Eldorado Scioto Downs features a year-round horse racing simulcast room and live seasonal harness horse racing from May– September. The track is able to accommodate more than 11,000 people at its grandstand and clubhouse, where customers can dine on everything from steaks to hotdogs.
You can also take part in simulcasting action from the top tracks across the country. So whether you want to enjoy a casual night of racing fun, entertain clients or friends, or dress up for a special night out, Eldorado Scioto Downs has exactly what you're looking for!
Eldorado Scioto Downs boasts six dining options including the Clubhouse, which is one of Columbus, Ohio's favorite fine-dining establishments, featuring American classics and full beverage service. From mouth-watering steaks, to a hot succulent roast beef sandwich on the go, Eldorado Scioto Downs caters to all your dining needs.
So whether you are looking for a day trip or a weekend getaway, Eldorado Scioto Downs is the place to be. For more information, visit www.sciotodowns.com.
MOUNTAINEER CASINO, RACETRACK & RESORT CHESTER, WV
Mountaineer Casino, Racetrack & Resort features some of the best slots, table games, live poker and thoroughbred racing. Enjoy the luxurious hotel accommodations, seven dining options, live entertainment, golf course, fitness center and indulgent spa, all within easy driving distance of Pittsburgh, PA, Akron and Youngstown, OH.
The casino offers more than 70,000 feet of gaming space and features a total of 2,100 slot games, 39 table games and 12 poker tables that are open daily. The floor has many of the latest and greatest slot games available including both reel and video slots with all the most popular themes such as Wheel of Fortune, Quick Hits Platinum, Stinkin' Rich, Golden Theatre Deluxe and Pharaohs Fortune. From penny slots to a high-limit area with $10, $25 and $100 games, the casino offers excitement for any sized bank roll. The resort also features a host of exciting table games such as craps, blackjack, roulette, three card poker, Texas hold'em bonus, let it ride, Mississippi stud, four card poker, Spanish blackjack and live poker.
The thundering of hooves, the sound of the crowd cheering, the rush of victory – that's what thoroughbred racing is all about at Mountaineer Casino. Live racing is offered early April through November, while the simulcast parlor is open year-round. Free shuttle service is offered during racing hours from the casino to the racetrack. See the Sport of Kings at Mountaineer, home of the West Virginia Derby, on Saturday, August 6. Post time is 2 p.m.
This West Virginia racetrack features some of the best talent in the nation and is fun for the entire family. If you're coming for the horseracing then be sure to visit trackside for dining at The Mountaineer Club or VicKars while watching live thoroughbred action! For more information, visit www.moreatmountaineer.com.
PRESQUE ISLE DOWNS & CASINO ERIE, PA
Where in Pennsylvania can you get a mouthwatering steak dinner, bet on the ponies, play some high stakes games and then unwind with a cold beverage while watching your favorite band play? At Presque Isle Downs & Casino of course! Presque Isle is located in Erie, PA, just 90 minutes east of Cleveland, 90 minutes west of Buffalo and only two hours north of Pittsburgh.
Join the excitement of hot gaming action. Presque Isle Downs & Casino features more than 1,700 of the latest slot games, 37 table games and 9 poker tables. Play on your favorite games including Texas Tango, Blondie's Penny Bonanza, Double Diamonds, Wheel of Fortune, and Cash Spin, to name a few. Multiple denominations are available, from more than 800 penny games to the High Limit Room featuring more than 30 slots with $10, $25 and $100 denominations.
There's nothing like the pure adrenaline of live horse racing, and no other entertainment venue in the area offers both dining and gaming with the added heart-pounding excitement of top thoroughbred racing right in front of you! You can also take part in simulcasting action from the top tracks across the country. Visit Presque Isle Downs on July 6, 10, 13 and 17 from 5-8 p.m. for Family Night at the Races Live Horse Racing!
If you're looking for more, Presque Isle Downs & Casino features four dining options to choose from, suitable to every taste. Whether it's a quick snack or sandwich at the INCafé, a fantastic buffet, All-American dining in the Downs Clubhouse & Lounge or a full service award-winning venue with the best steaks around at La Bonne Vie, you won't be disappointed. For more information, visit www.presqueisledowns.com.
RACINO. The term,a curious hybrid of "racetrack" and "casino,"was first coined in 1996 when a struggling Iowa racetrack added slot machines in a last-ditch effort to stay open. The new racino's overwhelming success inspired others in the industry to convert their operations and the rest is history.
While racinos have served as the savior of the racing industry, these days the emphasis is often less on racing and much more on casino games, along with all the nongaming amenities you'd expect to find at a Vegas-style casino: top-flight dining, headliner entertainment, fine accommodations and more. Casino Player traveled across the country in search of the nation's top racinos. Here's what we found.
PARX CASINO & RACING BENSALEM, PA
Hands down, Parx Casino & Racing deserves to be on any list of the best racinos. Located a scant 20 minutes north of Center City Philadelphia, the property offers exciting gaming and entertainment, exceptional amenities, and superior customer service with a unique style and upscale flair 24/7. Upon arrival at Parx Casino, guests enter under three larger-than-life LED screens. (The side screens are 49 feet wide and 28.9 feet tall, while the main center screen is a whopping 61 feet wide and 34.6 feet tall.) The casino's dazzling design boasts high-end finishes and a sophisticated atmosphere including Teakwood decorated walls and marble floors, hand-crafted blown glass ceiling fixtures, crystal chandeliers and onyx and wood archways with stainless steel accents.
Parx Casino and Parx East – the adjacent property – feature over 200,000 square feet of gaming. Housed inside are some 3,500 slot machines; 130 live table games; a premier poker room with 80 poker tables; live racing and simulcast action. Parx Casino is home to the hottest slots in the region, blackjack, roulette, craps, baccarat and more. Meanwhile Parx East houses the state-of–the-art private poker room and is also home to the world famous Parx Racing. Both buildings have designated smoking and non-smoking areas.
Spectacular… thrilling… exciting! Parx Racing at Parx East, features the hottest live thoroughbred racing in the region. First post is 12:55 p.m. every Saturday through Tuesday with daily simulcast and phonebet! Phonebet is fast, free and easy. Just call 1-800-BET-PARK to access phonebet. And of course, self service wagering for the full simulcast card are also available.
Whether you're craving an on-the-go snack or luxurious fine dining, Parx hosts an array of mouthwatering options. Parxgrill is an award-winning upscale signature restaurant, featuring a unique menu of classic cuisine alongside chef-inspired seasonal specialties. In a word, a dining experience at Parxgrill is unforgettable. Of course, if casual or quick is what you're looking for try any of these delicious flavorful options.
Earl of Sandwich. Enjoy a delightfully upscale sandwich shop; each signature creation is handmade with fresh-baked artisan bread and the finest ingredients.
Chickies's & Pete's. Eat, drink, interact and take going out to the next level! Philly's favorite crab house and sports bar features unrivaled atmosphere, amazing food and the innovative PLAY² interactive sports bar.
Bambu Noodle House. The Bambu Noodle House has an all new menu designed by Chef Joe Zhou. Featuring innovative appetizers, dumpling dishes, impeccably prepared classic noodle soups, wonderfully executed wok favorites, and of course, Chef Joe Zhou's signature Peking Duck with steamed lotus root buns. It's to die for.
And be sure to take five from the exciting casino gaming at one of Parx's hotspots. Grab the perfect seat to watch the big game at JAX. Stop by Xlounge for a more sophisticated atmosphere with superior cocktails and craft beer. Or for the best live music spot, 360 is the place to be. Parx has it all! For more information visit www.parxcasino.com.
EMPIRE CITY CASINO YONKERS, NY
Just minutes from New York City, Empire City Casino at Yonkers Raceway is a bright spot in an already sparkling city. This modern style slot racino offers more than 5,300 of the hottest slot machines, six restaurants, live entertainment, plus year-round world-class live harness racing and simulcast from the nation's leading racetracks. With all of its offerings, it's an exciting place to spend the day.
With a full variety of exciting theme games including electronic roulette and craps, Wheel of Fortune, video poker, progressives and keno, you'll have plenty of chances to make yourself a winner. Some of the hot themes available are CSI, Michael Jackson – King of Pop, Wheel of Fortune, Sex and the City, Hangover, Dolly Parton, Betty Boop and Family Guy. With individual and multi-denominations ranging from 1 cent to $100, as both reels and video games, you can be sure any bankroll gets you in the game. And if you're into table games, you still have the chance to play. Electronic table games make playing with friends easier, faster and more fun. So try your luck at electronic craps, electronic sic-bo, electronic roulette or electronic baccarat. Bets range from $5 to $1000.
Yonkers Raceway remains one of harness racing's few year-round facilities, with world class racing available throughout the calendar year. The racing schedule is five days per week, with first post at 7:10 p.m. ET on Monday, Thursday, Friday, and Saturday, and 1:00 p.m. ET on Tuesday. They also race on 11 Sundays through the year! For more information about Empire City Casino or racing schedules, visit www.empirecitycasino.com.
WHEELING ISLAND HOTEL CASINO RACETRACK WHEELING, WV
There's no better place for non-stop gaming action than Wheeling Island Hotel-Casino-Racetrack in Wheeling, West Virginia. Equipped with the best in slots, table games, world-class hotel accommodations and live entertainment, Wheeling Island helps you get away and beat the odds.
With hundreds of the most popular game titles and 1,400 slot machines, Wheeling Island is the region's premier casino for exhilarating slot action. Or grab a seat at your favorite table game, because whether you're a rookie or seasoned veteran it's easy to enjoy one of the favorites like craps, blackjack, roulette and more.
And speaking of non-stop excitement, the resort also features live Greyhound racing, making it a great bet for heart-pounding action. There's nothing like watching greyhound racing at Wheeling Island! The greyhound racetrack hosts a full calendar of live races and simulcasts all year long. Imagine eight thundering greyhounds racing toward the finish line at speeds of up to 40 miles an hour as your heart pounds with exhilaration. Live greyhound races take place every day except Mondays and Thursdays – so pick your favorite, and place your bet!
When it comes to dining, options abound. From gourmet steaks to seafood and lighter, more casual fare, such as burgers, sandwiches and all-you-can-eat buffet options, you can satisfy your craving any time of the day. Three "must try" dining options are The Point, The Buffet and The Terrace Room. For an elegant dinner, complete with white tablecloths and stemware, reserve a table at The Pointe steakhouse. Whether you're celebrating a big win or enjoying a meal for two, The Pointe is a great dining choice that offers a diverse menu of mouthwatering options. If a bountiful meal is more your style, claim a table during breakfast, lunch or dinner at the Buffet. With options from seafood to soups, salads and desserts, the buffet offers enough choices for any size appetite. For a casual dining experience overlooking the Wheeling Island racetrack, stop by The Terrace Room. Place a bet or just enjoy the excitement of the race – either way, just make sure you enjoy the freshly prepared food.
Find out everything Wheeling Island Hotel Casino Racetrack has to offer by visiting www.wheelingisland.com.
FOXWOODS RESORT CASINO MASHANTUCKET, CT
Enjoy your summer at one of the Northeast's favorite casino hotspots. Owned and operated by the Mashantucket Pequot Indians, Foxwoods offers the perfect destination for a gambling getaway in style, featuring six casinos as well as AAA Four-Diamond hotels, gourmet restaurants, a state-of-the-art theater, shopping, and much more.
A stay at Foxwoods comes with four fantastic hotel options. The Grand Pequot Tower boasts style and sophistication with 23 stories of rooms and suites. The Villas at Foxwoods, located within the Grand Pequot Tower, feature 23 sumptuous suites with 1,400 square feet of welldesigned space, 24-hour butler service, a big-screen TV, Jacuzzi tub, living room, and complimentary valet services. Other options include: the spacious and comfortable AAA Three Diamond Great Cedar Hotel, located in the heart of the casino; Two Trees Inn, offering the feel of a country inn; and AAA Four Diamond Fox Tower is the perfect sensual experience with modern design and beautifully appointed rooms.