Pulling Together: Casinos Donate in a Big Way
It's been a shocking month-plus for the world and that goes for the casino industry as well.  With casinos closed across the U.S. and most Americans shut in during the COVID-19 pandemic, many gaming companies, properties, and employees stepped up to help and support during the coronavirus pandemic.
Whether this includes donations of food to those in need, or essential personal protection equipment (PPE) to healthcare professionals, law enforcement, first responders, and/or volunteers, the need is there and for now, growing.
In Atlantic City, the city's nine casinos donated all their remaining food stocks to regional food banks and other agencies to help feed those in need. The efforts were expected to help residents throughout the state at a time when it was needed most.
"Not only is the support needed now, but even more support is going to be needed because of the economic impact of our parents not working and our kids not in school afterwards," Boys and Girls Club of Atlantic City CEO Stephanie Koch told the Press of Atlantic City newspaper.
The shutdowns in Atlantic City was only the fifth time in the state's history all properties have been closed. The previous closings came during Hurricane Sandy in 2012, Hurricane Irene in 2011, Hurricane Gloria in 1985, and during a state government shutdown in 2006.  A table games supervisor at Resorts casino echoed the thoughts of many employees
"I'm upset about it," the employee told the Philadelphia Inquirer. "Who's going to pay my bills?"
The city's casinos offered health benefit extensions and temporary wages for some of the city's more than 26,000 casino employees. Gaming companies and properties across the country were helping when possible.
Many casinos in Nevada and other states made similar efforts. Some casinos also announced they would continue paying and providing health benefits for full-time and even part-time employees in some cases for a few weeks after the shutdowns.
Caesars Entertainment through its properties has corporately supplied more than a quarter of a million pounds of food, (the equivalent of roughly 208,000 meals) to numerous food banks and charities, with every Caesars Entertainment property across the United States volunteering to assist their local communities. Further, those properties have provided thousands of items—including gloves, masks, and hand-sanitizer—to local hospitals, first responders, and charities.
According to the company's CEO, Tony Rodio, Caesars Entertainment "is dedicated to assisting our local communities across the country… by donating perishables to nearby food banks and charities, as well as necessary supplies to first responders.  We will continue to seek ways to give back to our neighbors… as part of our commitment to help put this unprecedented situation we are all facing behind us."
Foxwoods Resort Casino and the Mashantucket Pequot Tribal Nation in Mashantucket, CT, donated a total of 59,000 gloves, 100 N95 respirator masks, 240 rolls of toilet paper, 36 bottles of hand sanitizer, nine cans of Clorox sanitizer spray and 24 bottles of other sanitizer on March 23 to Backus Hospital, Lawrence + Memorial Hospital, Fairview Retirement and Stonington Institute in Connecticut.
In early April, Las Vegas Sands donated two million medical masks and 20,000 protective suits to help health-care professionals, first responders and nonprofit organizations in the fight against the coronavirus pandemic.
Medical mask donations were distributed in the company's corporate headquarters of Nevada as well as New York, which has become the epicenter of the coronavirus outbreak in the United States. Each state received one million masks. The 20,000 protective suits were donated to hospitals and first responders in Nevada.
"Hopefully our donations will help protect people on the front lines so they can       continue their invaluable work, and we can start to see the numbers of people affected begin to diminish.," Sands Chairman and Chief Executive Officer Sheldon G.  Adelson said. "Our properties in Las Vegas may be empty right now, but our hearts are full of hope for the future. The determination and courage I have seen in our Team Members, which I know is the same throughout this country, gives me every confidence we will get through this            unprecedented crisis."
This contribution marks the second round of personal protective equipment donations Sands has made. The company previously provided 100,000 masks to the Las Vegas health-care community and 5,000 masks to the Las Vegas Metro Police Department.  It also donated 1,900 coronavirus test kits to the state of Nevada.
The Venetian's neighbor on the Las Vegas Strip, Wynn Resorts has donated more than $875,000 worth of goods and funds since March 17, when the company temporarily closed its resorts in Las Vegas and Boston to help prevent the community spread of the coronavirus.
During the week of March 30, Wynn Las Vegas distributed 95,000 surgical masks, 1,500 N95 masks and thousands of protective gloves to local medical and law enforcement facilities. In the coming weeks, Wynn says, the company will continue to expand its distribution of essential supplies to first responders and medical facilities in need.
MGM Resorts International announced an array of initiatives that are intended to support those affected economically by the coronavirus pandemic, including a $1 million crisis and disaster relief pledge into an employee emergency grant fund and the donation of the equivalent of 400,000 meals across the United States.
"As we confront extraordinary events and an unprecedented global pandemic crisis, we know that this is an extremely challenging and uncertain time for many of our employees, their families, friends and neighbors and we are committed to help those in need," Bill Hornbuckle, acting CEO and President of MGM Resorts International said, according to a release.
Other properties on the Las Vegas Strip donated as well.  The Sahara Resort and Casino invited employees to receive complimentary bags of groceries, including milk, eggs, cheese, beverages, and fresh fruits and vegetables, in support of those affected by the mandatory closures related to the coronavirus pandemic. More than 500 employees received over 15 pallets of supplies.
Managers from the M Resort spent several hours distributing surplus perishable food to employees after when Nevada Gov. Steve Sisolak announced a 30-day statewide casino closure. Managers met employees on the loading dock with pre-selected boxes of food, which they placed into the trunks of the members' cars to maintain proper social distancing.
A total of about 10,000 eggs, 400 melons, 2,000 gallons of milk and cream, 100 servings of soy and almond milk, 4,000 pounds of produce, 400 servings of yogurt and 200 gallons of juice were distributed over the course of the day.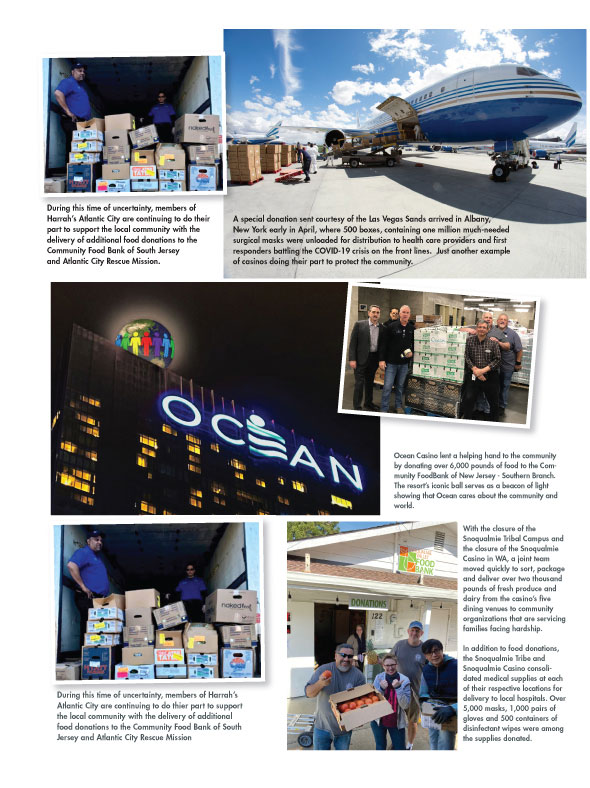 Two Million Surgical Masks Donated by Las Vegas Sands Arrive in New York, Nevada
Two million surgical masks donated by Las Vegas Sands (NYSE: LVS) arrived in Albany, New York on April 9 where 500 boxes, containing one million masks were unloaded for distribution to health care providers and first responders attacking the COVID-19 crisis on the front lines. After leaving New York, the 767 aircraft owned by Las Vegas Sands Chairman Sheldon G. Adelson and sent to Guangzhou, China, to transport the protective gear arrived in Las Vegas with an additional one million masks for front-line crisis response in Nevada.
Masks earmarked for New York were sent to a state collection center that will distribute to front-line workers, and Nevada masks are also being distributed through a state-run entity responsible for the distribution of incoming donations, along with supplies provided directly by the state and federal government.
"This pandemic has called on each of us to use every ability we have to help those most impacted by the crisis," Mr. Adelson said. "Getting personal protection equipment to our health-care professionals and first responders in Nevada and New York, the epicenter of this crisis, is critical to keeping those brave folks safe, while making sure they can do their jobs to aid our most vulnerable citizens. I am grateful we can leverage our resources to get these donations to the front lines, and we send them with the best wishes of our company and team members."
In total, Sands has donated more than 2.5 million pieces of personal protection equipment to Nevada, New York, California and Massachusetts. The company also donated 1,900 coronavirus test kits and is in the process of donating 20,000 protective suits to the state of Nevada.
Sands also has made financial contributions to several hunger-relief organizations and donated 60 pallets of food and more 55,000 bottles of water to local organizations.  The company is currently paying each of its nearly 10,000 Las Vegas Team Members, along with providing full health-care benefits, while its properties remain closed.
Snoqualmie Tribe and Casino support local communites during coranovirus response
With the closure of the Snoqualmie Tribal Campus to visitors and non-essential employees, and the closure of the Snoqualmie Casino in WA, a joint team moved quickly to sort, package and deliver over two thousand pounds of fresh produce and dairy from the casino's five dining venues to community organizations that are servicing families facing hardship.
"In the middle of this unprecedented health crisis we must all work together to see to the needs of the people in our communities," said Snoqualmie Tribal Chairman Robert de los Angeles. "While we are doing everything possible to help our Tribal members and employees, we are also aware of the needs of the greater community and want to help where we can."
"We are so grateful to community members like the Snoqualmie Tribe and Snoqualmie Casino who are always mindful of the needs of our neighbors," said Snoqualmie Valley Food Bank Executive Director Nikki Lloyd "This health crisis has created a true financial emergency for many families,'" Nikki added, "Each week the number of families we are serving grows, creating an immediate need for an increase in donations."
Further food donations are planned as the Tribe is working to source 4,000 frozen meals for Snoqualmie Valley organizations that provide support to local families in need over the next several weeks.
In addition to food donations, the Snoqualmie Tribe and Snoqualmie Casino consolidated medical supplies at each of their respective locations for delivery to Swedish Hospital in Issaquah and the North Bend Snoqualmie Police Department. Over 5,000 masks, 1,000 pairs of gloves and 500          containers of disinfectant wipes were among the supplies donated.
"Although we have suspended the casino's daily operation to support the community effort towards social distancing, we are proud that we are able to directly contribute to the communities' recovery from COVID-19." said Snoqualmie Casino Interim CEO and President Stanford Le.