POOL PLAYERS
Cool Down Where Things Really Heat Up- Poolside
By Rylee Bailey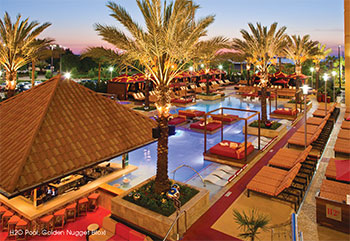 When we talk about casinos, much of the time we're focused on the gambling, food, drink and entertainment. But many properties across the country offer guests the opportunity to indulge the urge to soak it all in, get a little wet, or relax and worship the sun. And some casinos have created an aquatic masterpiece that transforms the experience from a simple swim to a major attraction itself.
So get ready! Pack your sunscreen and don your swimmin' trunks because this end-of¬summer tour is heading to the water's edge to examine some of the greatest pools casinos have to offer.
THE POOL AT HARRAH'S – Atlantic City, NJ
There's no need to hop on a plane to experience the tropics anymore. A visit to the pool at Harrah's can satisfy all your beachy needs.
Experience 82 degrees year-round with boundless amenities. Bungalows, cabanas, and daybeds allow for guests to experience VIP treatment. Caribbean cuisine and tropical treats are available poolside along with blackjack games and roulette. For a more intimate setting, five secluded hot tubs are accessible. Guests can also participate in a water aerobic class where instructors choreograph a special routine designed to work all muscle groups.
Every Saturday, guests can experience games, prizes, DJs and two happy hours where it's always sunny and balmy. Happy hour is also available seven days a week from 11:30 a.m.-1:30 p.m. and 3-6 p.m.
Harrah's spices things up late at night. Guests can participate in late night swims Sunday, Monday, and Thursday 6 p.m. to midnight. For a little more fun, experience the party of a lifetime with renowned DJs such as French Montana, DJ Pauly D, and 50 Cent every Wednesday, Friday, and Saturday night.
Escape to the tropics without taking off overseas. Harrah's offers infinite services at the pool and ensures a swim of a lifetime. For more information visit www.caesars.com.
H2O POOL, GOLDEN NUGGET – Biloxi, MS
The H2O pool at Golden Nugget Casino can satisfy all your urges to escape for a weekend. Guests can enjoy poolside blackjack, indulge in a cocktail and a swim in the sun. Experience a getaway like no other on the Mississippi Gulf Coast.
Amenities such as 12 rental cabanas, 12 rental daybeds, two fire pits, a hot tub and over 100 chaise lounge chairs are available to guests. Hotel guests receive complimentary pool access.
At the poolside bar and grill, friendly bartenders are attentive and efficient. Enjoy refreshing spirits with friends while lounging at the pool. From margaritas to burgers, guests can enjoy all H2O has to offer.
To liven things up at night, guests are welcome to participate in adult swims on Thursday nights. Food, music and dancing bring life and fun to the party atmosphere. Guests rave about the performing entertainers such as dancers and djs who bring the life of the party.
Visit www.goldennugget.com for more details.
BOULEVARD POOL, COSMOPOLITAN – Las Vegas, NV
Guests can find themselves in awe of the neon lights of the Las Vegas Strip while taking a dip at the Boulevard Pool at the Cosmopolitan. The multi-level pool offers unobstructed views located in the heart of Las Vegas.
Guests can find intimacy while relaxing in lounge chairs and daybeds. Private cabanas dedicated to indulgence come with a server, complimentary fruit plate, a stocked refrigerator with other amenities available for rental. Although staff stayed relatively busy, guests rarely have to wait for service. Food and beverages are also fairly priced for Vegas standards.
Entertainment such as live musical performances on a poolside stage and Dive-In Movies playing on the Marquee create a vibrant social scene for guests. Those who visit the Boulevard pool love how it's for guests only which offers a private atmosphere.
Pack your best swimsuit and prepare to make a splash above the Vegas lights. To learn more visit www.cosmopolitanlasvegas.com.
HARD ROCK HOTEL POOLS – Las Vegas, NV
Guests can escape to a five-acre desert paradise at the three Hard Rock Hotel pools in Las Vegas. The Nirvana Pool, Breathe Pool and Paradise Beach offer peace, sophistication and energy through the different atmospheres each pool offers.
The Nirvana Pool provides guests with a serene retreat equipped with an expansive pool area, sand beach and secluded cabanas which allow guests to experience their own private resort. Eight spa villas also provide direct access to Nirvana.
Breathe is located right above Nirvana which provides a more sophisticated atmosphere which overlooks the Vegas Strip. Open year round, Breathe also offers 14 cabanas and a full service food and beverage menu.
Home to renowned party event, Rehab, Paradise Beach creates the perfect party scene. During the summer months, Rehab transforms into an energizing beach club. Guests can dance to the latest hip hop music and participate in special performances and model searches.
Hard Rock has a pool for any guest. For more information go to hardrockhotel. com.
L'AUBERGE CASINO RESORT – Lake Charles, LA
As you float down the winding lazy river, you float up to the bar and order the perfect frozen cocktail for you. All around are luxury cabanas and a full-bar service to quench your thirsts and assist in ultimate relaxation.
Equipped with a lazy river and year-round 89-degree pool, L'Auberge Casino Resort offers the perfect getaway from reality. Available only to hotel guests, patrons can rent a poolside cabana with sunbathing patios and personalized attendant services.
Along the lazy river, lounge chairs are lined up and cabanas and daybeds are available for rent. Lush foliage and wildlife is also present along the river. The heated pool also contains and adults only area for those looking for peace. During the summer Liquid Gold takes over the pool area to create a party and liven up the adult atmosphere.
Escape to the tropical and lush L'Auberge Casino Resort to ease your mind and have fun through the illusion of seclusion. Check out www.11akecharles.com for more information.
HARD ROCK LAKE TAHOE – Lake Tahoe, NV
Nestled in the mountains of Nevada lies the Hard Rock Casino. Right outside of guests' hotel rooms, they can capture the picturesque beauty of surrounding Lake Tahoe. But when it's chilly and snowing, guests can visit the pool which is heated to a comfortable 85-degrees.
South shore's largest outdoor swimming pool offers more than just a warm swim, bartenders are available to retrieve beverages from the casino for guests. Private cabanas and daybeds are also accessible to rent. To add to the mountainous vibe at Lake Tahoe, the pool is surrounded by plush shrubbery.
Whether you're looking to enjoy the beautiful mountain view or the glistening scene of Lake Tahoe, the pool at the Hard Rock can satisfy any of your desires. For more information visit hardrockcasinolaketahoe.com.
MANDALAY BAY BEACH AT MANDALAY BAY CASINO RESORT – Las Vegas, NV
Sand, waves, sun rays and cabanas may make you think you're on the shores of a tropical island, but actually you're just lounging at the Mandalay Bay Beach in Las Vegas. The beach consists of 2,700 tons of real sand, a 1.6-million gallon wave pool and 100 rentable cabanas, day beds, bungalows and personalized villas.
Guests can enjoy amenities such as the Beach Bar and Grill which can serve up your favorite snacks and drinks merely steps away from the pool or you can have it delivered right to your cabana. At the Bikini Bar, your favorite drinks and cocktails are available for your pleasure.
Guests can enjoy more than just drinks. Every summer May through September, Mandalay Bay hosts a Beach Concert series with an astounding lineup. Mandalay Bay Beach also serves as the perfect day club scene with Daylight. Serving as a veteran of the Vegas party location, guests can rave with renowned DJs such as Tyga, Metro Boomin',T-Pain and several others.
The several amenities Mandalay Bay offers earned the resort the title of one of the best pools in the U.S. by Tripadvisor. For additional details go to www.mandalaybay.com.
GARDEN OF THE GODS, CAESARS PALACE – Las Vegas, NV
Caesars honors the legacy of the god through its seven spectacular pools in the Garden of the Gods. The collection of watering holes offers a trip to the heart of Italy without ever having to leave the United States.
The Temple Pool is the classic image of Caesars swimming. Lounge chairs surround the pool which is equipped with two cabanas and 17 daybeds for rent. To obtain the perfect tan, guests can enjoy the Apollo Pool which is named after the god of light and sun. On the southwest corridor of the oasis, maximum sun exposure is available through the use of five cabanas and four daybeds.
If you're into the social scene, the Neptune Pool is where you need to be. As the perfect place to mingle and meet and greet, guests can use eight cabanas, 12 daybeds and chaise lounge chairs. For a more secluded setting, the Jupiter Pool offers a more intimate atmosphere.
Amenities such as food and drink are also available in select pools. The Fortuna Pool, named after the Roman goddess of luck, offers swim-up blackjack and the opportunity to visit the bar for signature mojitos or fresh margaritas. The Venus European Pool Lounge is a more sophisticated retreat for guests. High-end food and drinks are served to guests daily.
For the VIP treatment, look no further than the Bacchus Pool. Named after the Roman god of wine, this pool is reserved for invited guests and celebrities.
With a pool for every guests, find yourself in the oasis of your dreams at Caesars. To learn more visit www.caesars.com.
DREAM POOL, COUSHATTA CASINO RESORT – Kinder, LA
After a day of partaking in adult activities, escape back to your childhood through the twists and turns of water slides and the winding of the lazy river. The Dream Pool at Coushatta Casino Resort offers an activity for everyone.
Guests can float through the jet powered lazy river in complimentary inner tubes. The 500-foot winding ride allows for you to relax and enjoy the experience. Pool slides provide non-stop thrills for everyone. Two 40-foot slides intertwine and spit you out into a 5,000 square foot pool. A child friendly splash pad is also available. Equipped with two mushroom waterfalls, built in spray cannons and criss-crossing arcs of water you can let the kids go and have fun, but when the kids become too much, feel free to indulge in the swim-up bar and enjoy a cocktail or two.
For those making the trip to Coushatta Casino Resort, be sure to lose yourself in all the fun the Dream Pool has to offer. For more information visit them online at www.coushattacasinoresort.com.
TALKING STICK RESORT – Scottsdale, AZ
Beautiful people, great music, f. decadent drinks, and lavish experiences are all what Release Parties at Talking Stick Resort has to offer.
Every summer Talking Stick hosts premier pool parties for guests and outsiders. Each Saturday and Sunday from 11 a.m.-6 p.m., guests can enjoy the pool party of a lifetime. With renowned DJs and performers, guests can wade in the pool or dance on the deck. State of the art audio and visual create the perfect environment for the party of a lifetime. With the stage a few steps away from the main pool, guests have the best view in the house.
If you're looking for the perfect summer party, head to Talking Stick's Release pool parties. Drinks from the bar can quench your thirst and music can satisfy your desire for some outdoor excitement. Go to www.releasevip.com for more information.
TANK POOL AT GOLDEN NUGGET CASINO – Las Vegas, NV
Fun-filled and sun filled are the perfect words to describe the Tank at the Golden Nugget. Experience thrills as you swim next to sharks or relaxation at the Hideout. The tank has something for everyone.
The three-story pool complex consists of a 200,000-gallon shark tank aquarium which guests can swim next to. Climb 30 feet to descend down a one of a kind waterslide. For more privacy, 17 cabanas are available to rent.
If you're interested in a more exclusive setting, check out the Hideout on the third story. Sip on your favorite cocktail on the edge of the infinity pool on the upper level. This secluded paradise only include For fun and intimacy, find yourself at the Tank swimming alongside sharks or relaxing poolside with a drink of your choice. Whichever you choose, your experience is guaranteed to be impeccable. Visit them online at www.goldennugget.com.s guests over 21 years old.
TALKING STICK RESORT HARRAH'S SoCal, – Funner, CA
If you're seeking an oasis escape, look no further than SoCal pool at Harrah's Resort. Hot tubs, cabanas, palapas, day beds and fire pits create the perfect relaxing atmosphere.
The main pool consists of three hot tubs, four cabanas, two palapas, four day beds and two fire pits. Guests can relax and enjoy all the amenities available. A swim-up bar is also accessible to swimmers. Guests can enjoy their favorite beverage without even having to leave the water. Along with the main pool, there's a 400-foot lazy river with two waterfalls. Guests can rent out private cabanas which come with food and beverage services.
Soak up the southern Californian sun with amenities such as these and discover why SoCal was voted one of the Top 10 Best Resort Pools in the United States by USA Today.
Visit www.caesars.com/harrahs-socal for more details.
GEYSER FALLS WATER THEME PARK, PEARL RIVER RESORT – Philadelphia, MS
Eight acres of white sand, 1.9-million gallons of water, 12 major water slides, 15 attractions, and over 100 ways to have fun. Geyser Falls offers a family experience for those seeking to escape the gambling scene for a day.
With 15 different attractions accommodating adults, children and teens, the Falls has everything one could want in a water park visit. An enormous wave pool sends tides to the shore of the white sand in the park. The lazy river provides a relaxing ride through the resort. Find heart pounding thrills in the various three-story water slides also on site at Geyser Falls.
Guests can rent out cabanas daily and for special occasions, birthday huts are available for rental. An ice cream parlor and food court also supply guests with tasty meals and tempting treats. When the cards, chips and dice are all becoming too much, take a trip to the 23-acre family friendly Geyser Falls WaterTheme Park at Pearl River Resort. Check them out at www.geyserfalls.com
Rylee Bailey is a freelance writer in Kaufman, Texas. For story assignments or to contact bet; visit www.RyleeBailey.com.