Planet Hollywood Resort and Casino
Las Vegas, NV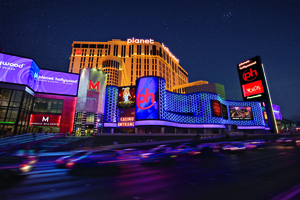 A visit to Las Vegas can be a thrilling adventure.  A visit to Las Vegas' Planet Hollywood can be downright decadent.  One of the hottest properties on the Strip, Planet Hollywood combines the glamour and indulgence of Hollywood with the glitz and sex appeal of Sin City, tailored for guests who want to step into the shoes of Hollywood A-listers—if only for a couple for days.  Among its many offerings, visitors will find exciting gaming, star-worthy accommodations, shopping by the mile and just about every other indulgence one can imagine.
The casino is exhilarating, delivering on all of its promise to excite, entertain, and—hopefully—reward.  Players will find a full mix of table games like blackjack, craps, and baccarat, as well as a variety of the popular casino poker games including let it ride and Caribbean stud.   There's a powerful assortment of slots, about 1,200 in all, ranging from penny video slots to high-limit reels and everything in between. Planet Hollywood's slots include single and multi-line video poker as well as popular progressive games like Wheel of Fortune, Megabucks, Monopoly and more.
If you're a poker player by nature, Planet Hollywood's poker room is home to 11 tables and one of the largest progressive jackpots in the world, MEGAbeat.  The jackpot starts at $200,000 and could grow to an epic $1,000,000!  Tournament junkies will appreciate the four daily poker events (10 a.m., 1 p.m., 4 p.m. and 7 p.m.) with buy-ins as low as $70 and $1,000 guaranteed to the winner.  Players can also test their skills at the cash tables including $1-2 and $2-5 no limit Texas hold'em, as well as $4-8 limit.
Where to Stay
Planet Hollywood features hotel accommodations with charm and creature comforts fit for celebrities or Hollywood buffs.   Every one of the rooms and suites features one-of-a-kind movie memorabilia set against a backdrop of stylish, modern luxury.  Rooms range in size and grandeur, beginning with the standard "Hollywood Hip King" which offers signature Hollywood-themed ambiance and furnishings.  If you're looking for a great view that's within budget, opt for the "Hip Street View" room, which features a brilliant view of the Strip, or for a more sedate atmosphere book a "Mountain Luxury" room which offers an additional 100 square feet of space and stunning views of the nearby mountain range.
For a little extra elbow room, Planet Hollywood Boulevard Suites are 1,400 square feet of Hollywood glamour.  Gorgeously appointed and designed as much for relaxing as entertaining, boulevard suites feature a conversation pit with wrap around seating, a bumper pool table or a foosball table,  and a wet bar with its own refrigerator.  When the day is done, retire to the large bedroom which features a king Sheraton Sweet Sleeper bed for the ultimate in comfort.  If you really want some breathing room, book an Apex Suite, where mid-century modern, meets postmodern, meets sophisticated adult play room. The Apex Suite is a more opulent version of the Boulevard Suite, with everything you'll find there plus an additional 500 square feet and spectacular view of the Las Vegas Strip
Sidebar: PetStay Resort
Travelling with a furry friend other than your husband?  PetStay Resort rooms feature the style and comfort of a deluxe room plus an additional 110 square feet with carpeted bathrooms, his and her sinks, and an executive workstation. The PetStay Resort rooms come with a welcome treat and a dog food/water bowl. Guests traveling with their dog will be asked to fill out a waiver accepting responsibility for any damage and/or cleaning charges that may be incurred. Up to two dogs per room are permitted and each dog must weigh less than 50 pounds.
Dining Galore
While Planet Hollywood may have cultivated a more youthful, party atmosphere, discerning guests of all ages in search of true culinary delights need not go wanting.  Planet Hollywood boasts some of the finest dining in Las Vegas, along with more than a few casual eateries and snack shops.
Strip House.  Planet Hollywood's most acclaimed restaurant, Strip House Steakhouse delivers on everything from dishes to décor, creating a Las Vegas steakhouse unlike any other. The menu has been crafted to excite the senses, with prime cuts of beef charred to perfection coupled with signature side dishes such as truffle creamed spinach and goose fat potatoes.  (Hint: Save room for dessert and indulge in the famed 24-Layer Chocolate Cake.)   Part of the experience at Strip House is the restaurant's sumptuous red decor, moody lighting and vintage black and white photographs. These rare images of captivating females from the original 1900's Studio Manasse collection embrace an era of decadence and seduction.
Koi.  Koi Las Vegas is the premiere fine dining Japanese restaurant that's been one of the hottest spots on the LA and New York dining scenes. A celebrity favorite, Koi has received praise for its Japanese-inspired cuisine with California accents.  The menu features a variety of savory cooked dishes, traditional sushi and sashimi, as well as creative rolls.  It is perhaps best known for its signature dishes: crispy rice topped with spicy tuna, Kobe beef filet mignon and toban-yaki.
Gordon Ramsay BurGR.  A can't miss for the burger lover in search of something less ordinary, the Gordon Ramsay BurGR menu takes the traditional burger, fries and milkshake comfort food combination to an entirely new level.  With selections like pork belly bao buns, sweet potato fries with vanilla powdered sugar and pudding shakes—a heavenly combination of thick milkshake and silky pudding—this isn't your typical burger joint.  Beef patties sizzle over an open flame fueled by hard woods, creating a more complex and powerful flavor. Add to that the signature curry ketchup and chipotle ketchup, and you've turned something so familiar into something truly remarkable.
At the Pleasure Pools
After you've had a chance to gobble some of the resort's tastiest delights, make your way to the picturesque pools for an experience that is uniquely Vegas.  Planet Hollywood has created one of the ultimate poolside retreats, appropriately named the Pleasure Pools.  At this watery Xanadu, guests socialize poolside all the while basking in the revelry surrounding them—top DJs, two separate pool decks, 15 cabanas with poolside bottle service, daybeds, two pool bars, a pool café and more.
For those willing to embrace the leisurely decadence, there's no better way to enjoy the Pleasure Pools than in VIP style with a cabana.  Amenities include: Fan, Flat-screen television, two lounge chairs, two person daybed, refrigerator stocked with bottled water, one bottle of liquor with three mixers, a basket of fruits and nuts, personal cabana host and cocktail server.  Seven Stars Total Rewards members receive a complimentary bottle of champagne with their full day cabana rental
Shopping & Nightlife
If shop 'til you drop is your motto, at Planet Hollywood you'll have the chance to do just that.  With 1.2 miles of retail excitement, there's more than enough at Miracle Mile Shops.  Featuring 170 specialty stores, Miracle Mile Shops includes live entertainment at the Harmon Theater, Saxe Theater and V Theater, plus dining at 15 restaurants ranging from quick and casual to gourmet.  Shops at Planet Hollywood Las Vegas include coveted brands like GUESS, GAP, DC Shoes, Urban Outfitters, Steve Madden, H&M, White House/Black Market and more. Restaurants include Pampas Brazilian Grill, Panda Express, La Salsa Cantina, Todai Sushi Buffet and more.
For something a little more risqué, check out the newest Las Vegas nightlife hotspot, Gallery Nightclub.  Gorgeous performance dancers styled in voyeuristic fashions perform nightly, enticing and exciting guests. Candlelit glass fireplaces are scattered throughout the venue, creating a sexy and mysterious glow in all the rooms.  Provocative design and erotic revelry converge to create a uniquely aesthetic Las Vegas nightclub experience. Oversized frames adorn the walls, showcasing original photography depicting voyeuristic imagery as an erotic backdrop for guests. State-of-the-art sound and lighting blanket every room of this Las Vegas nightclub, where world-renowned DJs spin intoxicating music until the sun rises.
Finally for the ultimate in dignified debauchery, consider PEEPSHOW, Las Vegas' only celebrity striptease spectacular.  PEEPSHOW is a sophisticated, highly stylized production accompanied by a sizzling ensemble of sexy girls, showstoppers from film, TV, Broadway and beyond.  PEEPSHOW stars Coco Austin, best known for her TV series Ice Loves Coco. Combining the Las Vegas entertainment staple—the topless revue—and the power of celebrity, the over-the-top PEEPSHOW Las Vegas is something even Sin City has never seen before.
Now that's saying something.
Finally, Planet Hollywood's newest entertainer-in-residence CeeLo Green enchants audiences with his unique vision, LOBERACE, an electrifying journey playing off Las Vegas entertainment icon Liberace. As ringmaster of the spectacle, CeeLo takes fans on a colorful ride through decades of music, stopping at legendary moments in time from Prince and Blue Magic to The Rolling Stones, the disco era, new wave and beyond.
The production combines CeeLo's flamboyant sense of style and over-the-top creativity with his soulful voice covering some of his favorite music in a just for Vegas show.  Kinetic and exotic, LOBERACE is part concert and part dance party, with mind-twisting magic, sexy showgirls and a larger-than-life wardrobe that will out-glam anything seen to date from this Muppet-ized, sequin-styled performer.