Open-Air Gaming
Hitting the tables and slots in unique outdoor areas offer some fresh air and fun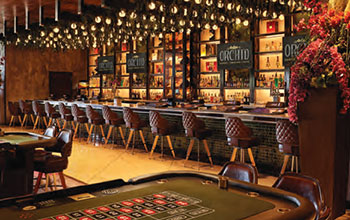 Summer is here! Outdoor gaming is a concept more properties, and more Americans, are embracing, especially after the past two years. Whether in response to the coronavirus pandemic or just a need for a place to stretch those legs in the sunshine (or moonlight),some outdoor gaming may be growing as an option for gamblers needing a little more space. While in the past some properties have relegated outdoor areas to smokers, some are now making an effort to cater to a wider crowd with well- appointed and stylized outdoor areas and plenty of gaming options. Here's a look at a few properties taking some of the action outside.
Orchid Gaming & Smoking Patio at Live! Hotel Casino Maryland
For outdoor gaming, Live! Hotel Casino Maryland in Hanover offers an expansive and inviting experience. The Orchid Gaming and Smoking Patio features a visually stunning outdoor space to relax and play. The venue offers 12 live table games with blackjack, baccarat and roulette; 28 electronic table positions with "dealer assist" blackjack, baccarat, craps and roulette; and bartop gaming terminals.There are also 150 of the latest slot and video poker machines in denominations ranging from $.01 to $10.
"Orchid is Maryland's first full-service outdoor gaming area that features both table games and slots," Executive Director of Communications Carmen E. Gonzales says. "Simply put, the aesthetics of Orchid are stunning. The games are interspersed among visual features that pay homage to the four elements: earth, air, fire, and water."
Gamblers will also find an extensive collection of cigars and spirits. Customers can sip barrel-aged cocktails or puff a premium cigar housed in specialty-built humidors. Customers can also order drinks and cigars through the Live! mobile app and have them delivered to their seats.
Orchid is open 24/7, 365 days a year. During colder months, fireplaces and a specialized heating system keep guests warm. Hopefully the games will be hot, too.
JACK Thistledown Racino and JACK Cleveland  Casino Open Outdoor Gaming Areas
JACK Thistledown Racino recently unveiled Revel Oak in March, a brand-new 12,000-square-foot outdoor gaming patio, featuring two levels of exciting gaming action in an elegantly designed space unlike any other found in the state of Ohio.
The sophisticated design of the patio allows guests to comfortably enjoy the available amenities in an open-air setting through its state-of-the-art features. Utilizing intelligently designed louvers, open expanses, and a commercial-grade exhaust system, Revel Oak offers an unobstructed flow of outside air into the gaming space.
Guests can enjoy over 250 of the most popular Video Lottery Terminals (VLTs) throughout the two-story space, as well as a stunning 10-seat bar that overlooks the top floor of the patio. Revel Oak immerses guests in an elevated gaming experience using wood accents, unique lighting and elements of greenery to further accentuate the outdoor setting. A grand, double-radius staircase, surrounded by a Sapele slat-wood wall, serves as the focal point of the attraction.
"JACK is passionate about providing an experience for our guests that cannot be found anywhere else and we could not be more thrilled to add Revel Oak to the list," said Angela Matthews, GM of JACK Thistledown Racino. "We have committed ourselves to delivering an exceptional space that is not only unique but unrivaled in the area."
Sister property JACK Cleveland casino also added the experience to the downtown casino, offering guests a new area to play their favorite slots in an open-air setting. Fronting Public Square, Revel Oak is a new 4,000-square-foot gaming space that immerses guests into the urban fabric of downtown Cleveland as open expanses affixed with decorative metal mesh create a welcoming interaction between the gaming floor and the Cleveland streetscape.
The cutting-edge design is also outfitted with state-of-the-art features, allowing for year-round enjoyment. Located directly off the current gaming floor near Public Square, guests are welcomed to Revel Oak through a grand glass entrance celebrating JACK's Ohio roots, featuring a custom terrazzo floor embedded with an outline of the state and marked with a heart marking the city of Cleveland, as well as a custom, handblown chandelier by local design company, Cleveland Art.
MGM NATIONAL HARBOR OPENS OUTDOOR GAMING TERRACE
MGM National Harbor in Potomac, MD, is set for some outside casino play. The casino, which is across the Potomac River from Washington, D.C., and with panoramic views of Northern Virginia, has debuted an outdoor gaming terrace in April where guests can enjoy slot games in a unique setting.
The one-floor terrace, pen 24 hours a day, includes 41 of the casino's most-popular slot games, including Dancing Drums, Buffalos and 88 Fortunes.
"We are excited to open one of the country's most unique gaming settings," Alex Alvarado, vice president of casino operations at MGM National Harbor, said in a news release. "Our guests will love the ability to take their casino experience outside where they can enjoy a cocktail and fabulous views of the region."
Smoking is permitted on the outdoor gaming terrace and its entrance is located adjacent to the M life desk.
SARATOGA CASINO OUTDOOR GAMING TERRACE
Saratoga Casino Hotel in Saratoga Springs, NY, added an outdoor gaming terrace to the property in the spring of 2019.The outdoor gaming terrace features 50 slot machines of varying denominations along the apron of the casino's historic harness track.
The 1,800-square-foot covered gaming terrace features an innovative design that allows for guests to enjoy the outdoor space throughout different climates. Infrared heating panels provide comfortable temperatures through the colder months, and vaulted ceiling fans will be used to cool the space during the spring and summer. The casino's design team has utilized custom louvered glass panels that provide constant and ample air circulation, allowing guests to smoke. The terrace's glass panels also provide slot players with a unique vantage point of the harness track during racing season.