On Cruise Control
These great cruise lines feature wonderful destinations and some excellent gaming options
by Sean Chaffin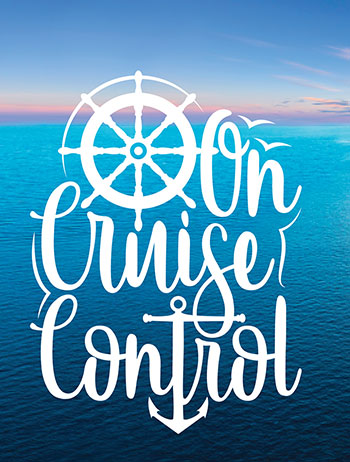 There's nothing quite like a tropical getaway—from lounging on the beach in the warm sunshine to sipping that perfect tropical drink to ziplining through the jungle or a great aquatic excursion. Meeting new people and some fine dining mixed in are all part of the experience.
If a getaway involving some craps, blackjack or slot machines is in your future, a cruise can be a great way to relax, spend some time with friends and family, and kick back in the sunshine and warmer weather. The great food, luxurious amenities and stops in some picturesque exotic locations make cruising the perfect way to get away.
Modern cruise ships have something for everyone including wonderful meals, great entertainment, aquatic adventures, and so much more. Book that trip and pack your bags—here's a look at some of the best cruise lines featuring a great gambling experience on the high seas.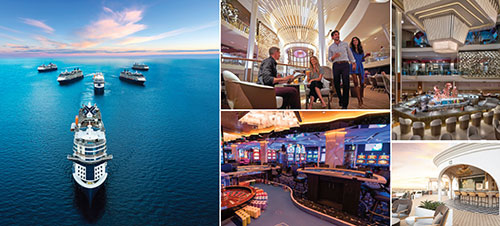 Celebrity Cruises
www.celebritycruises.com/casino
Celebrity Cruises invites you to elevate your expectations on your next gaming vacation. Celebrity Cruises delivers a unique and unforgettable journey from the moment they set sail, as recently mentioned in Forbes Travel Guide, which described the Celebrity experience as a Resort At Sea. Once you board any of the 16 award-winning ships, including those in our latest Edge Series, you'll enjoy Relaxed Luxury with stylish accommodations, the finest dining at sea courtesy of a Michelin-starred chef, personalized service, and of course, a world-class casino.
Inspired by the finest gaming establishments around the world, Celebrity's casinos offer the same excitement and captivating atmosphere. They have gone above and beyond in reimagining the casino experience from the ground up. Additionally, the dedicated casino team members, with their unrivaled attention to detail, make your time at the tables or slots truly exceptional, with extra touches including complimentary cocktails while you play in a smoke-free environment. Celebrity Cruises has incorporated state-of-the-art technology into over 150 of your favorite table games, such as blackjack, roulette, craps, baccarat and nearly 2,500 of the latest slot machines across their fleet. In addition to a sophisticated but dynamic gaming environment, Celebrity offers a customized experience based entirely on your personal playing style. This includes limits adjusted to your playing profile, late hours and action-packed tournaments for players of all levels. In short, they take your fun very seriously.
Now more than ever, membership has its privileges when you sail with Celebrity Cruises and become a member of their exclusive Blue Chip Club. Joining is easy—just swipe your SeaPass card at any slot machine when you enter the casino, and you'll instantly become a member.
Once you do, you have access to numerous rewards and benefits, including free-play in the casinos, complimentary staterooms, concierge-style service, plus entrance to exclusive locations and events. The more you play, the more rewards you earn. When you earn your first 20 points, you'll receive $20 in Free Play. Once you join the Blue Chip Club, you'll be able to play your way through ascending levels of membership from Pearl all the way up to Ruby, with each level granting you even greater privileges. Now more than ever, it pays to play in Celebrity's casinos. With Lady Luck on your side, join Celebrity for an unforgettable vacation that combines excitement, exploration and exhilarating casino action.
We know that when you go on a gaming vacation that you're there to play, but on a Celebrity cruise, the fun starts long before you enter the casino. The moment you step aboard, you'll know this vacation will be unlike any other—from the amazing spaces that surround you, down to the thoughtful attention to detail you'll see throughout the ship. Like the greatest destinations in the world, Celebrity's ships offer art, architecture and global flavors that transport you far from the everyday. On board, there's truly something for everyone. Sip, swirl and savor some of the best wines in the world at a wine tasting led by one of their certified sommeliers. Tour the contemporary art displayed throughout the ship or browse the collection in an art gallery where you can purchase your next favorite piece. Feeling competitive? Join a friendly game of volleyball with members of the crew at the pool. If unwinding is your priority, The Spa has you covered with its wide variety of destination-inspired wellness treatments. For evening excitement before you hit the casino, take in a Broadway-caliber show in The Theatre or savor hand-crafted cocktails in a variety of bars and lounges. From thrill to chill, a Celebrity cruise has it all.
Are you new to Celebrity Cruises? There has never been a better time to sail. Email bluechipclub@celebrity.com to learn more about the unique gaming vacation experience that awaits you.
Norwegian Cruise Lines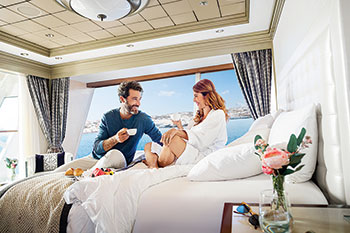 This popular line bills itself as "the ultimate cruise experience," and for good reason. Norwegian caters to a person's individual taste, meaning those who go aboard decide on their own schedule, activities and experience. Norwegian takes guests to exotic destinations on ships with plenty of style and amenities, but you can take things at your own pace—leave the schedule behind.
A Norwegian cruise lets guests live a once-in-a-lifetime experience at destinations all over the world. Staff members go above and beyond to make sure travelers walk away already eager to book that next trip. This isn't the typical cruising experience, and Norwegian sets itself apart by making guests feel like they have the same (and even more) entertaining options of getting away on a traditional vacation.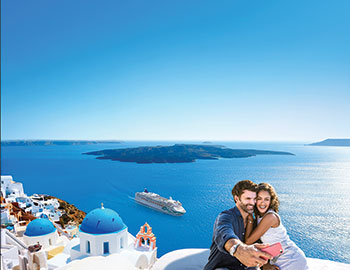 "What makes Norwegian a great cruising vacation is our ability to marry the mobility of a cruise with the flexibility of a land vacation," Vice President of Casino and Onboard Revenue Marketing Dwayne Neeley says. "Onboard you can enjoy a variety of award-winning dining and entertainment options like you're downtown in the heart of a city, while you sail to the top destinations around the world."
For 2023, guests look forward to trips to the Caribbean, Mediterranean, Pacific coast, South America, Mexico, Alaska and more. And it's never been more convenient to set sail. Norwegian features ports of departure all over the world and Americans can easily grab a stateroom. Norwegian sails domestically from Seattle, Los Angeles, Galveston, Baltimore, Boston, New York City, Orlando, Tampa and Miami. If you're looking for an escape this year there are numerous options to choose from.
Ramping up the activities
The Norwegian fleet includes ships of varying sizes and features, but guests can expect award-winning dining, entertainment and accommodations. Even more relaxation is in the works with a trip to the spa for a nice massage or other special treatment.
The cruise line also boasts some of the newest ships in the industry, allowing Norwegian to offer numerous special amenities that will offer guests anything but a dull moment. Some of those large-ship features catering to young and old alike include:
The Waterfront – This one-of-a-kind quarter-mile oceanfront promenade allows guests to relax, basking in warm sunshine and balmy ocean breezes. Grab a cocktail and take it easy.
Race Track – Get behind the wheel and rev your engine on this thrilling go-cart track. Watch the kids zip around the track or jump in a cart and blast off yourself.
Galaxy Pavilion – Strap on some goggles for a complete virtual reality experience. Participants feel the rush with a first-hand experience of being part of a Formula One race, hang gliding, driving a jeep through a jungle, or other adventure.
Thermal Suite – This award-winning spa experience offers guests a nice steam, a dip in the Vitality Pool, a complete body-cleansing salt crystal treatment, and so much more. The pampering never seems to end—or at least you won't want it to.
Heading to the casino
Norwegian won't disappoint when it comes to hitting the casino. Norwegian's Casinos At Sea is a major feature on all ships, offering gamblers a chance at some nice winnings in between trips to the pool or shore excursions. Despite being located on a ship, players will find some excellent gaming options when hitting the "spin" button or drawing to 21 on a Norwegian cruise.
"For new cruisers, I like to tell them our casinos are to a Las Vegas Strip casino what an espresso is to a cup of coffee," Neeley says. "Smaller in volume, but comparable in energy. We design our casinos with the intent of providing an exciting environment equipped with games people want to play."
Those looking for some action will find a nice collection of their favorite games that might be found in a traditional casino. For slot players, Norwegian ramps up the action and the fun. The cruise line hosts as many as 10 slot tournaments a year with varying themes, destinations and prizes. Players can even play qualifying events for even larger tournaments.
"We offer several different opportunities for guests to enjoy our slot tournaments," Neeley says. "We host a weekly qualifying tournament onboard every ship throughout the fleet where the winner wins cash and a seat in our $100,000 Winner Take All tournament. We also offer several themed tournament events throughout the year such as Masquerade Ball, Halloween, Disco, Hawaiian Luau and more. Prizes range from suites on a future cruise to a Hawaiian cruise vacation to cash!"
Table games and poker on the high seas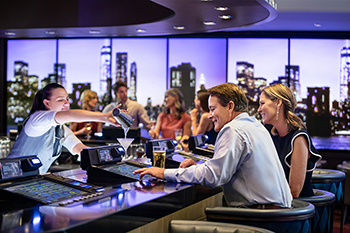 Table game players won't be disappointed either aboard a Norwegian ship. Enjoy the ocean air by day and perhaps some gaming by night. Whether you like the feel of some dice in your hands, hoping for a nice card combination, seeing that ball spin around the roulette wheel, or the thrill of some Texas Hold'em, there's something for every type of gambler. That includes various stakes—from lowballers to high rollers.
"Casinos At Sea doesn't fall short of table games either, poker, blackjack, craps, roulette—we have all your favorite games and more," Neeley says. "We offer engaging table limits.  Gaming lessons are also available on board. With the intimate atmosphere Casinos At Sea is a great place to hone in on your skills."
Poker players won't be disappointed either. Plenty of action is available at Casinos At Sea, but one event stands out on Norwegian's schedule. The cruise line's Poker Challenge features seven days of poker fun while sailing on a Norwegian ship. Players are treated to daily cash games and tournaments. The event paid out more than $1 million in tournament winnings in 2022.
"We added 30-plus poker tables in the famous observation lounge where poker players can play poker with a view of the turquoise Caribbean waters," Neeley says. "The Poker Challenge brings back many repeat poker players and has grown steadily every year."
The week kicks off with celebrity poker players hosting a poker clinic where guests can sharpen their skills. This year's Eighth Annual Challenge is set for Nov. 11–18 aboard the Norwegian Joy with a $1,150 main event and a $700,000 guarantee. Throughout the fleet, guests can also win a cruise and Poker Challenge entry in weekly satellite tournaments. For 2023, players can expect a study session with two-time World Series of Poker Bracelet winner Loni Harwood and 2009 WSOP Main Event Champion Joe Cada, along with side events and cash games.
"I've been hosting it since 2013 and it's one of my favorite trips of the year," Cada tells Casino Player. "I didn't know what to expect the first year, but after the trip I knew I wasn't going to miss it again. It's very friendly with great tournaments and structures. The cash games are always very good. When you're not playing poker, there is so much to do on and off the ship. It's also a very good staff and I can't say enough good things about it."
For cruisers, that last sentiment may go for the entire Norwegian experience. Their award-winning ships are designed for you to enjoy as you choose – you'll experience your best vacation ever.
Sea and Sand Dollars: Inside Norwegian Cruise Line's Industry-Leading Rewards Program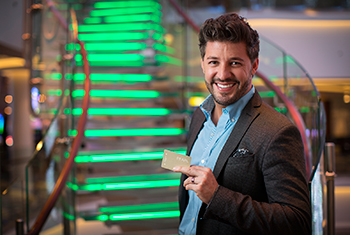 There's just something special about a cruise on the high seas. Those hopping aboard will find something for everyone—fun on-shore excursions, excellent dining, get-out-of-your-seat entertainment options, great cocktails, friendly conversation, great customer service, and, of course, those great ocean views and breezes. Fun lovers of all ages will find an event or feature that suits their own personal tastes and interests. Perhaps that's what keeps so many coming back every year—or sooner.
A bit of casino play can also be a major part of the mix and Norwegian Cruise Line's Casinos At Sea is a perfect option. And for those who enjoy racking up some reward points when pulling a slot or hitting the table games, Norwegian offers one of the best loyalty clubs at both sea or land-based casinos.
"As a member of our Casinos At Sea rewards program, you can play and earn points across all our brands: Norwegian Cruise Line, Oceania Cruises and Regent Seven Seas Cruises," Vice President of Casino and Onboard Revenue Marketing Dwayne Neeley says. "The more you play, the more benefits you can receive, including complimentary drinks, free shore excursion, private transfers, and more!"
Norwegian offers the only program in the industry that spans across all of the company's corporate brands. That offers players plenty of flexibility and the chance to accrue points on several different cruise lines. That's also some nice value for cruise-going gamblers.
The Casinos At Sea rewards program offers five reward tier levels. That starts with the Jade level for beginners followed by the Pearl level, where you'll need to earn just 5,000 points in a tier evaluation period. The mid-range level is the Sapphire player's card, where you'll need to keep a 15,000-point level to stay in the tier. That is followed by the Ruby, where players need 35,000 points. Those hitting the highest level, Elite, will need to earn 100,000 points in a tier evaluation period but will be rewarded handsomely for their efforts.
The ability to use those cards on several cruise lines makes building that point total even easier. Perhaps you can rack up some nice point totals via slot play on that spring break cruise on a Norwegian ship through the Caribbean. Maybe the summer calls for a real once-in-a-lifetime experience with a voyage on Oceania Cruises to Asia, Africa, Australia, New Zealand or the South Pacific. Any casino play on that trip also adds to your loyalty card total. That's a nice feature for players and means more chances for points in the long run.
Using some of those points is also fairly easy. Rack up some points and take a few shots at some bonus bucks with free play. Points can be redeemed right at the machine for a chance to run up some extra winnings without adding any credits to the machine. Those who accrue some points on that next cruise also can use some of them for the current or future vacation. Redeem some of those points for future cruise credits and discounts or toward those folio charges while on the ship.
When it comes to slot players, Norwegian works to offer a great experience and keep them coming back. Players will find some of their favorite games on the casino floor featuring numerous betting limits. What all goes into Casinos At Sea staff's effort in keeping slot players coming back? Catering to guests and raising the bar is a major part of that.
"This depends on the player," Neeley says. "From an acquisition standpoint we have several programs and partnerships that drive cruise players to us for the first time. From there, our retention strategy kicks in to elevate guests' cruise experience on return sailings—whether they're taking advantage of an exclusive offer or participating in one of our industry-best special events."
Those simply reaching the Pearl level can already redeem points for a Norwegian stateroom discount. Reach the Sapphire level and the stateroom discounts can also apply to Oceania Cruises and Regent Seven Seas. Other possible extras for various tiers include premium drink cocktails, stateroom amenities, various fees waived, and more. There's so much available to please any casino player.
"Players earn comps as often as they sail," Neeley says. "Future cruise comps and offers are based on a player's cruise activity, so as long as they remain an active cruiser the comps will keep coming."
Carnival Cruises
www.carnival.com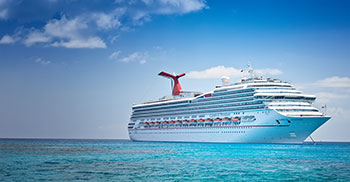 As one of the world's most popular cruise lines, Carnival transports thousands of passengers to amazing destinations every year. Maybe a trip though the Caribbean is in order with possible stops in the Bahamas, Belize, the Cayman Islands, the Virgin Islands, Puerto Rico and more. Carnival even offers the chance to spend some time on the company's award-winning private island, Half Moon Cay. This special destination offers quite a unique sun and sand experience. Numerous other stops are available including Alaska cruises with brilliant views of icebergs, glaciers, rugged landscapes and amazing wildlife. Other cruise options include Hawaii, Europe and numerous other exotic ports of call.
Carnival ships live up to the name with every entertainment option imaginable as part of the fun. That can include plenty of fun for the whole family with features like the WaterWorks park with plenty of slip-sliding fun. Or maybe get in the action with SportSquare, offering mini golf, basketball courts, billiards tables, a ropes course, a jogging track and more. Some ships also now even feature BOLT, the first roller coaster at sea. Live the thrill of an awesome amusement park ride right on a cruise ship. There's literally something for everyone.
When it comes to gambling, hitting the casino offers a nice chance at some fun and the possibility of hitting it big. And Carnival delivers a top-notch gaming environment with something for every type of gambler. Look for favorites like blackjack, craps, roulette, poker and more. Slot fans are also in luck with popular games like Wheel of Fortune, Bags of Cash, 88 Fortunes and more. Grab a player's card and order a cocktail, a casino-playing carnival awaits.
Royal Caribbean
www.royalcaribbean.com
As the name implies, this cruise line also specializes in offering some great oceangoing fun through the Caribbean. Book a trip from Baltimore, Boston, New Jersey, Fort Lauderdale, Galveston and numerous other locations to destinations throughout the Caribbean and Mexico as well as Bermuda. Families will find plenty of opportunities for onboard fun and interesting shore excursions. That can include amenities like water parks, laser tag, pool parties, mini golf and much more.
Adults will enjoy delectable dining and cocktails as well as numerous shows and entertainment options. A simple lazy afternoon in a deck chair for some sunbathing and deep thought might also be in order. Soak up some rays and just enjoy the surroundings at sea.
At Royal Caribbean's Casino Royale, travelers will enjoy a thrilling gambling experience and a great night out. Bettors have plenty to choose from—slot machines, craps, blackjack, baccarat, roulette, video poker and Texas Hold'em. Jump in a blackjack, poker or slots tournament for some added fun. Join the Club Royale rewards program to take advantage of casino promotions. As the cruise line notes: "This is a day unlike any other." There's something for everyone on a Royal Caribbean cruise, where you really are treated like royalty. Beaches, beauty and some betting may be in your future—get cruising.
Holland America
www.hollandamerica.com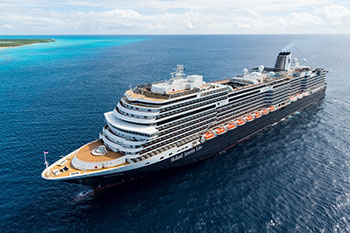 This cruise line offers amazing trips to exotic destinations including some excellent opportunities to places you might not have thought about cruising to such as New England, Canada and the Panama Canal. As Holland America celebrates its 150th year in operation, the company has also been busy handing out plenty of extras.
For slots and table game fans, that's included some nice expansion for 2023. The company recently announced additional casino space aboard Pinnacle and Signature Class ships to include more than 140 of the newest and most popular slots, including progressive jackpot games. More video poker options are also included in the changes. The additional casino space comes to the ships Rotterdam, Nieuw Statendam, Koningsdam, Eurodam and Nieuw Amsterdam. With the expansion, Holland America casinos also feature new on-demand slot tournaments, increasing gameplay for guests who love to gamble.
In addition to the casino expansion, separate non-smoking casino areas have been included on Rotterdam, Nieuw Statendam and Koningsdam. Throughout the Holland America Line, players will find casinos with slots, video poker, roulette, craps and poker tables.  Another new addition includes cashless wagering on slots, which includes the ability to take part in slot tournaments, prize drawings and bonus events. Get on board and enjoy a great time on the open ocean, win or lose.