NUMBERS GAME
Expansion of mobile sports wagering fuels industry growth
By Sean Chaffin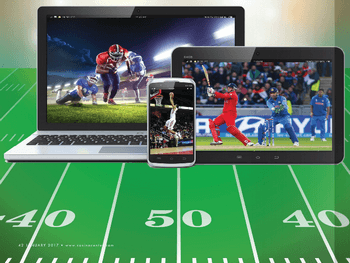 The Denver Broncos may have been a winner for many Super Bowl 50 bettors in 2016, but it was Nevada casinos that cleaned up – with a record $132.5 million wagered on the game within the state. That total topped the previous record of $119 million in 2014 and meant a $13 million haul for the state's casinos and sports books.
And as controversy rages in the U.S. over the legality of daily fantasy sports and sports wagering, modern technology is making it easier and easier to book a bet on that next football or basketball game. Whether through a legal online sports book in Nevada or placing a wager using an offshore gambling service, more and more Americans are embracing sports wagering via mobile devices – a trend that continues worldwide and is driving growth.
GLOBAL GROWTH – U.S. CATCHING UP
While Americans have begun to embrace mobile wagering with the complete proliferation of mobile phones and devices, the country has had to play a bit of catch-up compared to the rest of the world.
"Mobile sports wagering is very successful internationally, particularly in Europe but it is still gathering momentum in the U.S.," says Gene Johnson, executive vice president of Victor Strategies with over 27 years of experience in the gaming industry including technology, market research, strategic planning, and casino marketing.
Johnson says mobile betting has strong growth in the U.S., but has lagged a bit behind the global gaming industry.
"In legal U.S. jurisdictions such as Nevada the initial priority was to establish the capabilities and ensure that the platforms and their various elements (geo-fencing, player protection protocols, and deposit and withdrawal) all functioned, and were secure," he says. "Only recently has the U.S. industry been able to turn its attention to implement seamless mobile applications and I expect that aspect to continue to grow."
According to H2 Gambling Capital, a leading gaming and data consulting firm, sports betting is the largest single segment of global interactive wagering, making up as much as 48 percent of all Internet betting revenue. On a global perspective, the number of wagers made on a mobile device is staggering, with 72 percent of all bets placed within the sports betting segment coming from mobile devices.
In Nevada, mobile sports wagering may be catching up with the rest of the world, but the upward trend is certainly evident and leading the way for the growth of sports wagering in the state.
"From what I've seen, it's had a significant impact, with bigger numbers often being attributed, at least in part, to the proliferation of mobile wagering," LasVegasAdvisor.com publisher and casino expert Anthony Curtis says. "Almost all of the big companies now have a platform, with Caesars properties being the notable exception."
Within the state, five operators offered mobile wagering in 2014, which expanded to nine in 2015. The Nevada Gaming Control Board only expects this number to grow. Current mobile operators include Station Casinos, Gaughan South Point, Boyd Gaming, Peppermill Hotel Casino, Aliante Casino Hotel, Atlantis Casino Resort, Treasure Island, CG Technology, and William Hill.
"The Nevada Gaming Control Board does not require our sports book operators to report to us the amount of wagers that are generated from personal device wagering," says Michael Lawton, senior research analyst with the Nevada Gaming Control Board (NGCB). "However, we have performed some internal analysis and have determined that it is a key contributor to record amount of sports wagering we have seen over the last six years. We estimate that approximately 27 percent of all sports book write in 2015 was generated from personal device wagering."
Nevada statistics may shed light on the trend. From 2000- 15, Nevada casinos and sports books' win amounts have trended up a staggering 83.34 percent accord to the University of Nevada- Las Vegas Center for Gaming Research. But much of that growth is accounted for in only the last few years. In 2011, casinos saw a drop in win amount of almost seven percent for a total of almost $141 million. But here's a look at the growth and amount won by Nevada casinos in the following four years: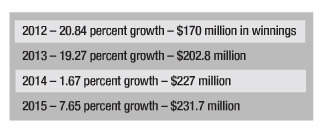 While 2014-15 may show signs of a leveling off after such extreme growth, no doubt the increases in casino win in relation to the popularity of mobile sports wagering is a pretty good bet.
GAME TIME
Obviously ease of use is a major factor in the growth of the mobile sports betting industry as well as the increasing attachment of differing generations to their cell phones. Sports betting is an extremely popular pastime, both legally and illegally, and the use of cellular and mobile devices has just invigorated an already-popular segment of the gaming market.
Most wagering apps and sites offer most of the bets available in the sports books as well as special bonuses for setting up an account. Other features include the availability of Nevada and Las Vegas-based live locations for depositing and withdrawal, live game wagering, logging in from out of state to view account and lines, and more. The ease of use also favors the player in other important ways such as comparing betting lines among the differing sports books to find the most advantageous.
"Features and offerings are fairly comprehensive," says Curtis of Nevada's growing number of sports betting apps. "The big benefit for players is that they don't have to physically go from place to place to bet. If you have all the apps, you can comparison shop (via the apps) or with an online lines feed like ours, LVASports.com, then make your best bet. Another big benefit of having the apps comes during big events, like the Super Bowl. While customers are in lines 40 deep, you can bet without having to be in the lines, whether you're at the casino or not."
For casinos, the apps can add to the total handle on events because of ease of use as well as possibly improving efficiencies in the sports books themselves. Even bettors at a Vegas sports book or bar may find these services themselves more intriguing while catching a game with friends. Experts expect the growth trends in the U.S. and internationally to continue.
"Mobile platforms are very well suited to sports betting which is generally transactional wagering," Johnson adds. "Small screens on cell phones are less well suited to casino games and poker which are more experiential. As international trends and experience shows mobile will continue to grow in the U.S. as more interactive content is addressed to mobile platforms. In addition, as millennials mature and develop into casino customers they will drive more content on mobile devices.
DAILY FANTASY, THE LAW, & THE FUTURE
In September, as NFL football season was kicking off in the U.S., millions of Americans were not only betting on games but also playing fantasy football. According to the Fantasy Sports Trade Association, the number of American players has increased in huge numbers since 2003, when only 15.2 million people were involved. In 2015, the group reports 57.4 million Americans taking part in some form of fantasy sport. Of those, 70 percent of players pay some kind of league dues.
With so many players willing to fork over a few bucks with a chance to win their fantasy league, it is no wonder that sports wagering itself is seeing such a drive in participation. And as legislatures and courts ponder the legality of daily fantasy sports (DFS), this type of wagering has taken off over the last few years. Americans' thirst for some type of action on games, whether traditional fantasy football, DFS, or sports wagering, show no signs of letting up – especially football. As sports simulation and analytics company Accuscore notes: "The NFL is far and away the most popular sport to bet on in the United States. While baseball might be the American pastime, football is America's passion and it shows at the NFL football betting window."
Or in more modern times – the betting app.
And no doubt this can only be a good thing for casinos and sports wagering. Fantasy football players' frequent mobile use for checking team updates surely has already crossed over to betting on games. Professor I. Nelson Rose, a longtime gambling industry expert and publisher of GamblingandtheLaw.com, sees DFS finding a legal niche because of so many large players involved in the industry – including sports leagues, major media companies, and a large percentage of Americans.
"The proponents of DFS include the extremely rich and powerful sports leagues, with the sole exception of the NCAA," he says. "Even the fanatically anti-gambling NFL allows its team owners to be directly involved with DFS operators. Closely aligned with the professional sports teams are large mass media companies, like Disney. It is easy to see why: DFS players watch athletic events to the end, even when it is a blowout. Unlike regular sports fans, DFS participants are more interested in the performance of their individual players than whether their team wins or loses, or even whether it beats the spread."
Sports wagering is a different story. On a national level in the U.S., the fight for more legal sports betting is a bit of an uphill climb, at least currently. The state of New Jersey began fighting to make sports wagering legal within its borders in 2011 when residents passed a referendum allowing sports betting at racetracks and Atlantic City casinos. A year later, Governor Chris Christie signed the state's first sports wagering bill. Several sports leagues sued the state in 2012, arguing that New Jersey's actions violated the Professional and Amateur Sports Protection Act (PASPA), which was passed by Congress and signed into law in 1992.
PASPA was sponsored by then-New Jersey senator and New York Knicks forward Bill Bradley. Attorneys for the state argued that the law violated the principle of state's rights by allowing legal sports-betting exemptions in only a few states (namely Nevada for sports wagering and Montana, Oregon, and Delaware for certain types of sports lotteries and parlays). The law specifically exempts state sports wagering schemes to those a state conducted between 1976 and 1990. New Jersey argued that PASPA, which prohibits "state-sponsored" sports betting, violated the Tenth Amendment to the Constitution because it "commandeered" New Jersey's legislative authority by effectively requiring it to maintain unwanted state-law prohibitions on sports betting.
After several legal rounds, the 3rd U.S. Circuit Court of Appeals rejected New Jersey's efforts to overturn PASPA and allow sports wagering. Gov. Chris Christie has vowed to appeal to the Supreme Court, but given that the court only hears one percent of cases appealed to it, that seems unlikely. Rose believes this is the end of the road for the effort unless another state presses the issue in another circuit court and is able to get a different ruling. Another possibility is always a chance in federal law – something Rose sees as a long shot given Republican control of Congress.
"As it is now, the effort to legalize more sports wagering is dead," he says.
Despite New Jersey's setback, many see the success of DFS and mobile sports wagering as a key to more legalization.
"DFS has reinvigorated the domestic debate on legalized sports betting," Johnson says. "While states like New Jersey unsuccessfully fight to overturn PASPA, the major sports leagues see how DFS magnifies viewership and engagement and are now realizing how beneficial this can be for sports television. The NFL has accommodated sports betting during the London matches and now better understands the dynamics and potential upside … leagues are coming around to the view that sports betting can be a good thing for them and their defense of PASPA is weakening."
Sports wagering seems more popular than ever and the American Gambling Association estimated $4.1 billion in illegal wagers were made on Super Bowl 50. The group is hoping for a re-thinking of the U.S. ban on adding sports wagering.
"As Americans celebrate a milestone Super Bowl, they'll also bet a record amount on the Big Game," said Geoff Freeman, president and CEO of the AGA. "Just like football, sports betting has never been more popular than it is today. The casino gaming industry is leading the conversation around a new approach to sports betting that enhances consumer protections, strengthens the integrity of games, and recognizes fans' desire for greater engagement with sports."
A recent study by Gambling Compliance, a London-based gaming industry consultant and intelligence service, notes that "the U.S. sports-betting market would be worth up to $11.9 billion in annual gross revenue if permitted to spread nationwide."
While expansion may not come any time soon, if sports wagering is expanded in the U.S., mobile will be a major driver of the industry's growth and continue to do so in most legalized jurisdictions – a parlay the industry hopes will pay off.
Sean Chaffin is a freelance writer in Crandall, Texas. His new book is Raising the Stakes: True Tales of Gambling, Wagering & Poker Faces, available at Amazon.com. Follow him on Twitter @PokerTraditions.