NORTHERN EXPOSURE
All roads lead north in this summer travel roundup
By Karrie L. Zukowski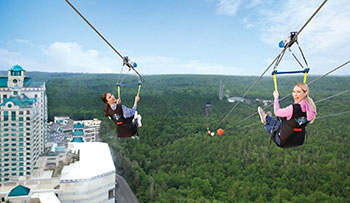 From the Atlantic to the Pacific oceans, the nation has the most magnificent and breathtaking scenery—from forests and streams to plains to awe-inspiring mountains, it's a natural wonderland. The casinos are no exception and are almost as varied as the terrain. There are giant luxury resorts and tiny facilities with a few hundred slots and a single restaurant.
What follows is an in-depth description of some of the top properties from across the Northern parts of the country. Each has its own merits, nuances and surprises, but all are fantastic casinos worthy of a visit.
Foxwoods Resort Casino Mashantucket, Connecticut
Foxwoods Resort Casino in Mashantucket, CT, announced the rollout of Summerfest, a series of curated events and live performances, as part of a summer adventure of the senses. From the biggest outdoor pool party in the Northeast to experiential dining events, Foxwoods will keep you entertained and excited all summer long. Foxwoods' breadth of seasonal offerings also includes a sensational lineup of entertainers at the newly rebranded Premier Theater and Great Cedar Showroom.
Celebrate summer's possibilities and make each week unforgettable. On Extreme Mondays, save with Extreme Experiences Deals on Monza World-Class Karting, High- Flyer Zipline, XD Dark Ride and Hologate Virtual Reality. Foxwoods Rewards members can earn points to get free gifts on Winning Wednesdays, and guests can beat the heat with great beverage discounts and offers on Thirsty Thursdays.
The summer of possibilities continues into the weekend with big-screen thrills, chills and family fun at the drive-in, where the best seat in the house is under the stars.
Liquid Sundays outdoor pool party is back this summer at the Vegas-style dayclub, where DJs turn up the heat while you chill by the pool with an array of themed parties.
The Fox Tower lawn and terrace will host an intimate outdoor experience of indulgent food, craft cocktails and live music in a garden fantasy setting. Green Gardens, the new popup eatery, includes exclusive dining nooks— from bungalows perfect for bachelorette parties to lotus loungers for intimate date nights—allowing guests to socially distance under the stars in style. Uncover a secluded playground and be immersed in an over-the-top garden concept where sights, tastes and sounds will astound you at every turn. The Green Gardens dining experience will be open August
13, 20, 27 and September 10 and reservations are available for 5, 7:15 and 9:30 p.m. seatings. For more information, visit Foxwoods.com/GreenGardens.
Guests can also come to Foxwoods to experience some of the biggest names in the entertainment industry. Award-winning artists like country superstar Tanya Tucker will take the stage August 14, contemporary rock band Train on August 20, and Hollywood Medium Tyler Henry on August 22.
As part of the sensational summer lineup, Foxwoods is also excited to share that their two beloved theaters have new names. The Grand Theater has become the Premier Theater and the Fox Theater has become the Great Cedar Showroom. To help streamline the onsite experience, tickets to upcoming shows and performances will list the location as the "Premier Theater, formerly Grand Theater" or "Great Cedar Showroom, formerly Fox Theater" for the next few months. Visit www.Foxwoods.com/Summerfest for more information.
Island Resort Casino Harris, Michigan
Close your eyes. If you hear the rustle of a breeze through the pines, a chorus of birds chirping, and the rush of water cascading down a rocky slope, chances are you're in the Upper Peninsula of Michigan.
If you also hear the crisp strike of a golf ball, the resonating bells of a video slot machine plus laughter, music and clapping, you are probably at the Island Resort and Casino in Harris, MI, in the peninsula's southeast region.
Starting from its humble origins as a bingo hall nestled in the woods of the Hannahville Indian Community, it steadily grew to become an "Island" of gaming entertainment that beckons visitors from the Upper Peninsula and beyond. As it grew in popularity, so did the complex—two hotel towers, six dining options, a 1,300-seat showroom, entertainment lounge, luxurious spa and two championship golf courses. Blanket it all with award-winning customer service, and not only did the Island Resort and Casino become one of the Midwest's largest golf, casino and entertainment resort destinations—it became a favorite.
"We love it when first-time visitors arrive and are blown away by everything we offer," said General Manager Tony Mancilla.
Here's a glimpse of what makes the Island a fantastic choice:
The Drift Spa offers high-end spa services and access to the resort's saltwater pool, steam rooms and sauna. Guests may treat themselves to a manicure or pedicure, or one of the nature-based facial or body treatments, as well as purchase the "clean-beauty" makeup products, lotions or bath salts and other spa-related comforts.
Music and comedy are regular features in Club Four One. Patrons enjoy national and local bands, comedians, dancing and a full-service bar. Headliners perform in the Island Showroom—an intimate 1,300-seat theater that allows for a close-up, firsthand concert experience.
Award-winning golf is now a centerpiece of the Island Resort & Casino, on not one, but two championship courses—Sweetgrass Golf Club and Sage Run Golf Club (see page 34 for a detailed description on these award-winning courses).
Island was the first in the Upper Peninsula of Michigan, as well as Wisconsin, to offer sportsbook betting. A partner with TwinSpires Sportsbook, it is now "the place" to bet on all your favorite sports.
The growing popularity of gaming and golf at Island Resort has driven the demand for a $30 million expansion that will be completed this year. More than 100 new hotel rooms will be added, bringing the total to 454. In addition, a high-end dining venue and convention space are planned for the top floor of the new tower, and at the bottom—a pool with water park features. This is the third major expansion the Island has undertaken, proving without a doubt that the Island Resort and Casino will do whatever it takes to maintain its status as Your Total Resort Experience!
FireKeepers Casino Hotel Battle Creek, Michigan
FireKeepers Casino is the region's premier gaming destination. For big-time action, check out the 2,900 hot slots, 74 live table games, high-action live poker room, on-property sportsbook, an array of top restaurants and a rocking Event Center with great live events. FireKeepers is a must-see destination that is rated among the top tier in U.S. tribal casinos. Owned and operated by the Nottawaseppi Huron Band of the Potawatomi (NHBP), Fire- Keepers Casino Hotel features a 111,700-square-foot gaming floor, plus 243 stylishly designed hotel rooms and suites for guests to choose from—fully accessorized with all the high-end amenities that will make any stay a night to remember.
With demand for rooms at an all-time high, the NHBP is proud to celebrate the grand opening of a major property expansion this August. A second hotel tower, with an additional 203 hotel rooms, transformed lobby area, new signature Nibi restaurant, VIP lounge and luxurious high-limit gaming areas, will only add to the attraction of this fabulous property.
Dacey's Sportsbook and Taphouse is Michigan's most exciting place to wager and watch all the big games, seven days a week. Bet on events from the four major sports—football, basketball, hockey and baseball— along with NASCAR, boxing, MMA, soccer, championship golf, championship tennis and more! Plus, futures wagering on upcoming championships in major sports. Lastly, enjoy a great meal from the popular Dacey's menu or one of their many craft beers. Located near the poker room, Dacey's has its own entrance for easy access and service.
FireKeepers recently announced the launch of their online gaming platform, including a new mobile app for guests to get their Vegas on, on the go! With technology provided by Scientific Games (SG Digital), the platform includes the exciting slots and table games Michigan casino guests know and love, including 88 Fortunes, QuickHits, Monopoly, blackjack, and Let it Ride. Plus, users will enjoy a wide array of wagering options on major sports, both American and international.
The range of options includes football, basketball, hockey and baseball along with NASCAR, boxing, MMA, soccer, championship golf, championship tennis and more! Plus, futures wagering on upcoming championships in major sports.
Rather than contract with an outside, national brand known for iGaming, FireKeepers is instead leaning on the nearly 12-year success of its own brand.
"We are thrilled to be able to provide another level of entertainment to the people of Michigan," stated Kathy George, FireKeepers CEO. "Guests can now enjoy the FireKeepers experience from the comfort of their own homes, or wherever they are within the state of Michigan."
FireKeepers is currently offering new online gaming players a first deposit match up to $500 for both the iCasino AND the sportsbook. Deposits and withdrawals can be made from users' devices or at the FireKeepers Casino Cashier. Plus, Red Hot Rewards Club members are eligible to earn iCasino credits by playing at the casino on special promotional days.
FireKeepers Casino Hotel is easy to find online, in the app store, or in person, located just off Interstate 94 at Exit 104 in Battle Creek, MI, and has been named Best Casino by audiences in Western Michigan and Northern Indiana, plus earned nine first-place awards in the Strictly Slots magazine Best of Slots 2020 Native Midwest category, including Best Overall Casino. FireKeepers has also been named to Forbes' annual list of America's Best Mid-Size Employers for 2021 and was recently designated a Best Casino to Work for by Casino Player magazine. For more information, visit FireKeepersCasino.com.
MotorCity Casino Hotel Detroit, Michigan
MotorCity Casino Hotel is an exciting escape destination in the heart of Detroit. With world-class luxury hotel accommodations, spa facilities, fine dining, live performance venues, and high-energy gaming, in just one visit you'll experience what it's like to be a high roller.
At the MotorCity Hotel, guests are surrounded by elegance, the latest technology and quality amenities. Decorated in a contemporary fashion with soothing colors of tans, blues and creams, this hotel has all the perks. When staying in one of the 400 luxurious rooms or 33 spacious suites, you'll enjoy such amenities as plush imported bed linens, deep soaking tub with separate shower, exclusive Aveda bath amenities, in-room safe, 42" LED adjustable TV, granite-top desk with ergonomic chair, and complimentary high-speed Internet access.
When you step into MotorCity Casino, you enter a world that's been designed for action. With over 2,700 slot machines, plenty of table games and a poker room, it's a player's paradise.
MotorCity provides an innovative, interactive gaming experience for slot players. Traditional reel games, the newest five-reel and video games are available in denominations ranging from 1¢ to $100. The slot areas offer a complete, interactive audio/video system to enhance guests' play. Some popular games featured are Buffalo Diamond, Fast Cash, All Aboard, Wheel of Fortune Cash Link, The Vault, Dragon Link and Ultimate Fire Link.
Stop by the Lightning Link Lounge. Lightning Link is an explosive collection of 40 linked progressive games with multiple denominations and themes. Free games and bonus strikes will keep you on the edge of your seat. A single bonus spin could award multiple progressives and bonus values!
MotorCity also offers a wide variety of table games, from the ever-popular blackjack, craps and roulette, to other specialty table games like mini-baccarat and progressive 3-card poker. And their poker room features a variety of poker games to suit players of all levels like Omaha and Texas Hold 'em.
And because you can't fully enjoy yourself with an empty stomach, MotorCity provides exceptional dining options for refueling. Soak in some Detroit history at The Lodge Diner for a delicious breakfast. Stop by the Grand River Deli & Burgers for juicy and tender burgers, corned beef and pastrami sandwiches, fresh salads and homemade soups, breads and sides. Or simply grab a quick slice at Little Caesars Pizza. Whatever you may be craving, MotorCity has got your taste buds covered.
To complete the MotorCity experience, visit the Sound Board. This intimate setting seats up to 2,400 fans, allowing them to get close to their favorite entertainers. Upcoming events include Matt Fraser – Renowned Psychic Medium, Aug. 15; Violet Chachki's "A Lot More Me," Aug. 21; Night of Knockouts XVIII, Sept. 10; Andrew Dice Clay, Sept. 12; and Maz Jobrani Sept. 17. For more information, visit www.motorcitycasino.com.
Seven Feathers Casino Resort Canyonville, Oregon
Seven Feathers Casino Resort ranks as a Top Ten Casino in America by TripAdvisor and is one of the fastest growing destination resorts in the region. It's a place where service is delivered by the friendliest people in a location of outstanding natural beauty and their amenities allow you to enjoy a premier resort experience.
There's more than just gaming fun at Seven Feathers Casino Resort. Conveniently located along I-5, Seven Feathers Hotel hosts 300 recently remodeled guest rooms, a beautiful guest reception area and lobby, wonderful concierge and valet services, and every room offers "Ivy" as a fun and helpful amenity during your stay. Ivy is your personal concierge SMS text service. After check-in, Ivy will text you to welcome you to the hotel. Truly a wonderful getaway experience to be enjoyed.
Guests with RVs can stay at their nationally recognized, award-winning RV Resort. Free shuttle service means RV guests will never have to miss any of the gaming action or amazing live entertainment.
But there's much more! The property offers seven different restaurants, one for every day of the week. Enjoy locally raised beef, reared on tribally owned land, hand selected for the premier K-Bar Steak House. The restaurant pays tribute to their own ranch, K-Bar Rogue River, a unique section of land located at the base of the Table Rocks, along the Rogue River. Experience the best cuts of beef, as well as fresh seafood overflowing with flavor, and delicious vegetables, served with local wine from the Umpqua Valley and neighboring regions.
Sit down with the family for breakfast, lunch and dinner at Cow Creek Restaurant. Cow Creek serves American cuisine in the heart of the casino. For breakfast, think Belgian waffles served with warm syrup, challah French toast prepared with house-made egg bread and finished with a berry medley, and huevos rancheros topped with guacamole and eggs made to order. The lunch menu offers a host of burgers and sandwiches served with a choice of side dish. For dinner treat yourself to a 16- oz. grilled ribeye steak, a selection of Italian dishes or international salads.
If burgers and beer are calling your name, Stix Sports Bar has just the ticket. Sample a selection of craft beer paired with non-stop sporting action. Stix's sous chef recommends experiencing their Signature Grinder, a classic guest favorite, layered with roast beef, ham, turkey and bacon topped with Swiss and cheddar cheeses, tomato and onion served on a hoagie roll with zesty bistro sauce, toasted to melted perfection.
The fun never stops! Experience the excitement of Nevada-style gaming with over 950 of the hottest slot machines in a range of denominations; the thrill tables have to offer with games like blackjack, roulette or Craps; and other classic card games. Plus, Seven Feathers is proud to be the only casino in Oregon to offer baccarat. You can also play bingo six days a week with monthly bingo events you won't want to miss.
Rock out to legendary performers lighting up Exit 99, both inside and out. Seven Feathers has a whole host of events for guests to enjoy including Foghat Aug. 21, Larry The Cable Guy Sept. 17, Foreigner Sept. 25, and Daughtry Oct. 2. For more information on all that Seven Feathers Casino Resort has to offer, visit www.sevenfeathers.com.