Forget Vegas – Some of the best Casino getaways are along the East Coast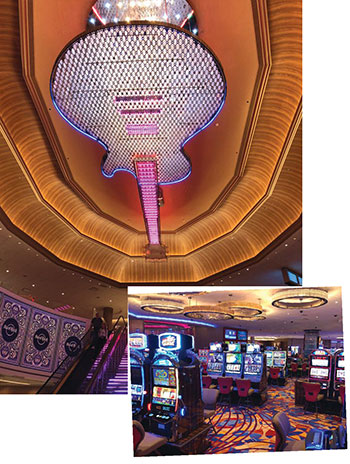 Summer is the time for rest, relaxation, and fun. And for many, fun means a trip (or two) to the casino. There you can play all day, indulge in some of the finest food, check out a show, hang out with friends in the lounge, or simply dance the night away in a hottest nightclub.
There was a time when Vegas was the only choice for such a decadent time, but no more. Nowadays, some of the greatest casino thrills can be found from coast to coast. Let's take a look at some of the best casinos on the East Coast.
ISLE CASINO POMPANO PARK – POMPANO BEACH, FL
If thrills are what you seek, then make sure to take a trip to Isle Casino Pompano Park. Located in sunny Pompano Beach, Florida, the premier casino is just minutes from the Fort Lauderdale-Hollywood International Airport. This state-of-the-art gaming and entertainment destination offers a wide range of amenities and services, including live horse racing.
Isle Casino Pompano Park is an ultimate players' destination, which features nearly 1,500 slots and video poker machines. The casino's smoke-free environment provides a great time for everyone. Excitement abounds with every spin and the casino offers an almost endless choice of gaming machines. Plus, guests can go all-in for fun at their 40+ table poker room. The property offers the lowest table limits on 1-Card, 3-Card Poker and Ultimate Texas Hold'em and the highest return for hourly play in South Florida.
The action doesn't stop there. Head out to the track for live horse racing. Known as the "Winter Capital of Harness Racing; Isle Casino Racing Pompano Park has been the home of world-class standard bred racing since 1964. Spectators come from around the country to the picturesque South Florida destination to see top-ranked trotters and pacers, as well as award-winning trainers and drivers. Live harness racing returns in October and runs daily through May.
The property also projects simulcasts harness and thoroughbred racing, jai-alai games, and greyhound racing from over 20 venues across North America every day. Guests can watch and wager on these events seven days a week, except on Christmas Day. Carrel seating and private television simulcast viewing is available on a first-come, first-served basis and is located on the second level of the casino.
It's always a fun time at Isle Casino Pompano Parks' bar, fling. Whether you're taking some time off the machines, coming in for a cold drink or looking to get your groove on to live music, fling lounge is a must visit. Guests can experience live performances every lively entertainment and make sure to check their online calendar to see upcoming events.
When it comes to dining, Isle Casino Pompano Park offers a diverse selection of acclaimed eateries. Make sure to bring your appetite to the award-winning Farraddays Steakhouse. The restaurant offers refined food in a relaxed atmosphere. Guests can indulge in favorites such as prime rib, lamb chops, Atlantic salmon, premium steak served with Farraddays' signature steak sauce and much more. They carry over 360 fine wines avail-able by the bottle. In 2017, Farraddays Steakhouse was the proud recipient of the Open Table Diner's Choice Award and the Wine Spectator Award of Excellence from 2010-2016.
Looking for an authentic, New York-style deli right in the heart of Isle Casino Pompano Park? Stop into Myron's Delicatessen and Café. Myron's Delicatessen doles out an extra helping of New York culture complete with humor and artwork, along with the best corned beef, pastrami, and classic delicatessen fare. They serve everything from cheese blintzes to sweet noodle kugel for nash. Plus, try one of their overstuffed sandwiches served on rye, swirl, white, 7-grain, bagel, bialy or egg knot bread. It's the Big Apple done Isle-style. You'll get your fill of fun and food, guaranteed.
Local. Fresh. Flavorful. Guests will find it all at Farmer's Pick Buffet. The farm-to-table buffet features freshly prepared food from Pompano's own backyard and nearby Florida purveyors. It includes everything from seafood to house-smoked ribs, live action stations, a robust salad bar and an expansive dessert bar. With ingredients this fresh and flavorful, guests will definitely be back for seconds.
For guests looking for a quick bite to eat can stop by B-Express. This convenient grab-and-go eatery offers tasty sandwiches, hot soup and much more. B-Express is open daily starting at 11 a.m. and is located on the 2nd floor of Isle Casino Pompano Park.
Isle Casino Pompano Park is close to many premium hotels to easily turn your trip into a getaway. The property partners with many local hotels including Westin Fort Lauderdale, Marriott Fort Lauderdale North, Marriott Pompano Beach Resort & Spa, Courtyard by Marriot and Sheraton Suites Fort Lauderdale at Cypress Creek. Visit their website for more information.
From the hottest gaming to live harness racing to incredible great dining, Isle Casino Pompano Park is the ultimate players' destination. For more information, visit www.islepompanopark.com or call 1-954¬972-2000.
HARD ROCK HOTEL & CASINO ATLANTIC CITY – ATLANTIC CITY, NJ
Hands down the most anticipated casino launch in years, the Hard Rock Hotel & Casino Atlantic City officially opened its doors on June 28, with countless streams of excited players bursting through the doors to get their first look at the hottest new property on the East Coast.
Set on the site of the former Taj Mahal, the Hard Rock is positioned beyond just another casino, but as a one-of-a-kind entertainment experience, offering the best gambling as well as unrivaled dining, entertainment, shopping, bars, lounges, spas and so much more.
What makes the Hard Rock unique is the excessive attention to detail and care that has been taken to ensure the property meet all of the expectations of their guests. The focus has been to create the ultimate casino experience for everyone that walks through the door, from extensive and targeted game selection, to overall design, amenities, entertainment, and customer service. Indeed, their mantra from the beginning has been "By players, for players" a sentiment that powerfully resonates with gamblers and distinguishes Hard Rock from any other casino entertainment complex anywhere.
Take the gaming floor for example. To put it simply, it's a thing of beauty. Designed to be intuitive and easy to navigate, visitors will find a different vibe at every turn in an environment that is both rewarding
and carefree.And best of all, players are never far away from the action.
"Our slot floor was developed to offer a comfortable and entertaining gaming experience. We developed smaller banks and carousel layouts that allow easy flow through the casino and open site lines to showcase our product," said Dave Polizzi, Vice President of Slot Operations at Hard Rock Atlantic City. "We positioned the most popular game themes in multiple locations throughout our floor so players could have additional opportunities to play them."
For table game players, Hard Rock provides an ample selection, with a wide variety of limits to cater to everyone from the casino novice to the big bettor. Their game mix includes favorites like craps, blackjack, baccarat and roulette with added progressive bonus games such as Super 4, which will interface with their upcoming online gaming product. But that's not all.
Hard Rock's Asian gaming room is perhaps the best in Atlantic City, offering 16 baccarat games, including Macau style baccarat. pai gow, pai gow tiles and Asian poker. And in their high limit area, players will find blackjack, single zero roulette and craps in a comfortable room with dedicated cocktail service, table side food offerings and a private cage for customers.
"We want Hard Rock Atlantic City to be known for a fun, professional gaming environment, with liberal rules and odds for the serious gambler," offered Herb Gee, Vice President of Table Games.
For more information about Hard Rock Hotel & Casino Atlantic City or to book your room visit: wwwhardrockhotel.com or call 609.449.1000.
ROCKY GAP CASINO RESORT – FUNTSTONE, MD
Whether you enjoy the soothing tranquility of the great outdoors, or prefer to ramp up the excitement to a fevered pitch, Rocky Gap Casino Resort in Flintstone will help create your perfect Maryland getaway. Tap into your luck at the casino, grab a bite to eat with friends or hit a round of golf—Rocky Gap is designed to please.
From lush views to lavish details, the Rocky Gap Casino Resort turns weekend getaways into lasting memories. Resort amenities in a casino floor featuring over 600 of the latest slot machines, blackjack, craps and roulette, four different restaurants, a bar and Event Center. Imagine yourself recharging in your suite overlooking the breathtaking view of the mountains and lake.
With summer in full swing, plan to make your stay at Rocky Gap a true adventure by taking part in any of the numerous onsite activities including: canoe, kayak, peddle pontoon boat and YOLO Board rentals ("You Only Live Once" stand up paddleboards).
If you've got a touch of the angler's spirit, the adjacent Mountain Lake has a number of largemouth bass—with some lunkers weighing in at over 10 pounds. The lake also supports smallmouth bass, sunfish, channel catfish and trout. A wide variety of fishing poles, bait and tackle are offered for hourly rental.
Such an amazing property certainly must have equally amazing restaurants. Have no fear—Rocky Gap doesn't disappoint when it comes to getting your feast on. Choose your preferred dining destination—all are terrific—and let them fill your visit with flavor. Here are some of our favorites:
LAKESIDE RESTAURANT. Enjoy casual dining with flair. Lakeside Restaurant offers you affordable and stylish buffet dining with a breathtaking lake view, prime rib, chicken, seafood and more.
SIGNATURES BAR & GRILL. Signature's has it all, live entertainment, great views, relaxing atmosphere, premium sports viewing on a multi-screen TV wall, so grab a chair and get comfortable because fresh food and high spirits are on the way!
LB'S PLACE. With fantastic salad bowls, flat breads, signature burgers and delicious Maryland Crab, LB's is one of Western Maryland's best casual dining restaurants! Enjoy a full bar with a well suited wine list and during the warmer months, enjoy outside seating with a beautiful lakeside view.
For the ultimate in relaxation, treat your body and mind to a rejuvenating session at The Spa at Rocky Gap Casino Resort. Pamper yourself with a wide variety of services specific to women and men of all ages. Services include massages, soothing skin care facials, waxing, body treatments, manicures and pedicures.
The Event Center at Rocky Gap Casino Resort provides you with a rich venue to catch your favorite acts. Upcoming acts include: Tuesday's Gone – Lynyrd Skynyrd Tribute, (Aug. 3), David James Spaliaras, (Aug. 9), David Kaye, (Aug. 23) and don't miss ROCKtember Fest (Sept. 15), it's sure to be a blast!
Finally, during your stay enjoy exclusive access to Maryland's only Jack Nicklaus Signature Golf Course. Nestled in the foothills of the ageless Appalachian Mountains, the scenic vistas and shimmering lake offer the perfect backdrop for a round of golf with friends.
For more information, visit www.rockygapresort.com
MOUNT AIRY CASINO – MOUNT POCONO, PA
When you think of the Poconos, you may think about the skiing and the wintertime. But what you may not know is that a whole destination resort lives there year-round. Mount Airy Casino Resort is a AAA Four Diamond Award Winner for the last eight years running.
Located in northeastern Pennsylvania, less than a 2-hour drive from New York, Mount Airy Casino Resort is a relaxing escape in the Poconos Mountains. It's a great place for any nature-lover because of hiking trails, camping, and other outdoor activities that are easily accessible. But, it's also enticing for those who enjoy the night out with gaming, dining, entertainment and so much more.
Get endless gaming action on more than 1,800 of the hottest slots and over 70 table games. Whatever you favor in gaming, whether it's classic penny games, black-jack, roulette, craps, poker or baccarat you'll get the excitement that you came for.
If slots and table games aren't your forte, get to know the golf course where each hole is inspired by Sport's Illustrated "Best 18 Holes in America?' Master golf architect, Hal Purdy, brings you a course known for its distance drives and 6,500 yards of manicured greens. There's no better place to test your skills and take in the Poconos' inspiring beauty.
Turn your clubs into cocktails and enjoy live music at Mount Airy Casino Resort's classic venues. Whether you want to rock out with Classic Rock royalty, laugh out loud with comedy legends or swoon with Broadway's Best, Mount Airy has the best selection of big-name talent and entertainment.
Take advantage of their luxurious pool. Rest and relax by the 51,000 square foot indoor/outdoor pool space complete with a poolside bar, cabanas and fire pits. Schedule a pampering session and they'll take care of your every need so you can feel like the best version of yourself and find your inner bliss. Rejuvenate your skin with a body wrap, try out a new hairstyle or refresh your toes with a pedicure.
There are plenty of dining options that are sure to satisfy all of your taste buds. Take a trip to flavortown with Guy Fieri's Mt. Pocono Kitchen that reflects his signature style with dishes that made with heart and soul. Or taste hand-crafted pasta, local seafood and farm-fresh vegetables at Bistecca by IL MULINO. Immerse yourself in Asian cuisine at the modern Lucky 8 Noodle + Sushi Bar. Satisfy your sweet tooth when you visit Red Mango Yogurt Café or stock up on sweets at the Nostalgia Candy Store.
If you don't want the fun to end, spend the night in one of their luxury rooms or suites and make your getaway an unforgettable one. For more information, visit www.mountairycasino.com
LIVE! CASINO HOTEL – HANOVER, MD
You've always had plenty of reasons to visit, but now there is finally a reason to stay. Live! Casino Hotel in Hanover is the epitome of fun and excitement! With approximately 4,000 slots, 200 live action table games, one of the largest poker rooms nationwide and giant jackpots, what more could you ask for? Oh wait!
Live! Hotel is officially open to guests, adding 310 overnight rooms, two new restaurants, an Event Center and spa to Maryland's top tourist destination. The first hotel to carry the renowned Live! brand, Live! Hotel opens at Live! Casino and celebrates its six-year anniversary as one of the largest commercial casinos on the East Coast.
"Live! Hotel is now officially open and ready to wow guests with an all-inclusive experience, from a world-class spa and globally inspired cuisine, to winning big while enjoying luxury accommodations," said David Cordish, Chairman of The Cordish Companies. "Our combination of gaming, entertainment, dining, retail and excellent customer service is unmatched anywhere in the region. We have arrived at the finish line, but the celebration is just beginning."
Connected to Live! Casino, the 17-story, 350,000-square-foot hotel, features luxurious accommodations for the business and gaming traveler, equipped with the latest in technology, lighting and amenities. The new hotel includes 132 Deluxe King rooms, featuring a spacious bathroom with an oversized walk-in shower and water closet and a 55″ HDTV There are 126 Deluxe Double Queen rooms, including all the ammenities as the Deluxe King rooms.
And then there are the suites! Featuring 33 Signature Suites the each come with a 55″ HDTV a seating area, a spacious bathroom with an over-sized walk-in shower (some with a deep soaking tub), a separate water closet and vanity table and chair.
Two Luxury Suites offer a separate living room, a 65″ Ultra HDTV a wet bar, powder room and some with a dining area. The spacious master bath has dual sinks, an oversized walk-in shower, a separate water closet and a vanity table and chair. The connecting room provides luxury linens and another 65″ HDTV
10 Presidential Suites offer a spacious living room and a 75″ Ultra HDTV, bar area, mini-fridge, a powder room and a master bathroom with the same features as the luxury suite. Some rooms include a dining table.
Five Spa Suites include the spa villa that has a private terrace with sweeping views of the Baltimore landscape. Both the spa suite and spa villa include a private spa treatment room, expansive livingroom with a dining table and two 60″ Ultra HDTV Both also boast an oversized bathroom that includes a soaking tub, dual sinks, walk-in shower and water closet.
Two Penthouses include the grand West Wing Penthouse, offering a private terrace and expansive suite with a powder room, built in wet-bar, dining and living room, two 86″ ultra HDTVs and a game room.
The Southview Penthouse features an in-suite movie theater room with an 80″ curved screen. Additionally, the expansive living room has a 55′ Ultra HDTV, a dining table that seats eight, powder room and wet bar. Both penthouses offer two luxurious king bedrooms, each with an en-suite bath and a wide screen HDTV
The hotel also features a host of amenities including the boutique Live! Spa, with a full menu of services including massage therapies, body polishes and wraps, advanced skincare from Villa Floriani, private in-room treatment areas for couples or friends, nail and hair services, and an outdoor patio area ideal for groups of girlfriends, bridal and private parties.
New culinary options include David's, which offers 24-hour service and an eclectic menu of culinary creations inspired by the world travels of David Cordish himself. The Lobby Bar At David's, with more than 50 seats and live entertainment, and Luckies, offering expertly crafted espresso, Starbucks coffee drinks, fresh-baked pastries and a wide variety of Italian specialty gelato.
And while you're there, be sure to check out some top entertainment! The Grand Event Center is a 1,500-seat concert venue, featuring a regular lineup of headline entertainment. Upcoming acts include America (Aug. 10 & 11), Dennis Miller (Aug. 25), Frank Reyes (Sept. 8), Dane Cook (Sept. 15), Tracy Morgon (Oct. 20) and Sheila E. (Oct. 27) to name just a few. To see all that Live! Casino Hotel has to offer, book a room or reserve tickets, visit www.LiveCasinoHotel.com or call (443) 445-2929.