MGM Grand Hotel & Casino
Las Vegas, NV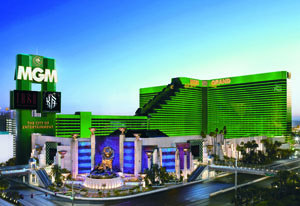 Every year, millions of awestruck visitors stroll by the MGM Grand's signature gateway, a 45-foot, 100,000-pound bronze lion statue.   Perched atop a 25-foot pedestal and framed by LED screens, water fountains, Atlas-themed statues and lush landscaping, this yawning portal sets the stage for a most memorable Las Vegas experience.  Once inside the lobby, guests are instantly enveloped by the thrill and excitement of one of the city's most dynamic resorts. Three large high-definition viewing screens mounted behind the front desk showcase today's hottest music videos in addition to a dedicated social media wall, allowing guests to participate in real-time polls, contests and Twitter conversations.
As for gaming, MGM Grand offers a staggering 170,000 square-feet of it, featuring a variety of table games, video poker and slots.  Meanwhile, the poker room places guests in the heart of one of MGM Grand's most dynamic gaming environments—a 4,000-square-foot room featuring 22 tables of smoke-free, non-stop poker action.  Professionals and amateurs alike have the opportunity to test their skills via daily tournaments and a variety of games including seven-card stud, Texas hold'em, Omaha hi-lo split and no-limit Texas hold'em.
The state-of-the-art 5,300-square-foot Race & Sports Book features three big screens, 36 60-inch plasma televisions, eight 42-inch plasmas, six electronic display boards and 17 separate race and sports betting counters. Each of the 49 seats has its own 15-inch color television, allowing guests to access a network of racing and sporting events from around the globe.  The sports book is the first in the industry to offer exclusive "Skyboxes" for its guests.  Four Skyboxes, ranging in size from 300-325 square feet, are equipped with the latest technology including plasma televisions, surround-sound audio and a CD system. The Skyboxes offer a special second-level view of all the excitement and comfortably host eight to 10 guests.
Rooms and Suites and Lofts—Oh My
MGM Grand is home to a remarkable collection of guest rooms, suites and lofts with views of the surrounding mountains and the Las Vegas skyline. Following a recent $160 million room remodel, the 3,570 guest rooms and 642 suites in the hotel's main tower feature warm, yet vibrant designs and color palettes with contemporary furnishings, creating comfortable and functional spaces within a sophisticated setting. For guests seeking additional space for entertaining and relaxing, the resort offers a variety of one and two-bedroom suites, several of which include expansive terraces with sweeping views of the famed Las Vegas Strip.
SKYLOFTS at MGM Grand offers the quintessential loft environment harmonizing design, décor, ambiance and unparalleled vistas. SKYLOFTS is a private sanctuary of sleek, elegant two-story accommodations located on the top two floors of MGM Grand. Each of the 51 lofts features 24-foot, floor-to-ceiling windows providing dramatic views of the world's most famous skyline from every angle. Ranging in size from 1,400 to 6,000 square feet, the lofts are available in one-, two- and three-bedroom floor plans.
The Signature at MGM Grand is a luxurious non-gaming, non-smoking hotel, just moments away from the full MGM Grand experience.  Set within three distinct towers each featuring 576 suites, this serene retreat and intimate setting focuses on personalized service. A gated entrance, elegant lobby, 24-hour concierge and dedicated staff provide an unparalleled level of comfort, privacy and intimacy.
SIDEBAR: STAY WELL Rooms
A first on the Las Vegas Strip, MGM Grand offers a collection of STAY WELL rooms and suites. Developed by New York-based Delos, these rooms combine the best of medical science and technology to enhance guests' physical and mental well-being during their stay. The 42 new rooms contain more than a dozen healthy features including aromatherapy, wake-up light therapy and Vitamin C-infused shower water allowing guests to take their healthy lifestyles on the road. All STAY WELL rooms and suites are located in a dedicated wing on the 14th floor of the hotel's main tower.
Specialty Restaurants at MGM Grand
With more AAA Diamond award-winning restaurants under one roof than any other hotel in the world, MGM Grand offers culinary choices to satisfy just about any palate.
Perhaps the pinnacle of fine dining, Joël Robuchon Restaurant features traditional French cuisine in a setting reminiscent of Paris in the 1930s. Guests choose from a variety of tasting menus or order à la carte as they experience the elegant main or garden-designed dining room. It has been said that Chef Robuchon's cooking is so striking in its vibrancy and precision as to render a meal memorable down to its last detail.
James Beard Award-winning chef Tom Colicchio elevates the definition of a steakhouse at Craftsteak.  Featuring items from small family farms, artisan producers and day-boat fishermen, the menu captures the true flavor and essence of each product. The à la carte menu includes a selection of signature vegetables, potatoes, mushrooms, grains and beans in addition to steakhouse favorite side dishes.
Shibuya redefines the Japanese dining experience by combining traditional ingredients with modern techniques and offering an unrivaled sake cellar. Shibuya's full-spectrum Japanese menu is delivered via three distinct dining experiences including Sushi, Teppan and à la carte specialties—each in separate, yet adjoining, dining areas.
For a touch of heat, Diego combines the bold vibrancy of traditional Mexican cuisine with sophisticated sensibility for a thoroughly modern dining experience.  The interior embraces the vivid colors of Mexico's cultural landscape—colors that enliven the murals and paintings of the country's extraordinary modern artists. Diego's fusion of traditional Mexican aesthetic and sleek design finesse extends to its menu. Creations take cues from the street stalls of urban Mexico, the vendors of market towns and the regional flair of home-fire cooking. From a mobile salsa cart to frozen Margarita Popsicles and Tequila Sorbet Shooters, Diego offers an unexpected twist.
SIDEBAR: Nightclub Spotlight: Tabu
A hot spot since its inception, MGM Grand's boutique nightclub, Tabú, has elevated the Las Vegas nightlife scene to a new level of style. With its distinctive design and special effects technology, Tabú has sparked a nightlife trend capturing the attention of people worldwide. Club goers spend their evenings alongside Tabú's sexy model servers who deliver signature cocktails at the Sin City hot spot. The venue's go-go dancers are on hand every weekend to get the party started and keep guests on the dance floor.
Entertainment of all kinds
Showcasing the world's top performers and special events, MGM Grand has established itself as one of the world's premier entertainment destination with a variety of offerings.
KÀ by Cirque du Soleil.  KÀ, a creation of Cirque du Soleil, is a gravity-defying production featuring a powerfully emotive soundtrack that enhances the innovative blend of acrobatic feats, Capoeira dance, puppetry, projections and martial arts. KÀ tells the epic saga of separated twins, a boy and a girl, who embark on a perilous journey to fulfill their linked destinies.
Brad Garrett's Comedy Club.  Award-winning comedian and actor Brad Garrett brings his comedic styling to MGM Grand with the opening of his eponymous comedy club. The intimate 250-seat venue provides Garrett, as well as legendary comedians and the next generation of comics, a place to call "home" in Las Vegas.
MGM Grand Garden Arena.  MGM Grand Garden Arena is a 16,800-seat special events center home to concerts, championship boxing, nationally televised award shows and premier sporting events. In 2013, the MGM Grand Garden Arena will welcome the NCAA Pac-12 men's basketball tournament in a three-year partnership.
SIDEBAR: CSI: The Experience
In need of a little cerebral challenge?  CSI: The Experience provides guests the opportunity to play the role of a crime scene investigator. While learning scientific principles and real investigative techniques, visitors work with two state-of-the-art crime labs in an attempt to solve one of three crime scene mysteries. With input from investigators from the television show, guests formulate a hypothesis, validate their findings based on scientific evidence and try to crack the case.  From DNA and f ingerprint analysis to forensic anthropology and toxicology, visitors are captivated by hands-on science in a multi-media environment with dazzling special effects.
Feel Good, Look Great
Whether in Las Vegas on business or pleasure, guests can indulge at the resort's 30,000-square-foot Grand Spa. Featuring saunas, steam rooms, whirlpools, relaxation lounges and 26 treatment rooms, the Grand Spa offers a place of harmony and deep rejuvenation.  Spa treatments include a variety of skin, body care, nail and massage therapies, including signature treatments such as the two-hour exclusive Dreaming Ritual. The Dreaming Ritual incorporates Australian Aboriginal massage techniques, a hair mask as well as hand and foot treatments into an experience designed to rejuvenate body, mind and soul.
At the nearby Cristophe Salon, guests are taken through a series of indulgent beauty steps, including a relaxing deep-scalp massage, by an internationally trained team of stylists and colorists. Special features include bridal and girlfriend packages offering champagne, decadent desserts, spa treatments, hair and makeup services plus group photos for everlasting memories. The After Hours Bachelorette Package provides exclusive two-hour use of Cristophe Salon for parties of five or more.