MGM Grand Detroit
Detroit, Michigan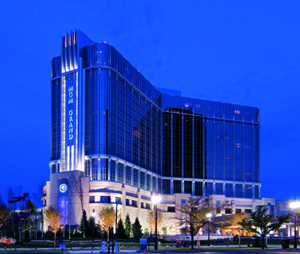 Have you ever prayed your vacation would last forever?  You will here. An anchor to the city's entertainment district, MGM Grand Detroit is a palatial, $800 million Four Diamond AAA award-winning resort destination that's the equal of nearly any mega-casino—including its own Vegas namesake.  At MGM Grand Detroit, guests enjoy exquisite accommodations, impeccable service, and a stream of entertainment options including everything from 24/7 gaming on the 100,000-square-foot casino floor to all manner of nightlife at their popular nightclubs, bars and lounges.
Home base for your stay is one of 400 chic and stylish guest rooms (starting at 510 square feet) or one of nine rooftop VIP suites and 56 opulent corner suites on the highest floors of the 18-story tower. Rooms feature contemporary interior design that emanates a warm ambiance with chocolate, dark cranberry and lime accents. Oversized guestroom bathrooms, which make up nearly a quarter of total room size, boast spacious walk-in showers with double showerheads; a 15-inch plasma TV embedded in the mirror; Palisandro marble countertops; double vanity sinks; separate water closet; lighted make-up mirrors and products by H2O spa.
For techies, room features include a telephone "butler" with color touch-screen technology that enables guests to access property information, schedule wake-up calls, order room service and connect to the Internet without picking up the phone. With a simple touch of buttons, guests even may access stock updates and airline flight status. All rooms are appointed with a 42-inch wall-mounted plasma television and an IPOD docking station.
Should you feel the need to branch out, the hotel offers a special guest-only private "Living Room" which features wall-length fireplaces and a dramatic backlit wall complete with cascading fountains to enhance the scenery.  Look for oversized ottomans, plush sofas, and contemporary artwork from acclaimed Michigan artist Herb Babcock, which unites the décor. The living room serves as a gathering place to relax, wait for friends and business associates, or make reservations and requests via the dedicated concierge.
Casino Fast Facts
More than 100,000-square-feet of gaming space
Open 24 hours
Detroit's premier poker room
Over 90 table games
Over 4,000 slots and video poker games
Non-smoking slots parlor
Food For Thought
Great casinos and great restaurants almost always go hand-in-hand.  And MGM Detroit's no exception. During your visit, check out some of these world-class eateries.
Wolfgang Puck Steak: Master Chef Wolfgang Puck has perfected the art of steak for a dining experience unlike any other. Enjoy a mouthwatering array of grilled steaks and other fine meats, shellfish and fresh fish offerings along with a selection of richly flavored sauces and side dishes.
Wolfgang Puck Pizzeria & Cucina: Savor a delicious tribute to the finest tastes of Italy in a casual restaurant experience that is perfect for mixing, mingling and dining. The menu features housemade pasta, Italian favorites and many of Puck's signature oven-baked pizzas.
TAP: Introducing Detroit's "newest old sports pub" TAP at MGM Grand Detroit. Enjoy comfort food and pub classics while catching the game in a setting that captures the heart of Detroit's industrial age. With 50+ draught and bottled beers and 40+ flat-screen televisions, TAP has everything needed to savor the big game.
Palette Dining Studio: Innovative all-you-can-eat tapas-style dining experiences range from Mongolian and Brazilian grills to fresh seafood, salads and desserts.
Sidebar: After Hours
In the mood to dance and party the night away?  You're not alone.  Join your fellow vamps at two of the hottest after-hours spots in the city: V Nightclub and AGUA.
V Nightclub
MGM Grand Detroit's signature nightlife lounge delivers hot music, exotic cocktails and extraordinary special effects. Sensual images dance throughout the venue in an interactive light show spectacular as guests escape the boundaries of everyday life. Guest enjoy "Double Vision Fridays" with DJ Whip and "Volume Saturdays" with DJ Captn20. V Nightclub features intimate spaces for large and small groups including VIP areas with bottle service, Open Friday & Saturday, 10 p.m.-2 a.m.
AGUA Rum & Tequila Bar
Guests are immersed in aquatic ambiance where every moment feels like an underwater escape; murmurs and bursts of laughter translate into electronic "waves" on the blue-textured ceiling.
More than 20 selections of tequila and rum.
Infused signature margaritas, caipirinhas and mojitos
Open Thursday-Sunday, 5 p.m.-2 a.m.
IMMERSE Yourself
IMMERSE, MGM Grand Detroit's signature spa, is a two-level 20,000-square-foot complex featuring a full-service spa; six treatment bungalows (including two couples' suites) set amidst a tranquil rock garden; wet room with Vichy shower; first-class salon; infinity-edge pool area with orbital lounges, state-of-the-art exercise facility; spa boutique; relaxation lounges; and separate vanity areas for men and women.
The spa and salon's expanded menu incorporates treatments found at the world's top resorts including the FourxTwo which offers massage by two therapists simultaneously; and Sonya Dakar's Cleanse Facial.  If pampering is not your style and you'd rather work up a good sweat, IMMERSE features a 2,000-square-foot, state-of-the-art fitness center with premier cardiovascular and weight training equipment, treadmills, cross-training machines, free weights and elliptical trainers with built-in TV monitors/headphones.
Finally, IMMERSE offers hotel guests complimentary access to the fitness and pool areas, locker room, showers, whirlpool and steam rooms. Non-guests may use the facility with purchase of treatment at spa or salon, or may purchase a day pass for $25.
M Life
MGM's stellar rewards program, M Life, gives you the power to earn benefits for virtually every dollar you spend. That means you'll be rewarded for enjoying hotel, dining, entertainment, and spa experiences, along with your slot and table play. The personalized, tailored fit of M life means you get rewards that are more specific to you and the things you love to do. Benefits are determined by your Tier Level—Sapphire, Pearl, Gold, Platinum, or NOIR. And because you can earn and enjoy rewards at 15 renowned MGM Resorts International destinations, incredible possibility comes with amazing flexibility, too. Visit mlife.com for more details.