LET THE GAMES BEGIN
Numerous leagues are getting back into action
By Sean Chaffin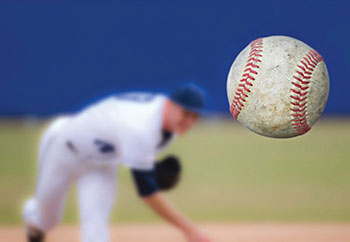 To say it's been an interesting time in the world of sports and sports betting would be quite an understatement. A visit to the sportsbook was replaced by quarantining at home during the coronavirus pandemic. With no games to watch and casinos closed, naturally there wasn't much to wager on. But as sports slowly return to the field or rink, there are more states than ever with properties and mobile operators ready to take those wagers.
The U.S. has come a long way since May 2018, when the Supreme Court struck down a virtual countrywide ban on sports betting. Now after an unprecedented sports shutdown, fans may be in for quite a summer and fall with numerous leagues getting back to action in unique settings and schedules. Betting the Favorite is once again will be there with you tracking the news in the world of sports betting.
Taking the Field … Again
The world of sports betting may finally be returning to normal, although as of press time Major League Baseball looked like it may have its games taken off the board entirely.  As of mid-June, owners and players were still locked in a stalemate on when to return to the diamond. The league missed a prime opportunity to return to the field during a summer spotlight where  it would have attracted  plenty of eyeballs to check out the action.
Even if MLB does return, the league will find itself competing in a perfect storm of NHL, NBA, NFL, college football, and others. Other leagues began returning to play as early as May and June including European soccer and golf.
In the U.S., Major League Soccer announced its plans to return to the field in July – certainly an opportunity to showcase its product to sports-starved fans and bettors. The league opened its season July 8 at Disney World in Orlando, Florida, starting with a league-wide tournament in a similar style as the World Cup. No doubt many bettors would quickly become soccer fans and take some action during the tournament.
"We are pleased to team up with Disney to re-launch the 2020 MLS season and get back to playing soccer," MLS Commissioner  Don Garber said in a statement announcing the plans. "The opportunity to have all 26 clubs in a controlled environment enables us to help protect the health of our players, coaches and staff as we return to play."
Orlando will certainly be a busy place. The NBA also planned to have 22 teams return to the city for a short eight-game mini-season and then proceed to the playoffs. Those returning are the 16 teams who were in playoff spots when the season ended in March. Also included are the six teams within six games of their conference's No. 8 seed. All games would be at the  ESPN Complex at Disney World. Training camps would begin by the end of June with the season resuming on July 31.
The NHL was taking a similarly creative route as basketball and soccer in returning to the ice. Players headed to training camp on July 10 before the season resumes later in the month. The league will return with a 24-team playoff format. Games will take place in two "hub" cities with 16 teams playing eight best-of-five series. The top four teams in each conference will play round-robin games to determine seeds for the playoffs.