Las Vegas' Circa Resort & Casino Now Accepting Room Reservations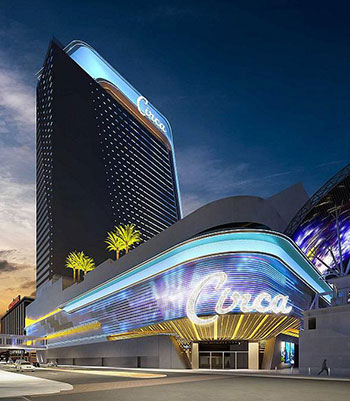 Circa Resort & Casino, Downtown Las Vegas' first ground-up gaming resort since 1980, is now accepting reservations for its highly anticipated guestrooms and suites. Reservations can be booked at CircaLasVegas.com with the first rooms available on December 28, 2020.
For renderings of Circa's rooms and suites, click here.
"From the beginning, I envisioned Circa to be a resort that pays homage to Las Vegas' vibrant past while introducing bold, modern elements; this will certainly shine through in our room and suite collection," said Derek Stevens, Circa's CEO. "Vintage details are combined with high-tech amenities to create an experience that's uniquely Circa. I also love to throw a good party, and I can promise that every room and suite will deliver maximum entertainment."
Designed by Steelman Partners and Circa's Director of Design and Architecture Alice O'Keefe, Circa's uniquely tapered 71-degree tower – the tallest building north of the Strip – will deliver unobstructed views of either the iconic Las Vegas skyline, surrounding mountains or the resort's pool amphitheater in Circa's 777 rooms and suites.
Setting a new Las Vegas standard, each of Circa's standard rooms will have Serta Prestige king mattresses, including double-bed rooms. Flex options will enable Circa's hotel staff to configure rooms to meet guests' specific needs and coordinate bed arrangements for groups of varying sizes. All rooms will come equipped with a digital tablet that will act as a one-stop-shop for checking restaurant menus, booking reservations for Circa's sportsbook and pool, and even controlling the room's light settings.
Paying tribute to Downtown Las Vegas' thriving art scene, and the city's history and culture, rooms will display commissioned works by several local artists. Curated by DAC Art Consulting, the collection includes pieces by Jelaine Faunce, Deidra Wilson, Schinn Loong, Sarah Scherf and Adolfo Gonzalez with Yesco.
Circa will welcome guests ages 21 and over, marking the first adults-only resort and casino in Las Vegas.
A Glimpse into Circa's Rooms & Suites Collection:
STANDARD ROOMS
Featuring clean lines and a vintage Vegas aesthetic, Circa's standard rooms will range in size from 403 to 752 square feet with accents in shades of navy and sapphire, geometric-patterned carpets and deep walnut woods. Intelligently designed to maximize space, each standard room will offer a single or double king-size beds, multiple seating areas for relaxing or entertaining, nearly ceiling-height custom headboards, guest refrigerators and 55-inch flat-screen HDTVs.          
Original artwork throughout the room will be a nod to the city's present and past, including a whimsical Jelaine Faunce wall graphic in the bathroom that pays tribute to dancing dealers of retro Vegas. The throwback shot will be juxtaposed against modern design elements from rounded corners on bathroom mirrors and angled marbled sinks and showers, to high-tech touch-screen lighting and temperature controls.
Another distinctive accommodation will be Circa's 360-degree rooms, featuring a creative layout resulting from the studios' locations within the hotel tower. For this room type, a king-size bed will be placed in the center of the room and surrounded by floor-to-ceiling windows and amenities, transforming the space into a loft experience.
SUITES
Sexy and well appointed, Circa's suite collection will span 822 to 1,612 square feet and deliver the ultimate entertaining space. Draped in velvety midnight blues, the one-bedroom accommodations will feature spacious living rooms complete with floor-to-ceiling windows, sophisticated lounge-style furniture, a black quartz dining table and full wet bar with refrigerator. 65-inch HDTVs in every room will ensure sports fans never miss a game. The bedroom will include upgraded finishes; luxe bedding; and bathrooms with an oversized shower, water closet and double vanities. Select suites will feature modern-day Inova beds hidden in the walls that unfold to accommodate additional guests.
BUNK BED SUITES & PADS
For those traveling with friends, Circa's high-style Bunk Bed accommodations will be the ultimate party spot. Available in 713-square-foot pads or 1,362-square-foot suites, the offerings will include living rooms with a wet bar and refrigerator, a charger port for each bed, couches with views of the skyline through sweeping windows. The suites will feature full dining area. Suites and pads will feature two plush bunk beds to sleep four people and large bathrooms. Each Bunk Bed Suite also will come with an expansive living room and bar area.
FOUNDERS SUITES
Commanding the resort's top three floors, Circa's six Founders Suites will be its grandest accommodations and feature the best views of Las Vegas from all of Downtown. Measuring an average of 1,831 square feet, these two-bedroom suites will be ideal for group celebrations. For drinks with a view, guests can enjoy a lavish bar with its own refrigerator and flat-screen TV located adjacent to floor-to-ceiling windows; and an entertaining space with ample seating, a second flat-screen TV and electric fireplace will be a perfect spot on gameday. Friends can gather around the suites' black quartz dining room table beneath a custom chandelier for meals any time of day, whether steaks from Barry's Downtown Prime or sandwiches from Saginaw's Delicatessen. Art installations, upgraded finishes, a signature scent and separate powder room will complete the experience. Spacious bedrooms will include oversized bathrooms, separate vanity table, flat-screen HDTVs and seating with views of the city.
Circa will open the first five floors of the property on October 28, 2020, with the hotel tower debut marking the second phase of its launch.
The 1.25 million-square-foot property will usher in a new era of hospitality for the city, housing the world's largest sportsbook with multi-level stadium-style seating and a capacity of 1,000, five original restaurant concepts, a pool amphitheater that will operate 365 days a year, a high-tech parking garage dubbed "Garage Mahal," two-story casino and more.
For more information, visit circalasvegas.com.