ISLAND HOPPING
A guide to some of the best casino resorts in the Caribbean
By Sean Chaffin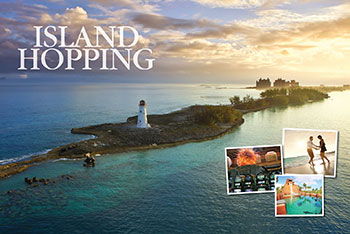 Crystal clear waters, perfect beaches, and endless cool vibes. Friendly people and magnificent cuisine. A trip to a Caribbean island makes for a perfect getaway, and that doesn't just include sipping rum drinks and soaking up some sun with the sand between your toes. By day, travelers can take a dip in the Caribbean Sea or zipline across some lush green forests, and then hit a resort casino by night.
The region's magnificent resorts and hotels offer a stay in style with plenty of activities, amazing food and cocktails, as well as top-notch service. They also feature some bustling casinos with slot machines, traditional table games, sports betting, and a growing poker scene. With fall and winter weather bringing cooler temperatures in much of the U.S., plenty of sun and fun still awaits you at some great Caribbean destinations.
Grab the sunscreen and a swimsuit. The beach and plenty of exploring await you – and don't forget your lucky charm! A jackpot or big win will only make that white sand, blue water vacation even better.
BAHAMAS
Hurricane Dorian may have ravaged some of the islands that make up the Bahamas, but much of the island remains open for business. That includes many of the country's resorts and tourist destinations. As the country tackles the destruction left behind on many islands, tourism industry officials say the best way to help the island is to board a plane and spend some money on a great vacation.
According to TourismToday.com, tourism accounts for 60 of the country's gross domestic product and employs about half the Bahamian work force. The Bahamas offers easy access for American visitors and just a short flight from Florida. With that in mind, here's a look at some great properties that will please beach lovers and gamblers alike.
Atlantis, Paradise Island
This pristine and picturesque property is located on Paradise Island, right next to New Providence island and the city of Nassau. The island is easily accessible and offers serene white sand beaches and fun for the whole family. Built to mimic the mystery and romance of the famed lost city of Atlantis, the property features several hotels with names like Beach, Coral, Reef, and Royal. Atlantis offers numerous amazing pool experiences, a cool beach vibe with stunning views, its own lagoon and harbor, and restaurants of every variety with delectable cuisine.
For families, one feature certainly stands out on this sprawling property. The Aquaventure water park features heart-racing waterslides, a river with rolling rapids, a water-play fort, more than 20 swimming areas, private cabanas, and much more in a tropical environment with greenery surrounding the entire park. Visitors don't even have to be hotel guests. The park offers day passes for guests of other properties. Add to your aqua adventure with a visit to the Marine Habitat for an underwater view of sharks, tropical fish, rays, and more.
Some gambling at the property's casino includes ocean vibes with 85 table games including craps, baccarat, roulette, blackjack, and more.
That also includes 700 of the latest slot machines, a large sportsbook, and high roller and private gaming areas. For the last 16 years, the resort also hosted the PokerStars Caribbean Adventure tournament series.
Book your vacation in Atlantis and start your own adventure. For more in- formation visit atlantisbahamas.com.
Baha Mar, Nassau
This amazing resort is located on the island of New Providence and in the city of Nassau. Visitors to Baha Mar won't be disappointed. The property offers luxury at every turn and is situated on Cable Beach – perfect for a lazy day basking in the island's crystal aquamarine waters as billowy clouds drift by.
The property is actually three hotels in one – all with cool elegance, brilliant views of the Caribbean, and ultracool pools for epic relaxation. Make your choice of stay in the stylish Rosewood, cool SLS, or modern Grand Hyatt – each offering stunning beach views and an epic selection of pools.
Brilliant dining and entertainment options are also numerous including unmatched seafood (check out 3 Tides Cafe) and bars and clubs for every taste. Head out for a great nature experience including checking out sea turtles, dolphins, and the country's iconic bird at Flamingo Cay.
Along with a great beach experience, some nightlife might include a visit to the property's casino – complete with more than 1,000 slot machines and 119 tables games featuring blackjack, baccarat, roulette, and more. Poker fans will enjoy some Texas hold'em and the Baha Mar has become a regular host to PartyPoker Millions tournament events. With high-class ambience, sip a cocktail and gamble in style at the Baha Mar. For more information, visit www.bahamar.com
The Hilton at Resorts World, Bimini
Plunge into crystalline turquoise waters on the tiny Bahamian island of Bimini. The Hilton at Resorts World offers plenty of seclusion and makes for the perfect getaway on the closest island to the U.S. coast – just 50 miles from Miami. Visitors will gaze in awe at miles of white sand beaches. Simply grab a chair on the beach and enjoy.
The island was even home to Ernest Hemingway from 1935-37.The novelist fell in love with the island, apparently spending his days on adventures, drinking rum, boxing with locals, boating, and fishing. Visitors will enjoy their own adventures at this 750-acre beach- front resort. Resorts World offers a luxurious stay in one of the property's luxurious rooms. Or book a more secluded stay in a private condo. Hop in a golf cart to tour the island or head to one of the property's numerous infinity pools – a brilliant Caribbean oasis awaits. A visit to the Serenity Spa and Salon only adds to this lavish vacation experience.
The 10,000-square-foot Resorts World Bimini Casino allows players to gamble in style. Visitors will not only have a modern casino to wager at, but brilliant surroundings and sweeping views of the oceanside. Take a seat at popular table games like blackjack, baccarat, craps, roulette, or more than 160 slot machines. For a bite to eat and a bit of nostalgia while gaming, head to the on-site Hemingway's sports bar and restaurant for gourmet burgers and wings. And just like the place's namesake, a rum drink should definitely be in order. For more information, visit www.rwbimini.com/hilton-hotel.
DOMINICAN REPUBLIC
Great beaches, friendly people and service, and numerous opportunities for fun excursions – these are some of what you can expect from a visit to the Dominican Republic. The country is located on the island of Hispaniola with Haiti on the western half and the Dominican on the eastern half. The island offers picturesque views and ocean adventures perfect for a beach getaway.
Hard Rock Hotel and Casino Punta Cana
The city of Punta Cana is located on the country's eastern coast and has become quite a travel hotspot. The resort offers the luxury and comfort gamblers have come to expect at Hard Rock locations around the world. That includes an all-inclusive stay with all the drinks, food, and fun covered in the price of the vacation.
Beach bums will delight in immaculate beaches with a quick dip in the Caribbean offering quite a refreshing way to spend an afternoon.
Water lovers will also have 13 expansive, magnificent pools to choose from with four swim-up bars and three kids pools complete with water- slides and activities for those under 16.There are numerous other activities for kids including the Kidz Bop experience, where they can become a young music star.
For adults, nightlife at the property includes live entertainment and concerts. There are numerous restaurant options and all-inclusive doesn't just mean so-so at this property – with numerous bars and restaurants from quick bites to plush sit-down dining. Numerous other activities and amenities are available including the world-class Hard Rock Golf Club at Cana Bay, designed by Jack Nicklaus Golf. If all that weren't enough, gamblers can pick a night or two and head to the casino. The 45,000-square-foot venue features 40 tables, 450 slots, and an exclusive VIP area. Poker players will find regular tournaments and cash games. Gamble in style in the D.R. For more information visit www.hardrockhotelpuntacana.com
And Then There's…
ARUBA
This tiny Dutch island is located in the far southern Caribbean with unbelievable beaches and some top-notch casinos. There are several casino resorts to choose from and it's known as the "Las Vegas of the Caribbean." A favorite is the Renaissance Resort and Casino, a unique Caribbean property in that it's owned and operated by the Poarch Band of Creek Indians of Atmore, Alabama.The tribe also owns the three Wind Creek casinos in Alabama and one in Pennsylvania as well as one casino in Nevada, greyhound tracks in Alabama and Florida, and another Renaissance casino resort in Curacao, another Dutch island near Aruba.
Other luxury options include the Ritz-Carlton, a premier property with amenities travelers have come to expect from one of the best names in travel. The casino resort will have gamblers living the high life and the 15,000-square-foot venue houses 300 slot machines and 17 table games as well as live entertainment and the only baccarat table in Aruba.
The Alhambra Casino is also a popular property with numerous table games and almost 500 slot machines. While this property may not be a resort, it is located just steps away from the white sands of Eagle Beach, and feature top-notch shopping and dining options. Other gambling and resort options await. Bring your sunscreen and a lucky attitude.
Win or lose, you're still in paradise.
PUERTO RICO
There are some definite advantages to heading to the Island of Enchantment: the beautiful beaches, mountains, and El Yunque rainforest; the friendly people; excellent cuisine; and some amazing historical heritage including the El Morro colonial Spanish fort in Old San Juan. Visitors from the U.S. will also find it a short trip and a convenience with no passport or visit to immigration needed to the American territory.
Americans will also find some excellent resorts including some inviting casino options.
There are several nice properties with casinos in San Juan including the Casino del Mar at La Concha Resort, which offers a fun gaming experience. Hit the tables or hop in the infinity pool overlooking the Atlantic. Another popular option is the San Juan Marriott Resort and Stellaris Casino. The resort features a nice gaming area and the beach views and amenities will have you wishing that vacation was extended. The Sheraton Hotel and Casino is another great option with an infinity pool overlooking Old San Juan.
For those looking to explore the island, there are some other casino resort options including the Holiday Inn El Tropical in Mayaguez, the Hilton Golf and Casino Resort in Ponce, and others. Puerto Rico is a large island compared to most others on this list. If you've got the time, rent a car and map out your own route. Some tropical vibes and hopefully some winning awaits.
ST. MAARTEN
This is the smallest island in the world governed by two different countries – half the island is Dutch and the other half is French. That offers some interesting dynamics and history. The island is also home to stunning beaches with numerous outdoor activities available. For gamblers, head to the Dutch side for several places to gamble, as there are no casinos to be found on the French side.
Casino Royale is the largest on the island with 21,000 square feet of gaming space and 22 tables, 400 slot machines, a sportsbook, and a private high roller area. The property also includes high-end dining, shopping, and entertainment – with free weekly Vegas-style shows, live music and DJs, and more. Visitors can stay and play at the Westin Dawn Beach Resort and Spa. Hit the beach or get some pampering with a massage during the day and head to the casino for some gam- bling at night. There are several other casinos to choose from.
Sean Chaffin is a freelance writer in Crandall, Texas, and senior writer for Casino Player and Strictly Slots magazines. Follow him on Twitter @PokerTraditions or email him at seanchaffin@sbcglobal.net for story assignments.