HOOPS HYPE: A Complete Guide to Betting on NCAA  March Madness
By Sean Chaffin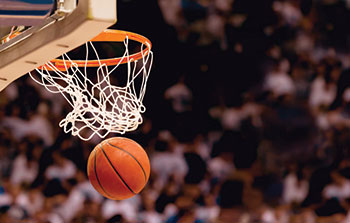 With football season now over and the NBA and NHL playoffs a few weeks away, many bettors now turn their attention to March Madness — the annual NCAA Division I basketball tournament.
The tournament is one of the biggest events in sports and attracts viewers and bettors from around the world. With a deep history and some amazing athletes, the tournament makes March quite a month – with plenty of action and hopefully a few winning wagers.
While there is plenty of action on the court, that also applies to the betting windows and friendly (sometimes even hardcore) office bracket betting pools. Wagering on the tournament has become a national pastime with Americans from every walk of life plunking down a few dollars on their favorite teams or hoping their bracket selections bring them a nice payday at the end of the tournament.
Here's your complete guide to all the madness this season.
The Tournament
This year's festivities tip off as they do every year – with Selection Sunday, set for March 15. After teams have played out their seasons, conference tournaments, and champions have been crowned, the selection committee determines the complete tournament bracket and seeding for each team. The madness then ensues and ends with the championship game about three weeks later.
The annual tournament now consists of 68 teams playing in the single-elimination format. It's a classic structure with little room for error. If your team loses, it's a long wait until next season. The annual event also now includes two "play-in games," an opportunity for four teams to play their way into the traditional 64-team field.
In total, March Madness features 67 games over a period of xxxxx days. The action begins on March 17 and culminates with the championship game on April 6.
Key Dates
March 15 – Selection Sunday
March 17-18 – First Four play-in games (Dayton, Ohio)
March 19-22 – 1st and 2nd Rounds (Albany, N.Y.; Spokane, Wash.; Tampa, Fla.; St. Louis, Mo.; Greensboro, N.C.; Omaha, Neb.; Sacramento, Calif.; Cleveland, Ohio)
March 26, 28 – Midwest Regional (Indianapolis)
March 26, 28 – West Regional (Los Angeles)
March 27, 29 – South Regional (Houston, Texas)
March 27, 29 – East Regional (New York City)
April 4 – Final Four (Atlanta, Georgia)
April 6 – National Championship (Atlanta, Georgia)
Tournament Bracketology
Money wagered on March Madness topped $8.5 billion in 2019 with 47 million people gambling on the tournament, according to the American Gaming Association. Much of that, $4.6 billion, came in the form of average Joes and Janes filling out a bracket as part of a pool. The AGA estimates that 40 million people competed in bracket pools last year.
How do brackets work? It's pretty simple and can require some savvy picks or mere dumb luck, depending on how you approach your bracket and matchups. The setup is pretty simple. Sixteen teams are seeded No. 1-16 in each of four different regions based on regular season performances, conference titles, strength of schedule, and other criteria.
It's up to each individual bettor in the pool to fill out his or her bracket completely – all 67 scheduled games from Round 1 to the championship game. That includes, of course, paying the pool fee so that winners can receive a nice cash prize.
Traditionally completed on paper, more and more pools have moved to online selections. Some players also run a Sweet 16 pool to add some extra mid-tournament excitement, and a few more dollars on the line.
Players are awarded various point totals for winning teams depending on the round and casino sportsbooks have even gotten in the act offering bracket pools. The deeper a team goes, usually the higher points awarded in each round. The player with the most points in the end is the winner. Some pools may award payouts for several places depending on the number of entrants. It's that easy, and plenty of fun.
Getting those matchups correct is the difficult part. Upsets are a regular part of the action on the court and in 2018, a No. 16 did the unthinkable in the first round. For the first time in history, a 16th-ranked team knocked off one of the top seeds when No. 1 Virginia was defeated handily (74-54) by the University of Maryland – Baltimore County (UMBC). The Retrievers spoiled many brackets early, and despite losing in the Round of 32, gave their fans the win of a lifetime.
The UMBC win may be a bit of an outlier, but shows how upsets contribute to the excitement of March Madness. Don't go too overboard picking upsets, however. But mixing in a few can have some positive results.
Betting Strategy
While filling out a bracket can bring plenty of fun with a chance at winning some cash, plenty of bettors also enjoy adding some action on individual matchups. Adding a few dollars with point spreads and the over/under can be fun and yield some returns to skilled gamblers.
When placing those bets, here are a few things to keep in mind:
Teams on a Heater – Records can be important but a team's play down the stretch offers some insight as to how they're really playing and their motivation. Look for teams who finished on a hot streak and seem to be on an upswing.
D Up – Many experts also say to look for team's who play tough defense. These offer some value against the spread and always have a chance at a victory even when the shots aren't falling.
Short Road Trips – Location can be important. Teams not traveling far to play may have more of a "home" game atmosphere with more fans and less fatigue from hitting the road.
Don't Get Emotional –It's also always important to leave the biases behind when selecting games. You may be an LSU grad, but putting a couple grand on the Tigers versus a strong No. 1-ranked team with a nice record against the spread could be unwise.
Select Small –Be selective with the number of games you plan on betting and how much of your bankroll you wager. Look for value and games where you've done your research and see a chance at making a solid score. Too many bettors pick a deep slate of games rather selecting a smaller bunch that have a chance at a return on investment. Don't look for one major score, but instead hope for a nice win overall. Going 7-0 is pretty unlikely, but a solid 6-3 could be a nice goal with hopes for even better. Look for consistency throughout the tournament to profit in the end.
Mind the Bankroll – When it comes to bankroll, don't wager too large a percentage each round. Better smaller percentages so that your cash will last for the long haul – hopefully with a tidy profit by the time the championship game tips off.
Sean Chaffin is a freelance writer in Crandall, Texas, and senior writer for Casino Player and Strictly Slots magazines. His work appears in numerous websites and publications. Follow him on Twitter @PokerTraditions or email him at seanchaffin@sbcglobal.net for story assignments.