MGM Resorts' entertainers unite to help support employees
MGM Resorts International workers received some unexpected support from many of the company's resident entertainment partners who generously donated to the MGM's Employee Emergency Grant Fund in support of those impacted economically by the coronavirus pandemic.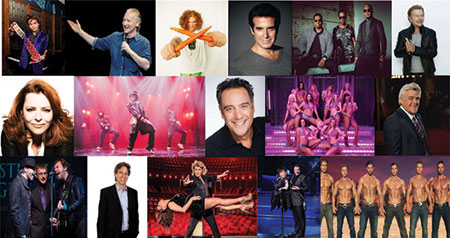 David Copperfield, Jay Leno, Bill Maher, Kathleen Madigan, David Spade, Boyz II Men, Brad Garrett, Carrot Top, Terry Fator, Ray Romano, Jabbawockeez, Shin Lim, Thunder from Down Under, Hans Klok, Australian Bee Gees, Fantasy and Bill Blumenreich Presents each showed their support for the MGM Resorts family this week with a donation to the fund.
"During these difficult and uncertain days, weeks and months, we are working tirelessly to support the tens of thousands of employees who were furloughed or laid off due to the closures of our properties across the country," said Bill Hornbuckle, MGM Resorts' Acting CEO and President. "We are incredibly humbled by the support of our entertainment partners, who have come together to assist the people who, during normal times, are committed to creating incredible experiences for our guests from around the world."
Hornbuckle added, "With donations from this extraordinary line-up of entertainers, commitments from MGM Resorts and its leadership team, our own employees, and a number of other generous contributions, we have already raised approximately $11 million to assist our employees during this time of unprecedented challenges and hardship."
Jyoti Chopra, Senior Vice President, Chief Diversity & Sustainability Officer for MGM Resorts International, said, "Our focus during this crisis is people, first and foremost, followed by compassion and care. We are proud to join our entertainment community to lend humanitarian assistance to those in need.  We are incredibly grateful for the generous donations by our entertainers, a vital part of our ecosystem at MGM Resorts, which will be used to provide emergency relief."
$1 Million From Mars
GRAMMY Award-winning entertainer Bruno Mars, who has been a performer at the Park MGM theater since 2016, donated $1 million to the MGM Resorts Foundation to support MGM employees impacted economically by the coronavirus (COVID-19) pandemic.
"We consider Bruno Mars as part of the MGM family and appreciate what he is doing to help our employees and their families during these uncertain times," said Bill Hornbuckle, Acting CEO and President of MGM Resorts International.
The money will go toward The MGM Resorts Foundation's Employee Emergency Grant Fund & Children's Medical Support Fund, which is designed to help MGM employees and their immediate families with short-term assistance during unexpected hardships and emergencies. The Grant Fund may also provide disaster relief assistance to furloughed or laid-off employees whose compensation is suspended or employment terminated as a result of an extraordinary event (or events) that severely impacts a community in which MGM Resorts conducts business, such as the COVID-19 public health crisis.
A representative for Mars says, "The people at MGM have given Bruno Mars the rare opportunity to be able to continuously gig while he's in the creative process of working on his next album. With the closures across Las Vegas, Bruno wanted to show his appreciation to the amazing employees who help make these shows possible in hopes that we'll all be out of this situation and having fun together again very soon."