Have Dog, Will Travel: MGM Resorts Offers New Dog Program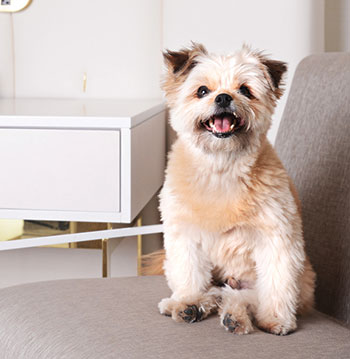 For those of us who hate to leave our four-legged best friend at home when we travel, MGM Resorts Int. is offering an experience that you, and your pup, won't ever forget with its new dog-friendly program recently launched across all of its Las Vegas properties as well as MGM Springfield (MA), Beau Rivage Resort & Casino (Biloxi, MS) and MGM Detroit. The expanded dog program introduces an elevated level of service for four-legged guests throughout their stay, allowing pet parents to take their furry friends on the road during the next family getaway.
Upon arrival, parents will receive complimentary treats for their canine with a map of relief areas as well as information on doggie concierge services and other amenities such as dog bowls and dog mats.
When Fido's human companions are ready to enjoy the many experiences throughout MGM Resorts' properties, they need not worry about leaving their pooch behind, with a selection of services including Check-in and Check up, where a doggie concierge will check on pups while guests are away and send a text message with photo confirmation; as well as dog walking services arranged through a preferred service provider.
The MGM Resorts dog program is limited to two dogs per room with a maximum combined weight of less than 100 pounds. Dogs cannot be left unattended in rooms at any time unless placed in a kennel or carrier and must be fully house trained. Outside of rooms or suites, dogs must always be kept on a leash.
Dog-friendly rooms and suites at MGM Resorts properties are available for an upgrade of $50-$175 per day, per dog, depending on the property and can be reserved by going to MGMResorts.com/dog or by calling 1.855.788.6775.