Hard Rock Hotel & Casino Tulsa
Catoosa, OK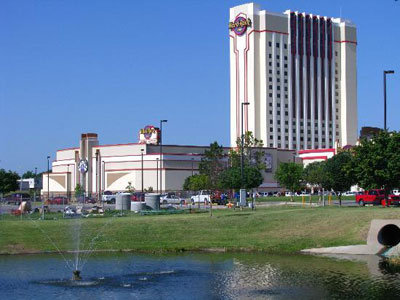 Hard Rock Hotel & Casino Tulsa is the only one of its brand in Oklahoma and one of only seven in the world.  The property offers an unparalleled experience by bringing together a unique blend of Cherokee culture, Oklahoma's rich musical history and classic rock 'n' roll.
Encompassing more than 400,000 square feet, this complex features five dining venues, five nightclubs, more than 125,000 square feet of gaming, 350 luxury hotel rooms and suites, 35,000 square feet of convention space and the Cherokee Hills Golf Club championship golf course.  Also showcased is a $2 million rock-inspired music memorabilia collection that the Hard Rock Hotel & Casino is known for the world over.
Hard Rock has also recently introduced a newly expanded, non-smoking casino featuring one of the hottest poker rooms in the region.  Sit in on one of your favorite games including Texas hold'em, Omaha or seven-card stud.   The poker room features 12 tables and boasts immaculate surroundings ensuring a pleasant night of gambling win or lose.
If poker isn't your forte, head out to the casino floor and take a shot on one of more than 2,600 of the newest slots, video poker and electronic games like Mr. Money Bags, Big Buck Hunter, Triple Double Diamonds, Pinball, Xerxes Queen's Knight, Press Your Luck and Jungle Wild II.
Where to Stay
Sleek, stylish and packed with everything you'd expect from a modern hotel, these beautiful new rooms and suites are taking Tulsa to the next level—one floor at a time. With 454 rooms, including 154 suites, these accommodations have everything to create that perfect retreat.  All beds are adorned in higher thread count linens, with both down and down essence pillows and a luxurious down blanket; beds are triple sheeted to give you a more comfortable sleeping experience. For that little extra bit of indulgence during your stay, whirlpool tubs and full body spa showers are available in select suites.
A variety of ADA rooms and suites are provided upon request, complete with lower peepholes in the entry door, walk-in shower areas with handrails and lower counter tops in both the living area and the bathroom.  Alarms are also available for security purposes in the form of vibrating beds and flashing lights.
Take a Break
Hungry? Whether you're feeling just a bit peckish or are in the mood for a full on feast, Hard Rock Tulsa has plenty of options to choose from.  Here are just a handful of our favorites.
Buffet. A definite crowd pleaser with its variety and great selection of fine fare.  Choose from five different food stations, Mexican, Asian, BBQ, Italian, and American, and leave feeling like a winner.
McGill's on 19. Situated on top of the Hard Rock Hotel, McGill's steakhouse presents an upscale menu, expanded wine list and a breathtaking panoramic view to complete that unforgettable fine-dining experience.
Toby Keith's I Love This Bar & Grill. Any guest in the mood for more casual fare will feel right at home. The menu is diverse including rotisserie chicken, meatloaf, cowboy caviar (black eyed peas), "freedom fries," fried-bologna sandwiches.
Where To Splurge…
Cherokee Gallery: Indulge your taste for distinctive artwork with high-end creations including original flat art, pottery and baskets at the new gallery.  Cherokee Nation emblem items such as hats, T-shirts, corn-bead necklaces, stickball sticks and other items important to the Cherokee culture are available to add to your own collection.
Meigs Jewelry: Searching for an elegant gift to complete your experience?  Meigs traditional jewelry lines including diamond stud earrings, engagement rings and engagement packages. For a unique keepsake, the new Cherokee Heritage Collection expresses Cherokee symbolism and imagery in modern day jewelry.  With pieces available from $25 to over $100,000 there is something for every price range.
The After Party
When you need to unwind from all of the excitement—but are not quite ready to call it a night—kick back, or kick it up and grab a drink at any of these nightlife hotspots.
Center Bar. The stylishly designed 80-foot, ice-topped bar with premium liquors suspended in unique ice collars is sure to get your attention. While some places are satisfied raising a glass, they're busy raising the bar.
Cabin Creek. After enjoying a drink and a spin on your favorite electronic game, two-step your way over to Cabin Creek for country tunes that are sure to have you and your partner boot-scooting across the floor.
C:Note. If you're looking for a laid-back, jazz atmosphere, this is just the spot to relax and unwind with sophisticated tunes.
Replay. What has 51 TVs, a sports ticker and a full bar with 12 beers on tap?   A sports lover's dream—and Replay.  It just doesn't get any better than this.