Hard Rock Hotel & Casino Las Vegas Bids Farewell With "The Last Great Party Weekend"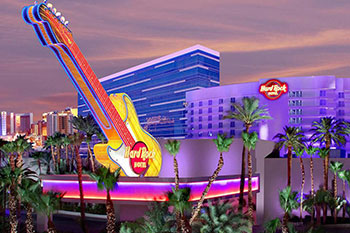 Las Vegas' off-Strip playground, Hard Rock Hotel & Casino Las Vegas, will say goodbye during The Last Great Party Weekend, Jan. 30 – Feb. 2 to commemorate an amazing 25 years. The iconic property will party with live music, giveaways, food and beverage specials and more.
Beginning on Thursday, Jan. 30, guests will enjoy live music throughout the property at the iconic Center Bar, Peacock Lounge and outside Fu Asian Kitchen, beginning nightly at 4 p.m. The Growlers will be rocking Vinyl nightly, Thursday, Jan. 30 – Saturday, Feb. 1. Doors open at 8 p.m. each night and tickets start at $45 and can be purchased online at www.hardrockhotel.com. Guests will have the chance to win iconic memorabilia pieces, including signed guitars, gold records, collector's posters and more. Giveaways will be held daily.
"Hard Rock Hotel & Casino Las Vegas has been an important part of Las Vegas history and it is truly the end of an era," remarked Richard "Boz" Bosworth, President and CEO of JC Hospitality, LLC and Hard Rock Hotel & Casino Las Vegas. "We are especially thankful to the Las Vegas community for its support over the past twenty-five years and allowing us to be a part of their most cherished memories.  We look forward to giving the property the send-off it deserves before ushering in a new brand lifestyle casino resort to the city, Virgin Hotels Las Vegas, slated for fall."
The final toast will begin at 8 p.m. on Saturday, Feb. 1, led by property President and CEO Richard "Boz" Bosworth and local band, All Request Live. They will share a drink and stories with guests as they bid farewell to an iconic Las Vegas resort. Local broadcast media and MCs will be a part of the celebration including sports radio broadcaster JT "The Brick" as well as host and announcer Mark Shunock.
Guests will take it back to 1995 with special pricing on select food and beverage items available throughout the weekend, including $7 cocktails and more.
In addition, on Sunday, Feb. 2, guests can cheer on their favorite team during the Big Game, which will be aired on televisions throughout the property. Guests will also enjoy additional entertainment, food and drink specials and memorabilia giveaways. The official property shutdown begins at 3 a.m. Monday, Feb. 3.
Hard Rock Hotel & Casino Las Vegas has been a premier destination entertainment resort since its opening in March 1995. The property quickly became a Las Vegas hot spot, known for its innovative music scene. Iconic artists such as The Rolling Stones, Bon Jovi, Guns N' Roses and Paul McCartney have all performed on property. Hard Rock Hotel & Casino Las Vegas has offered guests award-winning hospitality, entertainment, world-class pools and nightlife experiences for 25 years.
For more information, please visit www.hardrockhotel.com or call 702.693.5000.