Going Viral
Casinos take precautionary measures to protect their guests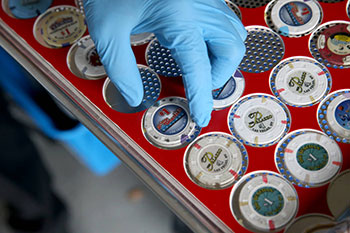 The topic on just about everyone's lips today is the coronavirus, also known as Covid-19. As the pandemic spreads, people everywhere are on edge, wondering just how bad things will get, and how much danger they're in. As of right now, just about everything is one giant question mark. But one thing that is not in doubt is the impact all of this is having on businesses everywhere – including casinos.
Originally, when things didn't look anywhere near as frightening and the virus was doing its thing thousands of miles from here, everyone went about their normal daily routine. We went to the supermarket only when we wanted something, went to the movies or casino when we needed a night out, and felt comfortable enough to hang out at the bar with a few friends after work. Things have certainly changed over the ensuing months.
Now, we're on the verge of quarantine and curfew, with panicked people rushing to buy carts full of alcohol, hand sanitizer and toilet paper. Canned goods are disappearing from the shelves, water bottles are being rationed, and the lines are endless just to purchase what meager supplies remain.
All across the country, casinos have done their part, taking measures to "flatten the curve" of infection and protect their players and community. From making sure everything was consistently wiped down and clean, to staggering available slot machines – shutting down alternating games to make sure people remained at a safe distance to stop the spread – to full-on closures across the country, casinos everywhere have taken steps to protect their players.
All of this comes at a considerable cost to their business, as each day those doors remain shuttered they are losing countless dollars and their stock prices plummet. And not only has the gambling stopped, but so has the food and entertainment. Acts both major and minor have been canceled or postponed, restaurants sit empty and even stadiums host no teams.
And whether by choice or decree, these casinos are acting in the best interests of their visitors as they come to a standstill, waiting, like the rest of us, for this to pass. I have received countless letters from properties explaining their situation and what they're doing both to weather the storm and prepare for better days. Here is a sample of one of the many notices I received, this one from San Manuel Casino in California.
The San Manuel Band of Mission Indians wholeheartedly stand with all of those directly and indirectly affected by Coronavirus (COVID-19), as countries and communities face unprecedented challenges and difficult decisions. San Manuel Casino has been closely following the news of Coronavirus as reported by the Centers for Disease Control and Prevention (CDC), the World Health Organization (WHO) and our local public health agencies. The health and safety of our guests, team members, and Tribal Citizens is our highest priority. We have volunteered to temporarily suspend casino operations effective at 5 p.m. on Sunday, March 15th through the end of the month. In consultation with the State of California and in consideration of the Governor's guidance on large gatherings, we feel this is the best course of action for our community.
Throughout this closure, we will continue to keep the public updated should we decide to open sooner, or need to extend the closure. During this closure all team members will continue to be paid and receive benefits. We want to thank our team members, guests, and partners for their patience during this time.
As I said, this is just one of the dozens of notices I have received in the past week. I want to commend casinos everywhere for acting quickly, at great expense to themselves, to help protect their community. Your actions have undoubtedly spared an untold number of people pain and suffering, and perhaps worse.
From everyone at Casino Player Publishing, we wish you safety and continued good health during this crisis.
Phillip Vogel
Editor-in-Chief
Strictly Slots magazine
jvogel@casinocenter.com