Downtown Las Vegas offers higher payback, cashback and comps
By H. Scot Krause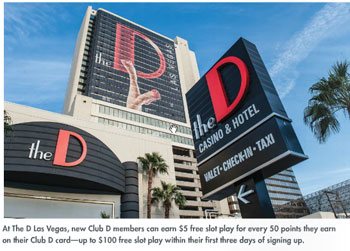 Downtown casinos average a much higher overall payback then the Strip casinos. This month we return for Part 2 of the downtown Las Vegas slot clubs and offerings. In part 1, we covered Boyd Gaming (California, Fremont and Main Street Station), El Cortez, Golden Nugget and The Plaza. For part 2, we'll look at The Golden Gate, D Las Vegas, and the Downtown Grand. In part 3 we'll finish up with the Four Queens and Binion's Gambling Hall.
Although the Golden Gate and D Las Vegas are owned together, both run separate slot clubs but there is some crossover comping available. The 1906 Club derives its name from the opening year of the Golden Gate, Nevada's oldest hotel. The casino floor offers the latest in slots and video games plus traditional craps, blackjack, and newer table games like riverboat roulette, 3-card poker and let it ride. The casino pays 10x odds on dice and 3 to 2 on all blackjacks.
New members who sign up for the 1906 Club and earn 100 points on their card within 24- hours of signing up receive $10 free slot play. Points earned can be used for rooms, dining, merchandise and free slot play, downloadable with your PIN from any machine.
The Golden Gate 1906 Club is the #1 club with the highest return (on base points) free play program in Las Vegas. Some other clubs can come close or surpass the base rate when applying multipliers but as far as base rates, no one that we know of beats a 1% return on slots from base point earnings. The formula for slots is as follows: $1.00 slot coin in = 1 point. 100 points = $1.00 free play. This equates to a 1% rebate for slot play. For video poker players the formula is not quite as strong but still a very respectable .25% rebate. $4.00 video poker coin in = 1 point and 100 points = $1.00 free play. Players also earn comp dollars based on their play in both slots and table games. Uniquely, while the clubs remain separate entities, comp dollars can be used at Golden Gate and at their sister property, the D Las Vegas (and vice versa).
One card does it all at the Golden Gate. No tiers or levels. Higher play will earn you higher mailed reward offers that may include rooms, free slot play, dining comps and special event invites and tournaments. You can also talk to a casino host if you feel your play warrants it.
The D Las Vegas has become one of downtown's hottest casinos. The long bar, dancing dealers, the only Sigma Derby in town, two floors of good gaming and odds—-what's not to like? With Mannekin Pis, a cherub-like naked little boy statue urinating into a fountain basin at the valet entrance, you know this place is going to be fun.
Club D is a two-tier (Club D Silver and Club D Black), two-bucket system. Players earn both cash back and comps under two separate accounts on your player's card. You earn 1 point for every $5 you play on slots and 1 point for every $10 you play on video poker machines. Every 100 points earns you $1 cash back in addition to building your comp account. Comps may be used in the gift shop, bars, hotel and restaurants (with the exception of McDonald's). Comps may also be used at Golden Gate Casino bars, hotel and Du-Par's Restaurant and Bakery. Points may be redeemed at Club D for cash. Self comps are earned on tables based on play. Table games feature 10X odds on dice plus all Blackjacks pay 3 to 2.
Everyone starts out at Club D Silver and includes a plethora of benefits including the ability to earn dining, show and room complimentaries through accumulated comp dollars, bonus promotion entries to win cash and prizes, invitations to events, parties and tournaments based on qualified play, additional direct mail offers based on play, check cashing privileges, free valet parking, member-only slot free play, special Club D room rate Sunday through Thursday and more.
Club D Black exclusive rewards all of the above listed rewards plus preferred reservations at Joe Vicari's Andiamo Italian Steakhouse and preferred seating at entertainment events, 2X more comps, an exclusive toll-free phone number and special invitations to Black member-only events. Membership is by invitation based on evaluated play.
Dining choices include world famous chili dogs at American Coney Island to contemporary American fare at the D Grill. For fine dining, Andiamo Italian Steakhouse features superior service and mouth-watering delicacies, quickly becoming a Las Vegas favorite. Recently, D Las Vegas announced that club members can now also use their comp dollars toward meals at Fremont East restaurants Le Thai and Bocho, Chef Dan Coughlin's highly acclaimed Asian eateries. This collaboration marks the first relationship that connects a downtown casino with the Fremont East restaurants.
New Club D members signing up can earn $5 free slot play for every 50 points they earn on their Club D card, up to $100 free slot play within their first three days of signing up. Players may redeem free slot play once daily.
Through April 30, 24 club members will win the ultimate Mexican vacation during the "Reelin' Your Way to Mexico" monthly drawings. Three winners will be drawn each month.
To participate, players must be registered for the D's Club D or Golden Gate's Club 1906 and can earn drawing entries playing blackjack, keno, slots or video poker. Complete rules are posted at each property's respective players club. Monthly drawing winners need not be present to claim their prize.
Each winning cruise package includes one ocean view cabin for two adults over 21 years of age. Winners will enjoy complimentary and sophisticated dining experiences from the main dining room, buffet and room service in addition to waived on board and docking fees. Port of call will depart in Los Angeles on Sunday, July 17, and return Thursday, July 21. For more information regarding The D Las Vegas, visit: http://www.thed.com.
The Downtown Grand Hotel & Casino has a 3-tier player's club. Downtown Grand Rewards tier levels begin at White and advance to Silver after earning your first 2500 points. The top tier level is Black and is achieved after earning 25,000 points. Levels are evaluated every six months, September through March and again from March through September.
Depending on the player tier, benefits include VIP services such as free valet and self parking, priority restaurant seating, free hotel stays, promotional free play, member-only tournaments, complimentary amenities and much more. Players earn 1 point for every dollar of coin-in played on slots and 1 point for every $2 of coin-in played on video poker. For every 250 points redeemed, players receive $1 of free play or comp value.
Last October, the casino launched "The $250 Grand Slot Tournament." Guests have multiple chances to qualify for this mega tournament, such as earning 1,000 points in one calendar month, winning the daily slot point challenge, winning a slot or video poker jackpot of $1,200 and above or winning the free weekly lucky name drawing. There will be bi-weekly tournament session prizes and prizes for the top 10 tournament finalists, including the grand prize of $250,000.00 in cash and free play.
Players who qualify will be notified the following month and be given a choice of two semi-final session dates to play in. The top 50 scores each month from the semi-final slot sessions will automatically win a spot in the Grand Finals taking place in December 2016, where 600 players will compete for finalist prizes, with one lucky winner taking home the Grand Prize of $250,000 in cash and free play. Visit the Downtown Grand online at: downtowngrand.com.
Good luck and happy slot clubbing!
Scot Krause is a gaming industry analyst, researcher and journalist. He is a former entertainment director and a 20-year resident of Las Vegas. Email questions or comments to rauseinvegas@cox.net