GAMBLING IN THE GREAT OUTDOORS
Hitting the tables and slots in unique outdoor areas offer some fresh air and fun
By Sean Chaffin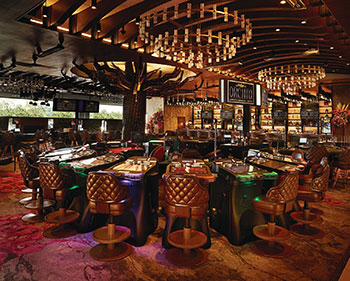 Open air. It's a concept more properties, and more Americans, are embracing during a time of COVID-19. As casino properties begin to return to some semblance of normalcy, the idea of an outdoor gaming area has taken hold with some properties moving slot machines and table games beyond the casino doors.
Whether in response to the coronavirus pandemic or just a need for a place to stretch those legs in the sunshine (or moonlight) some outdoor gaming may be growing as an option for gamblers needing a little more space. While in the past some properties have relegated outdoor areas to smokers, some are now making an effort to cater to a wider crowd with well-appointed and stylized outdoor areas and plenty of gaming options. Here's a look at a few properties taking some of the action outside.
Live! Hotel Casino – Hanover, Maryland
For outdoor gaming, Live! offers an expansive and inviting experience.  The Orchid Gaming and Smoking Patio features a visually stunning outdoor space to relax and play. The venue offers: six live table games with blackjack, baccarat, and roulette; 26 electronic table positions with "dealer assist" blackjack, baccarat, craps, and roulette; and bartop gaming terminals. There are also 150 of the latest slot machines and video poker in denominations ranging from $.01 to $10.
"Orchid is Maryland's first and only full-service outdoor gaming area that features both table games and slots," executive director of communications Carmen E. Gonzales says. "Simply put, the aesthetics of Orchid are stunning. The games are interspersed among visual features that pay homage to the four elements: earth, air, fire, and water."
Gamblers will also normally find an extensive collection of cigars and spirits. Customers can sip barrel-aged cocktails or puff a premium cigar housed in specialty-built humidors. Customers can also order drinks and cigars through the Live! mobile app and have them delivered to their seats.
However, the Orchid bar is currently closed to mitigate the spread of COVID-19. Beverage service is currently restricted to active gamers seated at a slot machine, table game, or poker table as a way to promote social distancing and adhere to the latest guidance by the CDC and Maryland health  authorities. When conditions permit, casino staff hope to restore these amenities when possible.
In the era of COVID-19, Orchid also offers a unique feature. The venue is the first gaming area in Maryland offering Ticket In/Ticket Out (TITO) tables. This allows players to move between slots and table games without carrying chips. Orchid is open 24/7, 365 days a year. During colder months, fireplaces and a specialized heating system keep guests warm. Hopefully the games will be hot too.
Stars Casino – Tracy, California
This property located about 65 miles east of San Francisco announced big outdoor gaming expansion in early August. The new setup will allow the cardroom to keep customers and employees safe while providing for the restart of gaming activity. In preparation for outdoor gaming operations, casino staff worked with state and San Joaquin County officials to ensure thorough safety plans were in place.
Stars Casino voluntarily shut down at the start of the pandemic in March then reopened briefly in July before being closed again following the governor's statewide closure of indoor entertainment venues. The outdoor gaming operations not only now allow gamblers to visit the property, but also restores jobs for Stars Casino's employees. Most haven't worked for the past several months.
Card tables occupy the cardroom's patio with social distancing in effect. Tents provide shade for guests and employees. So far, the additional outdoor gaming opportunities have received positive reviews with customers.
"We have received an enthusiastic response from patrons and staff who are eager to return to work," says COO Emmanuel Macalino. "Everyone is grateful for this opportunity to get back to work and restart gaming at our cardroom in a safe, secure and healthful manner."
JACK Thistledown – North Randall, Ohio
This property about 20 minutes southeast of Cleveland has plenty to offer players looking for a little gambling outside. The racino's gaming patio offers an indoor/outdoor experience with 4,000 square feet of gaming space including 87 of the most popular video lottery terminals (VLTs).That number expands  to 151 when not social distancing.
The covered patio features half walls that expose the space to the outdoors and is climate controlled for a comfortable experience in all weather. That includes all the amenities of the gaming floor like beverage service. And while Cleveland winters can be tough, the action doesn't slow down on the patio.
"As the space is climate controlled, including heaters, it is still accessible during the colder months," communications manager Aleksandra Breault says.
The open-air concept allows for guests to spread out and enjoy their favorite game. Want to mix in a little more fun? The patio over- looks the historic racetrack, making for a great view. Grab a Daily Racing  Form and select a few horses while watching those reels spin. When it's post time, maybe that trifecta wager will pay off.
Harrah's New Orleans – New Orleans. Louisiana
Head to the Big Easy for some gaming fun. After a visit to Bourbon Street, some gambling excitement might be in order. Harrah's features three conveniently located climate-controlled gaming patios – a unique place to play some slots with a backdrop of the New Orleans cityscape.
The Courtyards feature about 60 slots (twice that when not in a pandemic) with stakes ranging from a penny to $100. Players will find some of their favorites – ranging from All Star Poker II and Game King to Golden Goddess, Double Diamond, and Mustang Money.
The climate-controlled environment makes for a nice environment no matter the time of year. While table games aren't currently open because of health mandates, there are usually several running in the Courtyard closest to the Canal Street entrance.
Currently, every other slot is closed to maintain six feet of physical distancing; masks are also required. If desired, guests may smoke and enjoy cocktails while playing. Beverages can even be ordered directly through the slot machine and heat lamps mounted above ma- chines automatically turn on during colder days so the action doesn't have to stop.
What makes the Courtyards stand out? Harrah's officials say it's the "unique skyline like no other. You can feel the pulse of the city and watch the streetcars pass on Canal Street. Our outdoor gaming court- yards are each situated on a different corner of the casino all offering different views and experiences – which all lend to the authenticity of the city of New Orleans and Harrah's."
Penn National Gaming – Ohio Region
This major gaming corporation owns four Ohio properties, two traditional casinos and two racinos, all with large outdoor gaming facilities. Ohio law prohibits smoking inside any public facility. Recognizing that many patrons prefer gaming venues where they can smoke, the Ohio properties offer outdoor patios.
All feature state-of-the-art ventilation systems which include heating in the winter so that they're all open all year. The properties were able to reopen in June with social distancing requirements in place.
"Our goal is to provide our patrons who smoke with a comfortable, exciting area to enjoy the Hollywood casino/racino experience while allowing us to operate within the state's smoking laws," a company spokesman notes.
With more players seeking an open-air gaming experience, other players may be finding a cocktail and a machine outside as well. Here's a quick look at what to expect at each venue. Please note, because of social distancing requirements the actual number of slots/VLTs in use may be lower temporarily than the numbers mentioned here.
Hollywood Casino (Columbus) – Three smoking patios with a total of 12,000 square feet and 400 slots. This property is now home to the newest and largest smoking patio in Ohio, which is 8,000 square feet and includes 230 slots and video poker machines as well as full bar service.
Hollywood Casino (Toledo) – Three smoking patios totaling 3,700 square feet with 120 slots. Order a cocktail and wait for that next big score.
Hollywood Gaming at Dayton Raceway – Two smoking patios totaling 6,800 square feet with 200 VLT machines.
Hollywood Gaming at Mahoning Valley Race Course (Youngstown) – This racino offers one 2,411-square foot smoking patio with 147 VLT machines. Spin and win in a nice outdoor environment.
L'Auberge Casino Hotel Baton Rouge – Baton Rouge, Lousiana
L'Auberge Casino & Hotel in Baton Rouge, LA, opened a $4 million smoker-friendly gaming patio last year to rave reviews. The Riverbend Terrace is a is 3,000 square feet of open air gaming, featuring over 120 slot machines, including video and reel, classic and premium games and video poker. The veranda also includes two 65″ TV screens, six industrial size ceiling fans and gas fired radiant heaters to keep you comfortable year round. Plus, enjoy sweeping views of the Mississippi River while you play.
Slot favorites include 88 Fortunes, AllStar Poker, Buffalo Gold, Da Vinci Diamonds, Moon Race, Pompeii, Queen of the Nile, Smokin' 777, Texas Tea and Wicked Winnings to name a just a few.
Horseshoe Baltimore – Baltimore, Maryland
Horseshoe Casino Baltimore features The Terrace, an all-new $15 million elevated outdoor gaming space spanning more than 10,000 square feet over the casino's porte cochere! This new venue features 160 slot machines, 16 live table games, 15 video poker machines and a patio bar serving a full range of beverages. With a roof and awnings that can be adjusted based on weather, The Terrace features the market's hottest casino action – the best games and service in a fully heated patio setting in a controlled environment. As a smoking friendly space, where guests can enjoy Horseshoe Casino Baltimore's newest edition to its gaming offering.
Harrah's Las Vegas – Las Vegas, Nevada
While those Vegas summers can be miserably hot, other times of the year can be mild with great weather. The Carnaval Court at Harrah's offers plenty of high-energy outdoor gaming activity in an entertaining environment.
Located right on the Strip, the space includes television sets with live sports, eight blackjack tables, live music, a bar, and a completely immersive Vegas experience at this Caesars property. Don't worry about the winter months, as heaters are located at each table game to ensure a comfortable experience even when the temperature drops.
After working up an appetite, Carnaval Court offers several options. A small bite menu with beverages is available or you can order via mobile from great eateries like Fulton Street Food Hall, Oyster Bar, Ruth's Chris Steakhouse, and Guy Fieri's Vegas Kitchen & Bar.
A Caesars spokesman notes: "The outdoor atmosphere with visibility to the Las Vegas Strip, fully immersed in the entertainment capital of the world, makes this a truly unique gaming experience."
Is gaming in the great outdoors the wave of the future? That remains to be seen, but some properties are working to make it more of an option. Relax in some cool breezes, fresh air, and hopefully rack up some winnings.
Sean Chaffin is a freelance writer in Crandall, Texas, and senior writer for Casino Player and Strictly Slots magazines. Follow him on Twitter @PokerTraditions or email him at seanchaffin@sbcglobal.net for story assignments.