Free Things To Do In Las Vegas
They say you can't get something for nothing. That may be true elsewhere, but not in Las Vegas. There are plenty of things to do in Sin City that won't cost you a dime. Here is a list of some of the best freebies.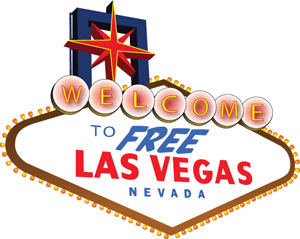 At South Point Hotel and Casino there's no shortage of free things to do:
The Magic Of Motown Revue performs every Tuesday night inside the Grandview Lounge from 8 p.m. until 11 p.m.
The Dennis Bono Show performs every Thursday in the South Point showroom at 2 p.m.
You can catch Wes Winters' remarkable show 88 Keys in the Grandview Lounge every Friday and Saturday from 6 p.m. until 10 p.m.
Free Bingo: Every Monday through Friday at 9 a.m., there is a 10 game session offering a total of $1,000.00 in prize money. There is no admission charge and even the bingo packets are free. However, you must be a club member to participate.
Free Comedy Show: "The Dirty at 12:30." Produced by Ralphie May and Gabe Lopez, this very explicit comedy show performs every Friday night at 12:30 a.m.
Free Senior Slot Tournament for player's club members 50 and older. Tournament is held every Thursday from 10 a.m. to 4 p.m. Just swipe your player's card at any club kiosk and print your free entry. Earn an additional 250 points and earn more entries.
Ø  The LVH has a new no entry free slot tournament every Tuesday, Wednesday and Thursday from 4 p.m. to 8 p.m. The top five players will each win $100.00 in free slot play. You must be a LVH Player's Club member to enter the tournament.
Ø  There is also a free slot tournament at the Margaritaville casino at Flamingo Las Vegas. The tournament is open to new or existing club members every Saturday and Sunday from 11:00 a.m. to 3:00 p.m. When you enter, you play a three minute session to determine your score. Tournament results are posted at 3:30 p.m. The top prize is $500 in Reel Rewards (free slot play), with a total of five players winning—$400 in Reel Rewards for second place, $300 for third, and so on.
Ø  At The Piano Bar in Harrah's Las Vegas, Pete Vallee stars as "Big Elvis" in a classic Las Vegas impersonator show, where he performs all of the King's hits plus other popular tunes spanning six decades. Big Elvis interacts with his audience, invites them to participate in his show and performs their requests. Pete Vallee is a multi-time "Best of Las Vegas" winner who has logged over 7,000 performances on the Las Vegas Strip, making this Elvis impersonator's Las Vegas show an institution. Shows are Monday, Tuesday, Thursday and Friday from 2 p.m. to 6 p.m.
Ø  Also at Harrah's, legendary lounge performer Cook E. Jarr's show is still going strong. The music may have changed—with hip-hop hits from Nelly, 50-Cent, Usher and OutKast joining old standbys from Steppenwolf to Kool and the Gang—but the act remains much the same with booming, booty-shaking music. The Cookster performs inside the Piano Bar on Saturdays & Sundays from 4p.m.to 6p.m.
Ø  You can catch the Suncoast Variety Show every Thursday at 1 p.m. in the Suncoast Showroom. Top Las Vegas entertainers randomly drop by to perform. You never know who will be there on any given Thursday.
Ø  At Texas Station, one of the best Elton John tribute bands, Yellow Brick Road, performs every Saturday night at 10 p.m. at the South Padre Bar.
Ø  Legendary local group, the Lon Bronson Band plays every Friday night at the Railhead Bar at Boulder Station starting at 8 p.m. These guys rock out with R&B, Funk, Rock and Soul. They do it all. There is no cover charge for this show.
Ø  At Bagatelle Beach at the Tropicana, ladies can get free mimosas every Saturday from 11 a.m. until 1 p.m.
Saving You Money In Las Vegas
Tacos & Tequila at the Luxorhas a special late-night menu starting at 11 p.m. You can get nachos, cheese or chicken quesadillas, habañero chicken wings and a three-taco combo including shredded beef, shredded chicken and pork carnitas, all priced at $6 each.
At the Sundance Grill at Silverton, they have some great late-night specials available from midnight until 5 a.m. You can get sliders for 99 cents, ham steak and eggs for $3.95. They also have a Wild Card Special, which includes two farm fresh eggs, two pieces of bacon or sausage, hash browns, toast and jelly for $2.95.
Through the end of August, kids eat free at the Hard Rock Cafe. Guests can receive one complimentary item from the kids' menu with a purchase of an adult entrée for children 12 years and younger, Monday through Friday from 11 a.m. to 6 p.m. 
Head down to the snack bar at Poker Palace for a few money saving specials. For just $3.79 you can get a huge burger, fries and a 21 oz. drink. Make this a cheeseburger meal for just 20 cents more. Single burgers are $1.49 and hot dogs are just $1.09. There is also all-you-can-eat $4.99 spaghetti dinner special at Maddy's restaurant.
The LVH has a couple of interesting room and dinner packages. The Benihana room and food package is $60.00 a night (two night minimum stay) and includes: classic room accommodations, four-course hibachi dinner, Japanese tea ceremony, sake tasting and includes all gratuity and taxes. Call the reservation department at (888) 732-7117 and ask for PBENQ1. The Rock Out Room and Dinner Package is $50.00 a night (two night minimum stay) and includes classic room accommodations, $50 dining credit at Vince Neil's Tatuado restaurant & Cantina, two tickets to the Raiding The Rock Vault show in the LVH Theater, and $10 in free slot play. Call the reservation department at (888) 732-7117 and ask for PTATV3. Also, if you have dinner at my favorite Las Vegas steakhouse, T.J's, just mention this Strip Search column and you will get a BOGO dessert.
Speaking of BOGO offers, the best one in Las Vegas is available only to Casino Player readers. From Tuesday-Saturday from 2 p.m. until 10 p.m. at the Skyline room inside the Skyline Casino in Henderson, just mention this column to your server and any dinner entree on their menu is buy one, get one free. How can you beat two prime rib dinners for just $10.95 or two T-bone steak dinners for only $12.95? There is also a fantastic $1.49 shrimp cocktail available at the main bar 24/7.
Dom DeMarco's Pizzeria & Bar introduced a new early happy hour menu with 50% off regular pricing. The restaurant boasts the #1 Zagat rating for NYC pizza for eight years in a row, plus several "Best" awards in Las Vegas. All specialty pizzas are available during this time including some favorites like the "Big Apple" pizza made with pepperoni, Italian sausage, meatball, ham, mozzarella and tomato sauce, white truffle, artichoke and the quattro formaggio made with four different cheeses.
Hussong's Cantina at Mandalay Place now offers a happy hour from 3 p.m. to 6 p.m. Mondays through Thursdays with half off  selections such as Plazero Grilled Corn, nachos and stacked quesadillas, $3 chicken, steak and carnitas tacos and half-priced original margaritas, draft beers and well drinks.
Koji Sushi Bar and China Bistro at the Orleans has 10 $8.95 lunch specials every weekday from 11 a.m. to 3 p.m. Specials come with a spring roll, fried rice and choice of soup. Selections include moo goo gai pan, chow mein, Mongolian beef and cashew chicken.
Also at the Orleans in the Courtyard Cafe they have a special offer menu exclusively for B Connected members. Highlights include fire grilled chicken with ziti pasta for $9.99, soup and salad for $6 and prime rib dip for $8.49.
The Orleans, Gold Coast, Suncoast and Sam's Town all participate in a Tuesday promotion called, "Young At Heart." This promotion gives players who are 50 and over a chance to take advantage of several giveaways. Offers include a BOGO on breakfast, lunch and dinner buffets, $2,500.00 cash drawings and a chance to win cash and prizes at the "Young At Heart" kiosk.
MGM Grand has introduced a 3-for-$57 deal. For $57 you get passes to any three of the MGM Resorts attractions including Bodies, Titanic, and Score! at Luxor, the Adventuredome at Circus -Circus, CSI at MGM Grand, the Roller Coaster at New York-New York, the Shark Reef at Mandalay Bay, and Siegfried & Roy's Secret Garden and Dolphin Habitat at The Mirage. The best part of this deal is the pass is good for a full seven days. Most other passes are only good for a 24-hour period.
Show your Tropicana Players card at either Bacio or Biscayne Steakhouse and you will save up to $10 on your meal. Every menu item is discounted when your card is presented.
On Saturday night, the Garden Court Buffet at Main Street Station features a prime rib buffet for just $14.99. The buffet also features an array of cooking stations featuring Italian, Mexican and Asian cuisine.